Harnessing the existing water resource of India by harking back to ancient water harvesting systems is the only way to pre-empt the impending waters war of the 21st century and end the acute water scarcity ailing the northern part of the Indian subcontinent, experts said at a conference in Bangalore. The occasion was Sangam 2008, the All-India NGO Summit for the Protection of Environment and Access to Social Justice, which ended here Saturday with a call for a countrywide federation of non-profit groups to work on key environment issues and water conservation.

India has nearly one-third of the world's water resources with the largest volume of river flow and rainfall at 2,000 million cubic meters and 4,500 millimeters respectively - more than that of the entire continent of Europe put together.

According to Pamela Gales Malhotra of the Safe Animal Initiative (SAI) Sanctuary, a voluntary organization working for the protection of wildlife in Karnataka, water is at the root of all forms of poverty in the world which is confronting an acute crunch of fresh water. "Financial prosperity is based green wealth and abundant water. Protecting water sources is vital to conservation of environment and species. We are witnessing the sixth wave of species extinction now and are losing species 1,000 times faster than before," Malhotra warned.

"Over the last 200 years, the country has lost most of its one million big and small traditional water harvesting sources and wetlands (which are natural water collection points) owing to indiscriminate construction of big concrete dams and filling up of land following a real estate and infrastructure boom," conservationist and resource expert H. Hari of Chennai-based Bharath Gyan, a multi-media traditional knowledge data base, told IANS.

Delhi, the country's capital, has allowed nearly 274 stepwells or 'baolis', built during the Mughal rule, to dry up. Of these 190 are beyond repair. The state has 611 listed water bodies. Bharath Gyan is trying to revive the country's ancient scientific systems and give them contemporary color to combat eco-degradation and water scarcity.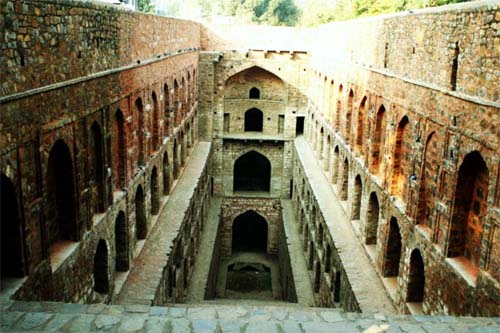 Agrasen Ki Baoli near Connaught Place, New Delhi (courtesy: Wikipedia.com)
In a data-based collative study, 'Water harnessing throughout India through the ages', Hari dispels the notion that India is water-scarce state through scientific evidence and suggests four ways to effectively harvest natural water and use it as a multi-task resource. The steps are rain water harvesting, recycling of effluent water, creating a network of rivers and their distributaries and immediate closure of desalination plants in coastal India, which spells doom for marine life.

"Wastage of water has been tremendous," says the report. Data from the Chennai municipal corporation shows that the city lets off nearly 2,54,880 cubic liters of water to the sea every year which is more than its annual requirement of 2,46, 375 cubic liters.

"We have a 5,000-year-old heritage of conservation engineering in the form of tanks, canals and bunds. History cites that the earliest dams in the country were built in Harappa and Mohenjo Daro around 800 BCE (before common era). Every village in the Sindhu-Saraswati basin (site of the Mohenjo Daro civilization) had a tank known as Pushkarni (source of fertility). Some of these structures still stand today. Why can't we revive them to store natural water and distribute it equitably? " Hari said.

Water harvesting initiatives, points out the study, can be of two kinds: individual enterprises where natural water is harvested and recycled at homes using zero budget techniques and bigger community initiatives involving public or government property.

The study cites a simple domestic water harvesting model. It says rainwater can be harvested at home by collecting it in rooftops which can be diverted through a channel (made from the roof) into the garden and discharged into a well. To prevent rainwater from running off to the streets and cause water-logging, soak pits (syringe-like borewells) can be sunk at the lowest spots in the gardens to collect the discharge and divert it back to the well.

Similarly, communities can come together to harvest rain water along the roads and highways by sinking soak pits to collect the run-off from higher gradients and later divert it to the nearest canal. It can serve two purposes - prevent flooding and ensure more harvested water for future use, the study recommends.

It also advocates recycling of "grey water" from wash room showers, kitchen sinks and wash basins at home by using the root zone treatment. "The process is simple. Channel the water into soak pits at the roots of banana, yam or any plantain tree in the kitchen garden. Banana and plantain trees contain certain types of bacteria and microbes that break down the dirty water and cleanses it of impurities," explains Hari.

The study lastly makes an appeal to return the water rights to women, the traditional custodians of the lifeline of humanity. "They have been managing the country's waters for thousands of years, let them do it again," the report appeals.