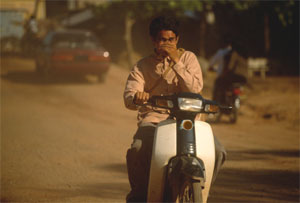 Amongst the inventions, the wheel is perhaps one the most utilitarian from the point of view of human comforts and necessities! Wheels lead to road-rail transport. A communication network became the hall mark of a developed nation. India, since the times of Akbar, the great Moghul king has been developing a network of roads. Today the ruling parties lose the battles at the elections on account of poor or less roads in their states.

Though a vital link for communication and transport, roads are also becoming a source of pollution. An account of how the Road Deposited Sediment (RDS) is a threat to ecosystem makes an enlightening reading.

Raza Rafiqul Hoque and Upasona Devi of Department of Environmental Science, Tezpur University, and Ritu Thakur of Northeast Regional Institute of Water and land Management, Tezpur, India, carried out an interesting study of the extent of pollution and health hazard spread by RDS in northeastern India.

Road deposited sediment is a product of interaction of solid, liquid and gaseous material produced from different sources on the roads and has become a valuable archive of environmental information say Raza and his co-workers in their recently published paper in the Current Science. Composition and concentration of RDS is a reliable indicator of the presence of heavy metal particles in the soil due to anthropogenic activities in a particular area. Dust as we know spreads far and wide suspended in the atmosphere. It gets washed down to surface and travels to subsurface with rain water. This dust when polluted by toxic metals becomes a potential health hazard for the humans and all other biota.

With the tremendous increase on the road use assessment of RDS gains significance. Greater the use of the road, higher is the re-suspended RDS, which is infact a particulate matter (PM) in the air and a serious air pollutant. Rainwater carries RDS horizontally as well as vertically and the hazardous toxic components of the RDS pollute the surface and reach the ground water too.

Heavy metal present in the soil surrounding the roads, slopes reaches the road via rainwater, dry and wet atmospheric deposition, degradation of road paint and vehicle wear and tear, vehicular fluid and particulate emission all add to the RDS.

The toxicity of the heavy metals is well known since the historic times. Even now they are under the scanner of the environmentalists. For example lead is a cumulative poison and it can affect blood, kidney, nervous system and brain. Due to ill effects lead has been phased out as an additive from petrol. Similarly, Nickel can induce lung and sinus cancer. Nickel particles reach the RDS via fuel combustion, smelting and volcanic eruptions. Compared to these two, Zinc is less toxic. Particles of zinc reach RDS via industrial processes, fuel combustion and suspended dust. However, being a metal the tiny particles are hazardous enough to damage the lungs.

Lead pollution and its ill effects have been drawing the attention of the environmental scientists for the past few decades. In the 1970s it was found that children in urban surroundings suffer the effects of lead poisoning from the dust from the streets.

In India very few such studies have been carried out therefore, the study carried out by Raza and his colleagues is one of the systematic accounts of RDS quality and quantity from the northeastern region. National Highways (NH-37) at Kaliabor, Nowgong district on the south bank of River Brahmaputra; NH-52 at Mission Chariali, Tezpur, on the north bank of; link highway that joins NH-37 and 52 through a bridge over Brhamaputra and a market place in Tezpur city, Sonitpur district were chosen as sampling locations for this study. These places have a varied vehicular movement and density and also other anthropogenic activities.

Tezpur is one of the most ancient settlements in the country. During the post Independence era the city has grown along the highway continuously over long stretches. The highways also pass through agricultural fields and forests.

Analysis of the samples gave some alarming results. Lead levels were found to be 241.8 ? 4.0, 177.7 ? 11.9, 495.0 ? 20.9 and 101.6 ? 8.7 ?g/gm in RDS of NH-37, 52, market place and link highway respectively. Raza et al have compared their results with Delhi (average 121-200 ?g/gm) and Bursa city, Turkey (210 ?g/gm). However, one sample from an industrial area of Delhi has lead level of 3760 ?g/gm. It is imperative that such high level is because of the industrial activity. Yet RDS being a dust can travel far and wide and the neighboring areas can have serious repercussions. Do we care!

Their study found that near the motor and machinery repair shops on NH-52 and link highway the Zinc content of RDS was unusually high, 1381 ? 29.3 ?g/gm and 994.1 ? 35.8 ?g/gm respectively. Compared to Zinc, a much lower content of Nickel 105 ?g/gm was found in the rural areas. Though a higher content of 315 ?g/gm was shown by a sample from road with heavy traffic and was 365 ?g/gm in the industrial area. It is alarming to note that RDS sample from an industrial in an industrial site in Delhi contained Nickel as high as 1000 ?g/gm.

Earlier, in 2005 S. Kar, A.C. Samal and S.C. Santra of Department of Environmental Science, University of Kalyani, Kalyani, India and B. Nath of Department of Geology, Jadavpur University, Kolkata, India studied RDS from the roads of Kolkata metropolitan area. Kolkata, a town with a history of 300 years is one the most densely populated metropolis. It has a large number of small and big industries in the northern and central part. Roads are always under pressure of vehicles of all kinds. Kolkata boasts of trees almost along all major arteries of the town. The dust generated by the vehicles rises and settles on the tree canopy.

The study by Kar and his co-workers revealed something astounding. Leaves of the canopy of trees along the roads were found to be laden with the dreaded, Arsenic. The highest average concentration of Arsenic in particulates deposited on canopy leaves found in C.I.T. Road is 39 ?g/gm-1, followed by Shaymbazar, M.G. Road and Sealdah showed arsenic levels of 29, 29, and 28 respectively. Compared to these Arsenic concentrations of other sites like Chingreghata, Maidan and Moulali areas are much less, 22.08 ? 0.87, 17.82 ? 0.96 and 22.60 ? 1.19 ?g/gm-1 respectively.

On the contrary Arsenic levels in the street dust do not vary much from place to place, though C.I.T. road has a higher level (18.71 ?g/gm-1) of Arsenic in road dust too. This type of arsenic concentration in dust fallout like in street dust, is less compared to the medium arsenic concentration range 32-113 71 ?g/gm-1measured in residential roadside dust in Chihuahua, Monterry and Torren in North Mexico, says Kar.

Lot of research is being carried out on deteriorating air quality in urban areas, especially with reference to pollution from vehicle exhausts. The study and analysis of RDS in India needs a wider attention to pinpoint the culprits. The alarming levels of Lead from Delhi, Tezpur and Arsenic from Kolkata in the RDS is enough reason for systematic studies from all over the country and build a data base to save the population from the fallout.