Two very simple people passed away this week. Both were considered giants in their own right. Both were of Islamic identity, one from India and the other from Pakistan. The world grieves at the loss of such simple people who touched the lives of millions by their selfless strive towards joining everybody together with love and feelings.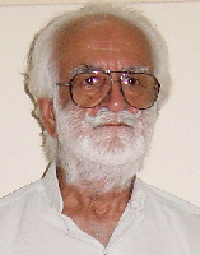 I first saw Nawab Akbar Bugti of Balochistan on a NDtv documentary a few months back. The oil rich Balochistan has been the the centre of world attention since a few years. The eighty plus leader of Baluch aspirations and a politician for more than four decades was murdered yesterday in a Pakistani military operation.
The Baloch conflict crackled and flared from the creation of Pakistan in 1947 to the 1970s as Baloch nationalists bridled against the Punjabi-dominated central government in Islamabad. The conflict has steadily escalated since 2000 as President Pervez Musharraf widened exploration of gas fields, and the Baloch were gradually excluded from provincial government, by Punjabis and Pashtuns. Rebellious tribal chiefs are linked to a shadowy group that first surfaced in the 1970s, the Baloch Liberation Army, which conducts guerilla attacks.
The first attempt to kill Bugti was made on 17th March 2005 when high-tech TOW missiles rained all around the Nawab as he moved around his private grounds in Dera Bugti. Then luck was with him as several of people accompanying him perished in the sudden aerial attack. Sadly seventeen Hindus of Dera Bugti, who had taken shelter nearby, also died after being subjected to a direct hit.
According to BBC Urdu service, having tracked down the Bugti chief on a hillside the Pakistani commandos and the Baloch engaged in a bitter battle out in the open. Outnumbered the Baloch were all killed and Akbar Bugti�s body was identified among the slain. The army has no intention of handing over the deceased Nawab�s body to his heirs, hence the subterfuge about digging out the cave searching for a body that will not be found.
I remember him saying at the interview
�If Badshah Khan can be declared as a Gaddar (traitor) after receiving the Bharat Ratna in 1987 and put to house arrest in Peshawar, what am I supposed to say. If I don�t tow the Government directives, I am also declared a Gaddar."
Badshah Khan once said �
"Better be poisoned in one's own blood then to be poisoned in one's principle.�
Nawab Akbar Bugti Sahab was friend of the people of India and Pakistan. He died fighting for a right that the world believed is true.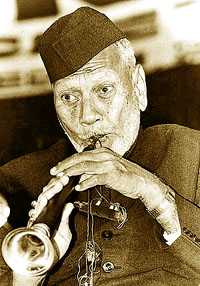 Last week, I heard the passing away of Shehnai Maestro Ustad Bismillah Khan. He heralded the first Independence Day of an independent India by his Shehnai strains in 1947. Only after that India�s first Prime Minister Jawaharlal Nehru gave his speech.
A Bharat Ratna awardee, he belonged to Varanasi.
The President asked him to come to Delhi, many an American University had asked him to stay and lecture in the USA but he would never leave his moholla in Varanasi. He once said 'It would be such a shame even absurd if I have to die somewhere else other than Varanasi. �How can I leave Benares, All the world�s ras (sweetness) is here�.
Despite his fame, Khan's lifestyle retained its old world Benares charm. His chief mode of transport was the cycle rickshaw. A man of tenderness, he believed in remaining private, and that musicians are supposed to be heard and not seen. He was a pious Shia Muslim and also, like many Indian musicians regardless of creed, a devotee of Mother Saraswati.
Ustad Khan will remain remembered as one of the finest musicians in post-independent Indian Classical music and one of the best examples of Hindu Muslim unity in India.
His concept of music was very beautiful and his vision, superb. He once said, "Even if the world ends, the music will still survive" and he often said, "Music has no caste"
I wept after hearing him talk.
The world is poorer today.
He was an integral part of the Mysticism that is Varanasi.
My father talked about my grandfather, a professor in Banares Hindu University, who had the same feelings, once a Benaresi, always a Benaresi.

In the words of my friend Dr. Hari Prakash Jain from Shivpuri, a ghazal singer -
Hum tho chal dengey jaha sey ek din
Bus hamarey phalsafey rah jayengey

I will just leave one day
leaving with you my actions and work.