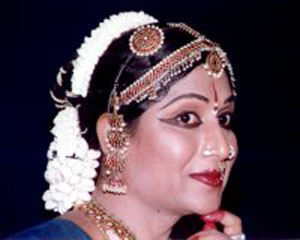 Narthaki Nataraj's bio reads just like the profile of a well-known Bharatanatyam exponent's should. Narthaki, now in her mid-40s, learnt dance in the traditional gurukulam style from the Late K P Kittappa Pillai, a renowned exponent of the Thanjavur style of Bharatanatyam. Now an established dancer herself, Narthaki runs two dance schools - the Narthaki Nrutya Kalalaya - in Chennai and Madurai. She has received enormous acclaim within the world of classical dance in the country and abroad - including the prestigious Sangeet Natak Akademi fellowship as well as the honor of being graded as a 'Top Grade Artist' by Doordarshan, India's national television channel. Narthaki has lived, trained and performed with her close friend and colleague Shakthi Bhaskar from a very young age.
This introduction gains in significance when the other half of the story is told. Narthaki and her friend Shakthi are, among other things, Aravanis - a cultural community of transgender people who are part of various rituals in most parts of India. The Hindi, the term for this community is 'Hijra'.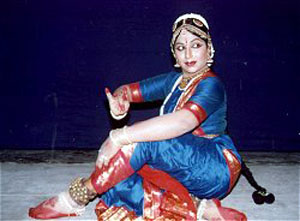 The Tamil name 'Aravani' is derived from the name of the god Aravan. The myth of Aravan from the Mahabharata - the greatest of the Hindu epics - goes like this: The young prince Aravan, the perfect male, was to be sacrificed in the Great War to ensure the victory of the Pandavas. Aravan, who had not seen the pleasures of the world, asked to be married for the one night before his sacrifice so he could experience sexual pleasure before his premature death. As no princess was ready to marry a man whose death was certain the next day, Krishna took the form a woman and fulfilled the prince's wish. Aravanis see themselves as this incarnation of Krishna and engage in a ritual marriage to the lord every year in a small village called Koovagam in Tamil Nadu. This is also the night they engage in sexual activities with local and other men.
One assumes that this ritualistic significance of the Aravanis would endow them with social and religious prestige. This, sadly, is far from the case. They are often denied even basic citizenship rights. Most people in the community are denied social, economic, political and civil rights through a combination of lack of acknowledgement of them at the policy level as well social taboos that play out within their natal families and outside. These factors combine to deny this community the fundamental right to life, freedom and dignity.
Having said this, though, Narthaki's achievement lies not only in fighting and breaking through the taboos attached to her identity as an Aravani, but moving beyond that identity. She is often peeved at the fixation with her identity as an Aravani and thus 'oppressed' than with her - very creditable - achievements as an artist. "Write about my art," she says, "that is my struggle and my victory."
Even within the world of Bharatanatyam, Narthaki has established her niche as one of the few established dancers who choreograph Tamil texts rather than the more established Sanskrit verses. Through her work with dance, Narthaki engages with other streams of politics - questioning hierarchies of caste, religion and region. She subverts established norms with Brahminised tradition of Bharatanatyam that draw from the Sanskrit texts.
While her work is firmly rooted in the Thanjavur tradition, she takes the tradition forward through her experiments with choreographing contemporary progressive Tamil poetry and verse. Narthaki's performances speak loud and clear of her commitment to the values of communal harmony and justice. In both content and form, she addresses issues such as peace and conflict, communal violence, and other violations of human rights. Through her dance schools, Narthaki has already begun imparting her art and her politics to aspiring dancers.
Narthaki's politics include and go beyond her identity as an Aravani. But through her growth as an artist and her person, she does not in anyway erase her identity. Narthaki and Shakthi hope to start dance schools for Aravanis in Tamil Nadu and elsewhere.