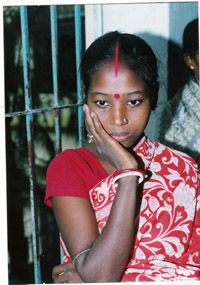 Karabi Gharami was 16 years old and studying in class five when she was married off to Surojit Sardar. After marriage, her husband would beat her up and her in-laws were hostile. When she fell ill, Karabi was sent back to her parents' home. Later, when they were intimated of a public hearing and asked to appear there, Surojit came and took her away on the pretext of his sister's wedding. The next day, Karabi was found dead. Her in-laws claim she was mentally unstable and committed suicide. Her parents allege murder.
The judge, jury and audience were all in place. The judge, Rabindranath Samanta, was an additional district and sessions judge. The jury consisted of eminent personalities like Tushar Bhattacharya, director, Civil Society Strengthening Programme (West Bengal); Dr Paromita Chakraborty, Professor, School of Women's Studies, Jadavpur and Professor Achintya Halder.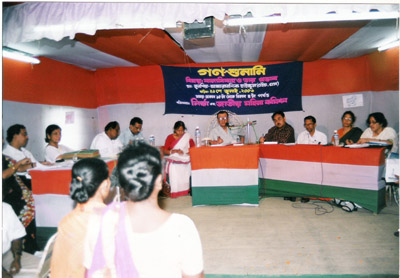 The date, July 29, 2006; the place, Village Andharmanik in South 24 Parganas. This was a very different court; it was a public hearing for 15 victims of child marriages. The women of the village were gathered at the Julpia Andharmanik High School - the venue for this awareness generation exercise. The village men were conspicuous by their absence.
Amina, Purnima, Tumpa, Torijaan Bibi, Sujata have all the same story to tell. They were all married off at 13, 14 or 15 to grooms who were a decade or two older than them. They were tortured, beaten up and, after they gave birth to three or four children, they were ultimately sent back to their natal homes. Childbirth at such a tender age had broken them physically and mentally. They couldn't work and fell ill often. Their husbands turned to other women and their in-laws resented their presence at home. When these girls reached their natal homes, things were no better. Parents were angry that the 'burden' they had got rid of was back in their homes - with the added burden of grandchildren.
Sujata Mondal, 18, said at the hearing, "If I was a bit older, maybe I could have coped better. But I just didn't know how I was supposed to react. My husband often tried to strangle me and killed our six-month-old child in a fit of rage." But why was she married off so early? Her mother's response echoed that of other parents gathered there: "We are poor. How can we afford a daughter sitting at home? The earlier we marry them off, the less dowry we have to pay."
Torijaan Bibi's father was far more categorical. "My daughter has been staying with me for the past five years. I want compensation for that." Compensation for the food he has to provide for the daughter whose life he ruined. Did he feel any repentance? "There's no point in feeling sorry now. What's done is done. I had no other choice. Now I want all the dowry and maintenance back." He would not budge from this demand.
His daughter, who sat with downcast eyes, looked up for a moment - eyes filled with shame and despair. She knew she was unwanted and her thin body shrank further into the folds of her old, tattered saree. But there was no place to hide.
Outside the makeshift courtroom, women from neighboring villages thronged. Despite the incessant rain, the turnout was huge. Not everyone could be accommodated in the courtroom.
Do these women know the legal age of marriage for girls? "It is 20 for girls and 25 for boys," one of them says. At least she got it wrong on the right side! Another mother said, sadly, that girls should not be married early but that poverty and the lack of safety for young girls necessitate such marriages.
Lata Das, Social Worker, Nistha, the NGO that organized the public hearing, confirms this. "Most villagers here are daily wage laborers. They cannot afford to keep their daughters at home because the homes are not safe enough. If someone even holds a girl's hand after 6 pm, her life is ruined forever. So, as soon as the daughter reaches puberty, they marry her off."
Nistha works out of Baruipur, a few kilometers from Kolkata. It has been working for the past 23 years in almost 100 villages across West Bengal. Nistha works to provide vocational training to willing girls and counsels parents on the ills of child marriages. The NGO has constituted a 'Kishori Bahini' (Girls' Squad) and a 'Kishor Bahini' (Boys' Squad), comprising children between the age of 13 and 18. These groups are the 'real workers' says Tapan Das, Project Manager, Nistha.
"Our main concern was to convince parents, and we have been somewhat successful. Of the 1,200-1,500 people in a village, about 50 per cent now support our cause. When we manage to convince the remaining 50 per cent, we will have achieved something. The fathers are the hardest to convince," he says. That explains the minuscule presence of men-folk at the hearing.
Meanwhile, the child brides were completely disconnected from the proceedings. It was like they had ceased to think about themselves. Robbed of their childhood by marriage and frequent childbirth, these saree-clad figures continue to look child-like.Childbirth at an early age has also left them with many diseases. Rupa Mondal, 18, went temporarily blind after the birth of her son when she was only 16. "Now, I break into a sweat throughout the day and if I hurt myself or there is some tension, my head hurts so much that I feel like I am going mad," she says.
Tumpa Halder, 18, who had a child at 14, says, "I suffered from jaundice, which affected my liver after childbirth. I have to run to the doctor throughout the year."
"The bodies of these child brides had not developed enough to support childbirth. Their pelvic regions are not strong enough. They are also not strong enough to feed their babies later on and remain healthy themselves," says Krishna Banerjee, Vice-President, Nistha.
After the hearings, the judge held a panel discussion with the jury and drew up recommendations. These are still in draft form. Once ready, Nistha will forward them to the National Commission for Women, who will forward them to the Central government. Meena Das, Secretary, Nistha, says that the strongest recommendation calls for self-sufficiency building measures for young girls in the rural areas. "We are asking the government to set up vocational training centers for young girls in every village. Girls who do not attend school can learn handicrafts or other vocational skills here, and thus be equipped for financial independence."
"Women can be weakened if they are plucked out from their natural environment at an early age. It is a well-known method of subduing women. The government should try and involve the panchayats in order to seek more effective redressal. Panchayats have been involved in health care and education, so why not in women's development?" asks Das angrily.
Nistha's first public hearing seems to be a step in the right direction. After the hearing, the police registered a case against Karabi Gharami's in-laws and arrested her husband. Although no action has been taken on the other cases so far, there is a glimmer of hope in the lives of these young girls and women.
At present, child marriage is punishable by law in India with up to three month's imprisonment and and a fine not exceeding Rs 1,000. One can only hope that our lawmakers will wake up to the fact that this token penalty is no deterrent at all.