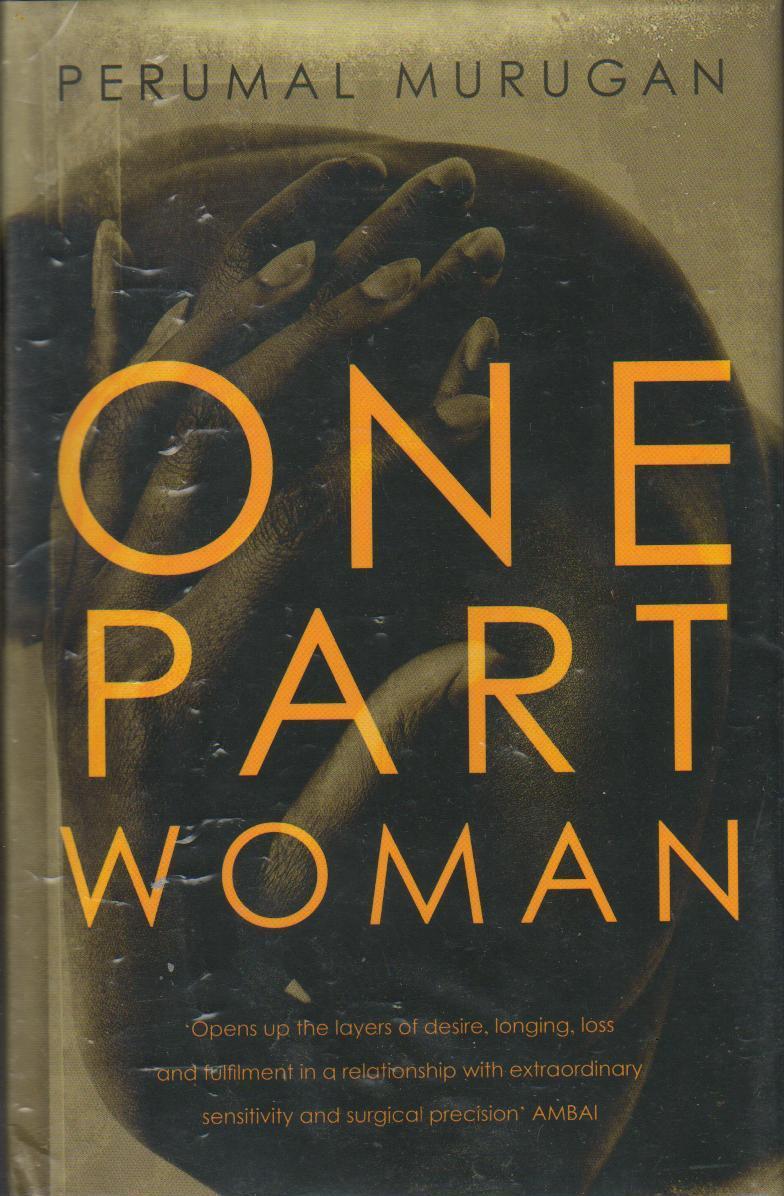 Of late, Tamil right wing activists, obviously supported by the hidebound minds, raised a lot of dust on Perumal Murugan's novel – One Part Woman. Some religious chauvinists have even gone to the extent of humiliating the writer taking up an extreme step like leading a Morcha to his home in Namakkal district, Tamil Nadu. Perumal Murugan is simply a teacher, and he has written so far thirty six books in the local tongue, of which a few have been translated into English. One Part Woman figures among English translations.Tamil title of this book is Madhorubagan. It was after its translation and publication by Penguin India that all the hell broke loose.

After a month of the ruckus, willy-nilly, the writer had to approach the law court and admit that he would withdraw not only the controversial work but all the rest of his books. Also he requested all the readers and publishers to burn down his books; thenceforth ,he wants to live just as a teacher. He said, "As a writer, Perumal Murugan is now dead."

When Perumal Murugan announced that he had chosen to remain only a school teacher, he would no longer write any book; many right minded persons from different walks of life came together and expressed solidarity for the writer urging him that he should not stop writing books. They hoped that his pen must produce even better pieces in the days to come. However, the author passed no response in this regard. All the national dailies and local newspapers across country have focused on this matter prominently. They tried to uphold the novelist's views expressed in the book.

After all, what is it in the novel that has created such an outrage following its translation in English? Only yesterday (28/1/15), I have finished reading the book. Really, I felt ashamed of those people who took umbrage at the novel in such a low manner. They argued that Perumal Murugan degraded womenfolk depicting them being indulged in promiscuity. They say that the novel is, undoubtedly, a work of misogynist. So they violently condemned Perumal and also demanded ban on the book. Again, I want to say that there is nothing in this book that would make us to look upon woman as a mere means of carnal desire. On the contrary, this novel offers us an outlet to some peculiars social traditions and religious blindness alongside fine nuances of love, marriage and sex.Though fiction , this novel puts forth some very significant sociological realities which we cannot deny by venting our anger on its writer.

The story of the novel is quite accessible with easy language and engaging style. It runs into two hundred and forty pages divided into thirty four chapters having a suggestive picture for its cover. The story starts out referring to a Portia tree dense with foliage and ends similarly. The entire narrative is woven around a Gounder family in a sleepy village in the district of Namakkal in Tamil Nadu State. It is said that the Gounder community in the state is one of the lower castes. And you know there go many traditions and customs in village communities in India. So is the case with this Gounder community, too.

In other words, it is a tragic tale of Kali and Ponna who are childless despite performing numerous rituals and offerings to rural deities. According to popular assumption a woman can conceive if the desired deity blesses her. Therefore Kali and Ponna visit to several temples of deities in the forests and on the top of hills, offers them pongals and slaughter roosters to propitiate them but without success. You know, in Indian society to be childless is a stigma. The childless parents do not receive respects and regards in social functions like marriages, birthday party, and even they are not expected to participate in someone's funeral. They have to live a life of outcast. And this is a very painful experience. The Gounder couple had to go through all these ordeals.

Particularly, Ponna had to face sneers and insinuating taunts from other women for being barren woman, so she wanted to desperately have a child. Kali also suffered the same insult from his fellow farmers. He tries every trick to impregnate her wife over decade of his marriage, sometimes he thinks to remarry but recoiled back fearing that if the second woman could not bear him a child, his situation will be even more embarrassing. Someone told him that he could resolve his problem of childlessness by sending Ponna to Tirunchengode Festival. But he was not prepared to accept that at all, because once he had gone with his brother-in-law, Muthu to the festival and had witnessed free mass sex play between men and barren women in the night on the fourth day of the festival. His own mother also had suggested him if he wanted to have his wife conceived he ought to send her in the festival and allow someone over there to take her. He spurned both the offers. he said he'd rather be childless than pimping his wife by himself. Come what may, he would not send his wife to sleep with a stranger in the festival was Kali's determination.

We must note here that Perumal Muragan, as a writer of good repute, did not at all condescend to vulgarities of description of those disgusting scenes in the festival. Truly speaking, there are just and just two incidents when he touches upon the tradition with a great constrain and in ever so suggestive and selective phrases. As a sample, I put a one here: ''Human bodies were rubbing, banging and pushing against one another. To Ponna, they all looked worms crawling on top of each other."

No doubt, Kali was a man of character; therefore, the idea of allowing her dear wife to be used as a means of physical satisfaction has not touched his mind even in the wildest dream. In the last few pages we find Ponna's mothers and her brother, Muthu make a secret plan to send her in the festival on the fourth day, openly, to get her conceived by a stranger whom they called god. To begin with, Ponna was not ready but she was convinced adroitly to accept their advice. And she did it. On a day Ponna goes to the fair in his father's bullock cart. When they reached there, her mother buys her some things of makeup. She takes Ponna in the milling crowd for having a look at the fair.. While both of them were walking aimlessly, at a shop of jewelry, Ponna gets lost in that huge crowd.

Thereafter, she wanders about in the faceless crowd from place to place, in the beginning in scare but later when she realizes that there is no way out except accepting the fate, she comforts herself and hangs around visiting shows of drams and dancing parties at places. All this while, her mind was busy with thinking that when and where she will encounter her god. And to her great surprise, she finds him at a corner. Then they slowly drift away from the crowd in the dark night. Here also Perumal Murugan maintains his composure and writes nothing about them, not a single line, let alone describe how they get into the buff and enter into each other.

Here back home, when Kali gets the wind of his wife being shoved into the pit of the sin, his nerves get frayed. He flies into a rage and keeps on blurting, "You whore! You have cheated me! You will not be happy. You have cheated me, you whore…" That's it. So plain is the story of the novel.

Besides, the novel set in scenic beauty of Namakkal district. There you will have a lot many palm and coconut groves, feast of toddy and country arrack coupled with rooster mutton. You will meet credulous villagers who can go to the extreme for upholding heir crude beliefs. You will see people bother from the vagaries of the rains. And several other things like this. In fact, there is nothing in this book that should put Perumal Murugan to such harassment. The issue he treated in the novel is not novice. We will find many an example in our scriptures to that effect.. It is called Niyoga.*
Niyoga* (Sanskrit: ?????) is an ancient Hindu tradition, in which a woman (whose husband is either incapable of fatherhood or has died without having a child) would request and appoint a person for helping her bear a child.