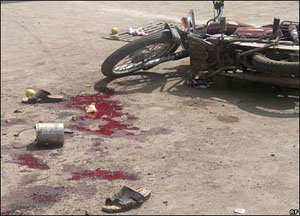 Malegaon is a dusty, textile township in Maharashtra, India's most prosperous state. On Friday, 8 September, just as a large crowd of poor Muslims were emerging after their weekly prayers, terror struck leading to the loss of 38 lives at last count and many bleeding grievously. The victims were common town goers, having no link with a fundamentalist ideology or inclination to support a jihad. Eking out daily existence in a township where the power looms were many times silent due to lack of sufficient orders was their primary focus. But to the warped master minds of those who hold the reins of terrorism in India, they were ideal targets for a strike, given that they were residents of a communally sensitive hot spot which had exploded many times before.
India's indigenous terrorists who have mushroomed over the years have the sole aim of targeting the secular fabric of the country. Thus the series of attacks in the last few years have primarily focused on prominent temples such as Akshardham in Gujarat and Ayodhya and Sankat Vimochan in Uttar Pradesh. Fortunately they have failed to evoke a violent reaction so far, of the intensity which followed the Godhra incident in Gujarat in 2002. So this time the objective was shifted to a mosque to test the waters. The reaction thus far has been muted, but knowing the tinderbox that Malegaon is and the proclivities of marginal political organizations and leaders to take advantage of the insecurities of the general populace, the next few days would be highly critical, once again testing the strength of India's secular unity.
Sadly despite clear indications of religious places, major events and particular days as Fridays, when Muslims offer weekly prayers in large numbers and are thus vulnerable, preemptive actions to avert such disasters have been found wanting. The Maharashtra police had recovered a large cache of arms and explosives from Malegaon in May this year. While a number of terrorists were apprehended, the key figures are reported to have got away. However as is evident from this as well as the serial blasts in Mumbai in July 2006, vigorous efforts to penetrate the terror cells in the State have not been made. Thus the key perpetrators of the Mumbai serial blasts are still to be apprehended and only the support network has been penetrated. This was a clear signal to the miscreants in the state that they could get away with another incident and perhaps many more.
However there was a necessity to link the episodic event with communal violence which would have supported the theory of the terrorists that minorities were not safe in India. A series of such events would have given lie to the two nation theory on which the country had been partitioned six decades ago but had successfully overcome further communal divisions as well as disharmony. The terrorist designs have been successfully foiled so far, be it in Malegaon or in Mumbai. However there are no guarantees that the situation can remain under control in case such incidents recur. There is a therefore a need to ensure recurrence of such incidents in the future, which surprisingly may not be as difficult a task as is imagined by the layman.
Strategic intelligence about such attacks has been forthcoming regularly. However the police is claiming that specific identification of targets is not feasible. Nothing could be farther from the truth. Effective proactive policing, based on scientific risk management techniques can challenge the surprise factor in terrorist attacks. These are conducted primarily on specific days as Fridays and on events, against religious, communication or economic targets.
Terrorists invariably carry out preparations for such a strike, which involves meeting up with local associates, one to two visits to the site and other tell tale marks. An alert local police should be able to identify unusual visitors and new entities to a local area and home on to them proactively. The ideal is of course penetration of the terror cells, a technique successfully applied by the Scotland Yard. Perhaps the Indian police is yet to attain this high level of sophistication. What ever be the means of intelligence, the need to gain proficiency in predicting and taking preventive actions is paramount for the patience of the Indian masses may soon run out and the next terror strike could well result in a communal back lash, just what the terrorist masters had been hoping for.