His Contribution to Management Thought
Continued from "The Giant who Touched Day after Tomorrow"
Mangers Galore – Part V
The year was 1974. You may ask: what's so special about that? Well, it's memorable in the sense that Richard Nixon had to resign American Presidency to avoid impeachment and Jerry Ford became (the first and to date the only person to become) President of the United States without being elected by the Electoral College. Unique indeed! But that's not what I'm referring to.

My reference, instead, is to a book published in that year, and, more importantly, the man who wrote it.

Sometimes before 1974, a suitably updated version of The Joy of Sex, an illustrated sex manual almost on the lines of Kama Sutra, by British author Dr Alex Comfort, M.B., had hit the market. Expectedly, it was an instant success. And to ensure immediate American acceptance, it adopted the approach of books like The Joy of Cooking. Hence, section titles like "starters" and "main courses". No wonder it was a runaway success. It remained in the best seller list for good 70 weeks.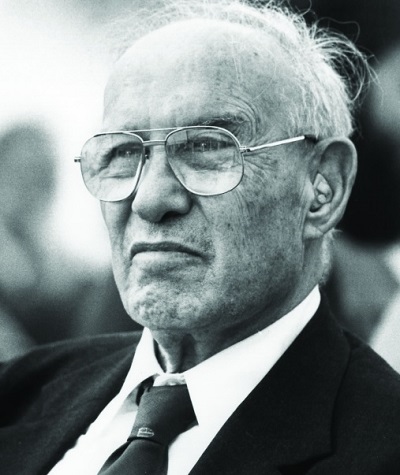 Now hold your breath! To the surprise of everyone, New York Times reported late 1974 that sales of Management: Tasks, Responsibilities, Practices, had overtaken those of even Alex Comfort's illustrated sex primer. Who on earth is the author of this manual, asked the readers. Peter Drucker, they learned. For a while, the subject of management became the hottest topic of all, even surpassing sex. And the centre of interest was the man who wrote the dry-as-a-bone tome.

Only Drucker could have achieved this feat. Who was this man to dethrone sex as the predominant concern of our so-called thinking public and made management as a crucial concern of the world of business? As a latter day management guru, CK Prahalad said: "No other person has had the impact on the practice of management that he did."
Renaissance Man
I've called him a Renaissance Man — a term that may sound trifle quaint in our world of instant, over-night celebrities who fade away by the evening. Nor am I referring to the 1994 Hollywood comedy-drama of that name.

My reference, instead, is to what the classical meaning of the term implies: a polymath i.e., a person whose expertise spans several areas of knowledge — someone outstandingly versatile and well-rounded. The expression alludes to such Renaissance figures as Leonardo da Vinci, who performed brilliantly in many fields ranging from painting to engineering to anatomy to architecture.

To such a category of multi-dimensional personalities belonged Peter Drucker.

He was born in Vienna, Austria in 1909. He had the good fortune to grow up in a home where intellectuals, high government officials, and scientists would meet to discuss new ideas.

After graduating Drucker found few opportunities for employment in post-World War I Vienna. So, he moved to Hamburg, Germany, first working as an apprentice at an established cotton trading company, then as a journalist. Drucker then moved to Frankfurt where he earned a doctorate in 1931.

In 1933, Drucker left Germany for England. In London, he worked for an insurance company, then as the chief economist at a private bank. In 1934 he married Doris Schmitz, an acquaintance from the University of Frankfurt, and the couple permanently relocated to the United States, where he became a university professor as well as a freelance writer and business consultant.

In 1943, Drucker became a naturalized citizen of the United States. Thereafter, he had a distinguished career as a teacher, first as a professor of politics and philosophy at Bennington College from 1942 to 1949, then for twenty-two years at New York University as a Professor of Management from 1950 to 1971.

Drucker went to California in 1971, where he developed one of the country's first executive MBA programs for working professionals at Claremont Graduate University (then known as Claremont Graduate School). From 1971 until his death, he was the Clarke Professor of Social Science and Management at Claremont.

Drucker died on November 11, 2005 in Claremont, California of natural causes at 95.

Among Peter Drucker's early influences was the Austrian economist Joseph Schumpeter, a friend of his father's, who impressed upon Drucker the importance of innovation and entrepreneurship. Drucker was also influenced, in a much different way, by John Maynard Keynes, whom he heard lecture in 1934 in Cambridge. "I suddenly realized that Keynes and all the brilliant economic students in the room were interested in the behavior of commodities," Drucker wrote, "while I was interested in the behavior of people."

Over the next 70 years, Drucker's writings would be marked by a focus on relationships among human beings, as opposed to the crunching of numbers. His books were filled with lessons on how organizations can bring out the best in people, and how workers can find a sense of community and dignity in a modern society organized around large institutions.

As a business consultant, Drucker intensely disliked the term "guru," though it was often applied to him; "I have been saying for many years," Drucker once remarked, "that we are using the word 'guru' only because 'charlatan' is too long to fit into a headline."
A Mind of his Own
His first book, The End of Economic Man, appeared in 1939. After reading it, Winston Churchill described Drucker as "one of those writers to whom almost anything can be forgiven because he not only has a mind of his own, but has the gift of starting other minds along a stimulating line of thought."

Next year, he set up as a private consultant to business with government policy makers, specializing in the German economy and external politics. From 1940-42 he was a teacher at Sarah Lawrence College. This was followed by the post of Professor of Philosophy, Politics, History and Religion at Bennington College, Vermont.
'Business Thinker'
Drucker's career as a business thinker took off in 1942. And just by chance. His experiences in Europe had left him fascinated with the problem of authority. He shared his fascination with Donaldson Brown, the mastermind behind the administrative controls at General Motors. In 1943 Brown invited him in to conduct what might be called a "political audit": a two-year social-scientific analysis of the the internal workings of GM, one of the largest companies in the world at that time.

Drucker used to tell in his later years that after accepting the General Motors assignment he wanted to understand what management meant in those days. So, he visited New York Public Library to borrow whatever books he could lay his hands on. Unfortunately, there were practically none. What a contrast to our times when the surfeit of books on management is being added to by at least a few titles every month. And most of them very superficial!

During his GM assignment Drucker attended every board meeting of the Company, interviewed many employees, and analyzed production and decision-making processes. He spent hours with the legendary Alfred Sloan asking some very basic questions.

The result was Concept of the Corporation. It indeed popularized GM's multidivisional structure and led to numerous articles, consulting engagements, and additional books. GM, however, was hardly thrilled with the final product. Drucker had suggested that the auto giant need to re-examine a host of long-standing policies on customer relations, dealer relations, employee relations and more.

In the end, he deemed GM — then perhaps the most powerful corporation in the world — a failure. "General Motors... can be seen as the triumph and failure of the technocrat manager," he later wrote. "In terms of sales and profits [GM] has succeeded admirably . . . But it has also failed abysmally — in terms of public reputation, of public esteem, or acceptance by the public." Drucker passionately believed that management is not as a technocratic exercise, but a profession with a noble calling, just like the very best of medicine and law.

Inside the corporation, Drucker's counsel was viewed as hypercritical. GM's long-lasting and much-revered chairman, Alfred Sloan, was so upset about the book that he "simply treated it as if it did not exist."

According to Drucker, management is "a liberal art," and he infused his management advice with interdisciplinary lessons from area as diverse as history, sociology, psychology, philosophy, culture and even religion. He also believed strongly that all institutions, including those in the private sector, have a responsibility to the whole of society. "The fact is," Drucker wrote in his 1973 Management: Tasks, Responsibilities, Practices, "that in modern society there is no other leadership group but managers. If the managers of our major institutions, and especially of business, do not take responsibility for the common good, no one else can or will."
Prolific Output
Driven by an insatiable curiosity about the world around him — and a deep desire to make that world a better place — Drucker continued to write long after most others would have stopped hammering on their typewriters. The result was a ceaseless procession of landmarks and classics: Concept of the Corporation in 1946, The Practice of Management in 1954, The Effective Executive in 1967, Management: Tasks, Responsibilities, Practices in 1973, Innovation and Entrepreneurship in 1985, Post-Capitalist Society in 1993, Management Challenges for the 21st Century in 1999 et al.

Drucker spent the last 30-plus years of his career on the faculty at Claremont Graduate University. In 2002, he received the Presidential Medal of Freedom, the nation's highest civilian honor.

He died in November 2005, just shy of his 96th birthday.

The most important reason why people continue to revere Drucker is that his writing remains startlingly relevant. Reading Concept of the Corporation, which was published in 1946, you are struck not just by how accurately he saw the future but also by how similar today's management problems are to those of yesteryear. This is partly because, whatever the theorists persuade us to think, management is not a progressive science. We face the same dilemmas and difficult trade-offs time and again. And it is partly because Drucker discovered a creative middle ground between rival schools of management. He treated companies as human organizations rather than just as sources for economic data.

He also insisted that all human organizations, whether in business or the voluntary sector, need clear objectives and hard measurements to keep them functionally efficient. A century after his birth Drucker remains one of the few management thinkers to whom the word "guru" that he himself disapproved, can be applied without a hint of embarrassment.

What's the thrust of Drucker's enormous impact? It is not on account of any of his specific ideas, but in his entire approach to ideas. And this approach was based on four key components: First, he looked out the window, not in the mirror; second, he started first — and always first — with results; third, he asked audacious questions to challenge conventional thinking; and forth, he infused all his work with a genuine concern and deep compassion for the individual.