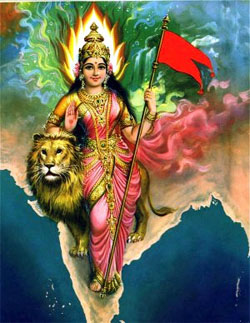 The deathless spirit of the glorious song of Bankim Chandra Chatterjee continues to move the minds and hearts of our countrymen and the song – Vande Mataram – will continue to reverberate throughout the length and breadth of India for centuries to come. The moving and swaying words of Swami Vivekananda come to my mind in this context : 'True human feelings, passions and emotions are indeed the gastric juices of the soul'.
The spirit of a nation is what counts - the look in its eyes. A nation reveals itself not only by the men it produces but also by the men it honors, the men it remembers. The driving force of a nation lies in its spiritual purpose, made effective by free, tolerant but unremitting national will. Energy in a nation is like sap in a tree: it rises from people bottom up. Patriotism is a lively sense of responsibility. Patriotism is not a short and frenzied outburst of emotion but the tranquil and steady dedication of a lifetime.
Every patriotic Indian, every nationalistic Indian, every cultural Indian would like to express his boundless and passionate love for his Motherland and the immortal song of Bankim Chandra Chatterjee in the moving words of another great poet:
How do I love thee? Let me count the ways.
I love thee to the depth and breadth and height
My soul can reach, when feeling out of sight
For the ends of Being and ideal Grace.
I love thee to the level of everyday's
Most quiet need, by sun and candle-light.
I love thee freely, as men strive for Right;
I love thee purely, as they turn from Praise.
I love thee with the passion put to use
In my old griefs, and with my childhood's faith.
I love thee with a love I seemed to lose
With my lost saints, -I love thee with the breath,
Smiles, tears, of all my life! - and, if God choose,
I shall but love thee better after death.
Lord Acton said that patriotism is in political life what faith is in religion. Rousseau said: 'Do you wish men to be virtuous? Then let us begin by making them love their country'. Lord Tennyson in a great poem wrote 'The song that nerves a nation's heart is in itself a deed' . The things that the Vande Mataram stands for were created by the glorious sacrifices of a great people for freedom. Everything it stands for was written by their lives. The Vande Mataram song is the embodiment, not of sentiment, but of history.
Several outstanding musicians of India like Pandit Visnu Digambar Paluskar, Pt Omkarnath Thakur, Vishnupant Pagnis, Keshavrao Bhole, Desh Das, Satyabhushan Gupta, Dilipkumar Roy, Bhavanicharan Das, Hemchandra Sen, Harendranath Dutt, G M Durrani, Vasant Desai, Moghubai Kurdikar, Geeta Dutt, D Vasanta and D Vimla and M S Subbulakshmi, have given recordings of Vande Mataram. Upon the suggestion of Subhashchandra Bose, Timir Baran set the tune to Raga Durga in the style of a marching song. This gramophone record was used for the parades of the Azad Hind Sena, and the record was frequently broadcast from Singapore radio. Sursagar Jagmohan, Matrusevak Dal of Kamal Dasgupta Pankaj Mullick, Aanadi Dastidar, Rajan Sarkar and others made similar recordings.

As a part of its 70th anniversary celebrations, the BBC conducted an online survey of World's 'top ten' songs in November 2002. The response it got from millions of Internet users from 155 countries was indeed tremendous and the final results were declared on 21 December, 2002. The Irish National Anthem A Nation Once Again topped the list. An Indian song Vande Mataram obtained the second position.
Although the popular voting was for a version of Vande Mataram in the tune set by A R Rahman, yet the fact cannot be denied that this song has been extremely popular in India for over 120 years. Several musicians and singers have recorded it on gramophone records from as early as 1905.
The common patriotic people of India who love the Vande Mataram song owe a deep debt of gratitude to a remarkable individual by name Suresh Chandvankar, Honorary Secretary, 'Society of Indian Record Collectors'. He is a scientist by profession and his hobby is collection of old and rare gramophone records. In a brilliant article in the internet titled Vande Mataram, A most popular and evergreen Indian song, he has traced various aspects of this evergreen, controversial and sacred song which Bengalis call Bande Mataram whereas Indians from all the other states call it Vande Mataram. Much of what I am saying in this article is based on the facts in this internet article.
Given its growing popularity it is no surprise that early recording companies like Bose records and the Nicole Record company recorded it in the voice of Rabindranath Tagore, Babu Surendranath Banerjee, Satyabhushan Gupta, R N Bose and others. Hemendra Mohan Bose released a version commercially on his label, H Bose Records, in 1907. The police destroyed the factory, and the existing stock of records. However a few copies of the disc survived in Belgium and Paris (where Pathe/H Bose records were pressed). Hence we can still listen to Bande Mataram in Rabindranath's voice. Unfortunately, he recites the song in a rather shrill, high pitched and nasal voice, and in extremely slow tempo. This is the oldest recording available on a gramophone record. It has now been released on CD and is available along with a book, Rabindranath Tagore: Facets of a Genius, published by All India Radio in 1999.
A National Anthem or a National song or a Cultural Song, call it what you will. This great song was created by 'Akshay Navami' Bankimchandra Chatterjee (1838-94) on Sunday, 7th November 1875 at his residence in Kantalpada, in Naihati village, which is just a few miles away from Calcutta. The song is now 131 years old. It is probably the only Indian song that is still widely popular all over India, and musicians still want to sing it again and again, and keep composing new tunes for it.
In 2000, a book in Marathi, Vande Mataram: Ek Shodh by Mr Milind Sabnis, was published in Pune. This is a carefully researched monograph, which should be translated in all the Indian languages by the Ministry of Culture, Government of India if it is at all devoted to the cause of Indian culture and not that of Pakistan or Bangladesh or Italy. A few audio/video albums featuring Bande Mataram have been released in recent years. The Society of Indian Record Collectors, a Mumbai-based organization, has traced about one hundred different versions of Vande Mataram recorded over the last hundred years. These versions vary from the voices of Rabindranath Tagore to that of A R Rahman. Based on available recordings, an attempt has been made by Suresh Chandvankar to note and record the musical aspects of this evergreen song.
Bankimchandra was among the first batch of graduates from Calcutta University. In his youth, he had witnessed the unsuccessful mutiny of 1857. Around 1870, the British rulers were trying hard to force their anthem, God Save the Queen, on Indians. This made a deep impact on Bankimchandra's sensitive mind, and he wrote Bande Mataram in one sitting, in a mood that must be called divine, and transcendental. He wrote the song as a prayer in which the nation 'Bharat' was described as 'The Mother'. The song was later included in his novel Anandmath, which was published serially in his magazine Bangdarshan during 1880-1882. When he was bitterly criticized for composing this song by some of his contemporaries, like a prophet, he declared in 1882 : 'I may not live to see its popularity, but this song will be sung by every Indian like a Ved Mantra. And that is what that exactly happened after the partition of Bengal in 1905. It became a very popular slogan overnight. It crossed the boundaries of Bengal and spread all over the country like a flame.'
When Independence was round the corner in 1947, several composers, musicians and singers from Bengal and Maharashtra were confident that this would become the Anthem of independent India. Hence they set a number of tunes for the song. Amongst these great and enthusiastic pioneers were Master Krishnarao Phulambrikar and Mr V D Ambhaikar. Even before our independence, Master Krishnarao Phulambrikar had cut a gramophone record around 1935. His radio broadcast was interrupted soon after he began to sing the banned song at the end of his program. He then boycotted all radio programs. He popularized his tunes through gramophone records and by singing it in his music concerts. After Independence, he was invited to sing on All India Radio and he began his concert by singing Vande Mataram. In 1948, when he learnt that Pandit Nehru was against the music of the song and not the contents, he volunteered to prepare tunes for the Vande Mataram song. He prepared several alternative versions of the song recited solo, in chorus, as a marching song, with and without accompaniment. These recordings were played to members of the Constitution Committee.
At a meeting of the Constitution Committee held on 24th January 1950, President Dr Rajendra Prasad announced that Jana Gana Mana would be the National Anthem of independent India and Vande Mataram would be the National song with same status as the Anthem. With this decision, all efforts at providing new tunes ended and the recordings made up to that time have now become important documents and part of our cultural heritage.
The spirited and heroic attempts of Master Krishnarao Phulambrikar to make Vande Mataram our national anthem after our Independence were frustrated by Pandit Jawaharlal Nehru who had indivisible contempt for non-Muslim feelings and sentiments. He forgot that the might of the Government of India can never succeed in confiscating the Vande Mataram thoughts, feelings and emotions of millions of people in India.