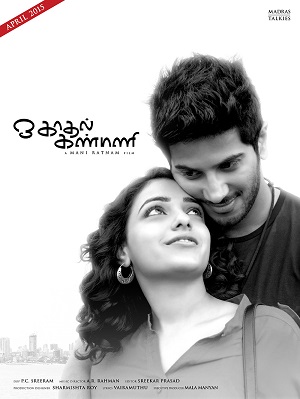 Maniratnam's latest offering 'O Kadhal Kanmani' is an impenitently upper crest and new gen movie that could have ever been made in Tamil in recent times. While the entire Tamil movies are wallowing in either rural based mindless mayhem or irritatingly pedestrian city stuff, Maniratanam's OKK comes as a whiff of fresh air that too with mild fragrance. There are no villains, no stunts, no heroism and no bloodshed.
The concept of marriage and mutual compromises are slowly waning among the youngsters. But, at the same time, they have definitive goals in their minds and show no qualms in differentiating 'sex' and 'marriage'. Therefore, we find acceptance for 'live-in' relationship in recent times by some bold boys and adventurous girls. Adhi (Dulquer Salmaan) and Tara (Nithya Menon) like each other but they have no belief or interest in the institution of marriage. Adhi wants to make big money and well, his destination is the Eldorado USA, but Tara opts for taking up Architecture studies in France. The boy belongs to middle class and the girl is a millionaire.
Nevertheless, they meet, court and date but choose to live together in the room of Adhi who is just a Paying Guest of an aged couple Ganapati and Bhavani (Prakash Raj and Leela Samson) in Mumbai. Tara moves in much against the opposition of Ganapathi Uncle. There is a lot of fun, frolic and romance till the day comes for their parting.
Up to this point the movie moves on breezily and even the silly fights and banters between Adhi and Tara do not create much impact. The climax and the change of minds take place are centered on the sudden spin that affects the elderly couple's life.
The movie's subtext is to understand whether sex is an expression of love or love is an excuse to indulge in sex. As in any love story the love triumphs ultimately. Dulquer Salmaan and Nithya Menon fit their role perfectly and perform with the spirit of the present day young gen. Prakash Raj and Leela Samson handle their characters in a subdued manner with maturity.
I am not a fan of ARR and so better leave it to the noise loving young generation and luckily the songs do not come as speed breakers.
Nitpicking? Yes. Those who have watched Maniratnam's earlier popular films 'Mouna Ragam', 'Alaipayuthey' and 'Ayutha Ezhuthu' may feel the love scenes creating a sense of déjà vu.
Yet, 'O Kadhal Kanmani' is a light hearted, time pass romance; well, also with a message.