The word "handicapped" or "disabled" does not typically associate itself with inner desires and feelings. Most of us, who live a "more privileged" life in terms of physical and mental agility, often look at disabled people with our stereotypical lens. Unfortunately, lot of those encounters end up with some form of pity or the other – not only for them, but also for their families and their loved ones.

From their perspective, the word "fitting in" holds a lot of truth as they are constantly challenged by the harsh reality that they are looked with a different set of lens and often are unfortunately given some slack because of their physical or mental ability.

My stereotypical view was challenged during the New York premier of "Margarita with a straw" during the NY Indian Film Festival 2015. Director Shonali Bose did an outstanding job in depicting the life and the inner conflicts of two disabled protagonists Laila (who as cerebral palsy) and Khanum (who is visually impaired). Apart from the mobility restrictions, the movie embarks on a sexual journey with the two primary characters. Be it an affinity for pornography, need to masturbate, need to enjoy physical company of boys and girls alike – the movie did an amazing job in questioning our beliefs and take us outside of our comfort zone.

The movie made me do a bit more research on disability and sexuality. I found an excellent resource from Alberta Health services in Canada, which is a package for parents on how to handle sexuality as a topic w.r.t raising their children. The complete report is available here

The report defines Sexuality in a very mature way

"What SEXUALITY is… Sexuality is not just sexual intercourse or sexual activity.

Sexuality has to do with:

- being female or male, and how females and males are alike and different in
- the way they look and act; how we view our bodies and our relationships with each other;
- how we grow and change over the years;
- who we are as women and men (girls and boys); and
- how we reproduce.

Sexuality (our feelings and behaviors) is an important part of being human and healthy sexuality is an important part of a person's overall health and well being."

In this movie the first hint of expressing sexual desire was when Laila expressed her need for self-gratification on a wheelchair with an audio clip from a porn site… But this was done in private and hence did not cause her parents any embarrassment. But such an activity which has always been in the private domain for people with full mental development – is often a challenge for those whose development has been delayed. After reading some forums and comments one of the frequent problem faced by parents of these kids / young adults – is that masturbation happens in public, which could be quite embarrassing for obvious reasons. Those cases are pretty tricky and hence parents and caregivers need to have a mature discussion emphasizing that masturbation is okay but needs to be done privately. Kids with excessive disability may need medical devices that discourage such actions, but that should be used as a last resort.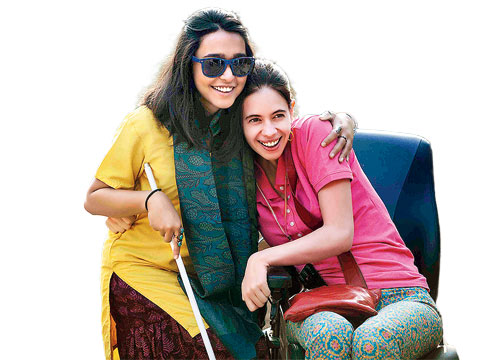 (Image courtesy: The Telegraph, Kolkata)

In the movie, it was shown that Laila was sexually involved with two guys Druv (another physically challenged kid) and Jared (a college playboy). In both those cases it was a clear reminder that Laila too had desires and needed to be met. It would be naïve for parents to forget the fact that the need for expressing their sexual desires is applicable for all human beings – irrespective of their maturity. The film did not show if the sexual acts were protected or not. Often disabled teens face the challenge of pregnancy and / STDs if the behavior is not managed properly. Firstly parents need to acknowledge behaviors of teenagers as universal and the same discussion applicable to regular kids are also applicable to disabled kids.

There is also an added pressure of sexual exploitation in the guise of "sexual freedom". In the movie, I was in two minds on whether Jared misused the trust established by Laila and if he exploited her sexually in a weak moment. Irrespective of which culture you come from – it is often very unlikely that a handsome young able boy will fall for a disabled teenage girl and want to be in a committed relationship. On the other hand, I could argue it the other way if Laila exploited Jared to fulfill her unmet desires and indirectly meet her unwritten desire to fit in with the rest of her cohorts.

I was in a similar sense of confusion when I saw Laila and her room mate Khanum get cosy. I felt I was questioning myself – if it was "gay" behavioral traits or just "pure loneliness" that crept into their lives. It was briefly mentioned by Khanum later in the movie – where she was pondering if she had been exploited for convenience. Laila's response was "I did not want to loose you"… While it may be irresponsible for me to agree with that assumption – but that dialog did raise a doubt. Even though Laila called herself "Bi-sexual" I was not very sure if I was totally bought into that idea. I believed it was a bit of "loneliness", "need for experimentation", "peer pressure", "physiological desires", "lack of alternate and tangible sexual outlets" and "pure lack of inhibition that cripples normal individuals".. Therefore to that what extent her behavior is Bisexual is under scrutiny in my mind.

The last scene in my mind was both depressing and heart warming. The fact that she went on a date with herself sipping a margarita on her own was a bit worrying as I was not sure if she held herself responsible for any wrong doing and decided that "being alone" is my destiny. On the other hand it could be interpreted as the fact that she has shrugged off her experiences and decided to move on and take the next relationship "chin up".

All in all a very thought provoking movie if seen for the right reasons. It would be a waste of time if immature people turn up to see this movie for some spicy action. I would point them to the World Wide Web for those pleasures. This is a movie which you need to see with the right kind of friends and then have a mature discussion on how your thinking process has been questioned by the characters portrayed in the movie.

I loved most of the casting except the lead role played by Kalki Koechlin. Even though she played the role well, her French persona did not fit in within a family with a Punjabi parent and a (Gujarati or) South Indian mother. It felt she was an adopted white girl belonging to Indian parents. If I was the casting director I would have tried someone like Tannishtha Chatterjee for the role who may have fit the Indian persona better.

I would give this movie 4 stars out of 5, however for content and the story I would give it 5 out of 5.