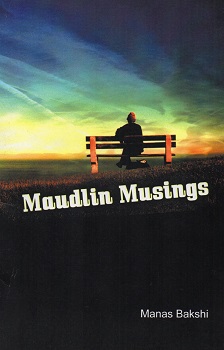 Maudlin Musings by Manas Bakshi
2014. Sparrow Publications, Kolkata, India.
pp.80 pbk. $9 USD 150 Rs
ISBN: 978-81-89140-87-8
This delightful book is quite unique. It contains 251 short poems which cover most aspects of human life with an emphasis on "feeling and frailty, that are never gone." Opening this book is a little like delving into a treasure chest of jewels, each poem is like discovering a lovely gem.

At first glance it appears to be a volume of Haiku poems but closer reading dispels this illusion. Many poems do have three individual lines, however, as Bakshi comments at the start of the book. The poems are: "Arranged as written from time to time, it is essentially micro-verse or short-verse ranging from 3 to 9 lines - not segregated as Haiku, Tanka, Zen or anything else."

Maudlin Musings is Dr Manas Bakshi's tenth book of English poetry, the first was published in 1988 and the ninth in 2011. Although he also writes articles and essays on socio-economic matters, poetry is his passion. He has been writing and having published poetry for almost thirty years. Apart from the ten books of his own verse he has been widely anthologised and represented in both his native India and various countries around the world.

Bakshi has, by inventing his own style of micro-verse, freed himself of the standard Haiku seventeen syllables format which in a master's hands, such as Bashõ is highly effective, but in many modern examples is often rather ineffectual or contrived. This freedom allows Bakshi to express exactly his inner feelings without adding an artificial restraint or control.

His poems often involve observations and deep feelings about the natural world, some are quite mystical such as Poem (80) (p. 27), the poems have no titles simply consecutive numbering.
The murmur
Of falling leaves!
The stone is deaf -
Can you hear me?
It is rather astonishing how a handful of well chosen words can convey powerful meaning and set our minds on fire with curiosity, sometimes more so than longer poems. Bakshi can with just a few words create poignant imagery which transports the reader to the place of the poem: For example Poem 135 (p. 41)
A single twig
Lifeless, pallid
Surfacing from a pond -
Humming bees there...
Man's unknown song!
Bakshi often uses wonderful, subtle metaphors in his word paintings, and frequently there is layered meaning, as a brilliant example, Poem 66 (p. 24)
Love and lust
Weaved in wedlock
As straws and twigs
In the making of a nest.
There are numerous poems referring to love and marriage but also many which question the nature of the self and one's relationship with existence, Poem 92 (p. 30) cleverly uses a mirror as an interlocutor and again has a deeper than immediately obvious meaning, the following Poem (130) (p.40) confronts the self in old age.
Looking at me
The mirror says
What you look like
Ridicules your inner-image!

Old age loneliness
Mindless wandering-
Endless reminiscence
Of what one will never
Get back again.
Considering Bakshi's approach to poetic inspiration one critic suggested his work represents a "profound introspection", I would have to agree with this. We experience in his work deep philosophical questioning resulting in short, sharp, pithy (though not depressing) poems, which together with his haunting use of metaphor, as previously mentioned result in 'gentle jolts' to the reader's mind which require some contemplation to absorb fully. Poem 145 (p. 44) is a great example of this:
On the foggy screen of life
Fingerprints of memory -

Someone's left alone
To brood over
Some untold story.
This to me is an extraordinary masterful poem, in a mere five simple lines Bakshi has captured the human condition perfectly. Absolutely brilliant, this poem continually haunts me! Another poem in the same vein penetrates the psyche and makes the reader pay close attention Poem 215 (p. 64)
A photograph kept
With care and caution
Against moisture
Still fades into haziness -

An imprint
Of merciless time.
Most volumes of poetry are not meant to be read continuously or in one sitting, this is even more so with Bakshi's aphorism-style, micro-verse poetry. I suggest reading one poem a day and contemplating its inherent wisdom. Also this book will provide an almost endless supply of brilliant quotable gems for special occasions. I will end this brief book review with one of Bakshi's more profound hard hitting "reality check" poems. Poem 104 (p. 33)
With the moment
We come
Here, in this earth
Our return ticket's confirmed.