When in Hindi movies, heroine oriented subjects like 'Queen' or 'English Vinglish' the protagonists are shifted to exotic foreign locales to establish their identity, here is a Tamil movie '36 Vayathinilae' (At the age of 36), a remake of a successful Malayalam movie 'How old are You?' has a foreign locale but the heroine plans to visit it only at the end just for sightseeing.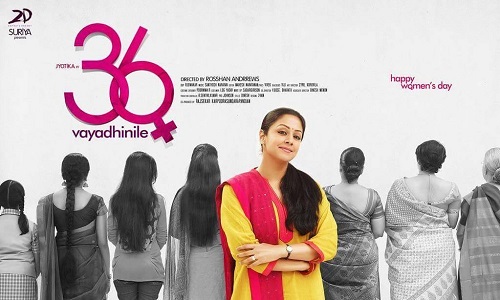 '36 Vayathinilae' has some specialties; it is a comeback vehicle for actor Jyothika after 8 years; the film is fully centered on the heroine and the hero, her husband (Rahman) one can say a sort of a villain; the heroine is a state government employee and she wears plain silk and cotton saries; she is tidy always and her hair is not frizzy or unkempt but neatly combed and plaited. There are no duets and fun or frolicking. No sickles, no vendetta, no bloodshed or no high voltage drama.

The story is about Vasanthi, a 36 year old, married, mundane state government staff. She is such a self effacing woman that her life centers only on her husband, teenage daughter and aged in-laws. She goofs up in an unusual opportunity of meeting with the President of India and becomes a butt of ridicule for one and all. Her husband and daughter treat her with contempt most of the time, leave for Ireland leaving her in India as she could not get any employment there. She realizes that she had been neglected and a sudden entry of her college mate turns her to identify her own strength and she goes ahead to prove that 'her dream is her signature'.

Though captured in the natural ambiance with colloquial dialogues and underplayed acting, the movie is a sort of a fairy tale. I think India is one country where we keep on talking about 'women empowerment', even today, almost a nonexistent issue. A woman subjugates herself willingly in this country and men are blamed for it. When India is a country where we have seen several women in very powerful positions whether it is in politics or management such statements and preaching sound absolutely superfluous and pretentious. Nothing has changed in the society in the last 15 years except the intervention of internet and social media publicity. Further, how many Indian housewives have dreams of their own except about their children?

Jyothika looks pretty and performs her role effortlessly. Others are adequate. The moment the movie starts on women empowerment, it almost turns synthetic and preachy.

How many social messages one can pack in a movie? Women empowerment, enterpreneurship, organic farming, open terrace garden and marketing at one go and the heroine succeeds in all these within 2 years and meets the President again with pride at the Rashtrapathi Bhavan! If life becomes so fast, easy, manageable and simple in India, this country should be a Heaven on Earth. Is it so? Well, notwithstanding all these hyperboles, '36 Vayathinilae' is to be appreciated because it is a clean and family film literally and figuratively.