My acquaintance with Hindi movies is approximately four decades old. I find the concept, characters, narrative and the locations are slowly migrating from India to foreign lands. When 'Sangam' was shot in the Europe for the first time in sixities and when the foreigners watched the lead pair Raj Kapoor and Vyjayanthimala kissing (of course not shown explicitly as in DDD) amused by it and asking 'Indian?' have become terribly antediluvian when you watch the present day Hindi movies. First it was for songs and then the story itself moved from India to London, Paris, New York, probably except Timbaktu.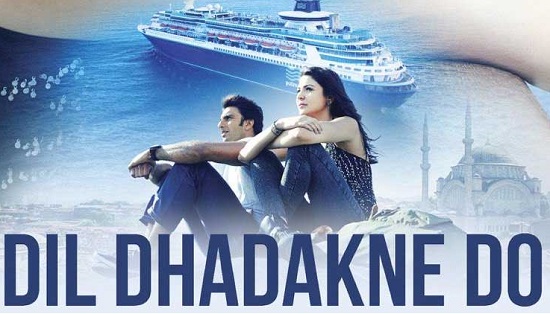 DDD is a luxurious movie with very little stuff to chew. A multi millionaire father arranges for a happy cruise covering Turkey and Greece for his family, friends and relatives partly to cover up his imminent disaster in business and to salvage it through a marriage proposal using his reluctant son as a pawn in the game.

Unfortunately, or rather realistically the movie looks and sounds more videshi than desi except the characters speak many (not most) of their dialogues in Hindi and their views are conveniently conservative on marriage, divorce, chauvinism and child birth. Like the luxury cruise the movie moves at a leisurely pace introducing too many characters. But Zoya Akhtar and Reema Kagti need admiration for making the main players stand out among otherwise dull proceedings.

What makes DDD watchable is its opulence and the players; Anil Kapoor as the business man, Shefali Shah as his imperious wife, Ranveer Singh as his bouncy son with least interest in the family business, Priyanka Chopra as his enterprising daughter but an harassed wife look good and act with élan. Anushka Sarma, Rahul Bose, Farhan Akhtar also appear in cameos. The problems projected in DDD are, in the real Indian milieu are not problems at all. Money could solve most of the problems in this world and more so in India.

If you have enough free time (it runs for 170 long minutes), taste for luxury, interest in watching good looking well dressed actors take a trip to DDD. Otherwise, you will consider it as a sheer waste of time and money.