Poems and drawings of Amitabh Mitra
Published by The Poets Printery (South Africa)
Date of publication: February 2015, Pages: 59, Price: Rs.220/-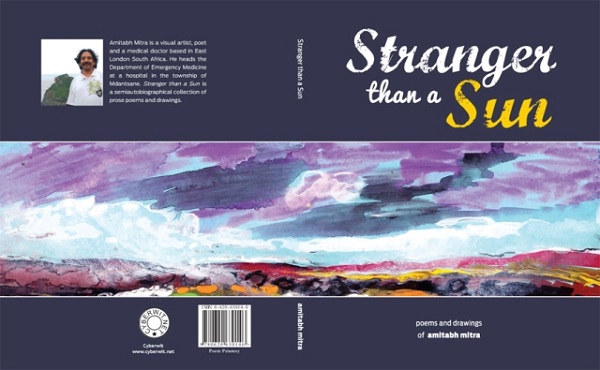 It was Amitabh Mitra's paintings that drew me to his creative world. A medical doctor passionate about art, music and writing was something, I found exciting. I have always believed that creativity expands our inner horizons and gives us a unique perspective on life. I could see it in Amitabh's art as well as his poetry in Stranger than a Sun, a semiautobiographical collection of prose poems and drawings. The book has an exquisite blend of nostalgia, romance, culture and art.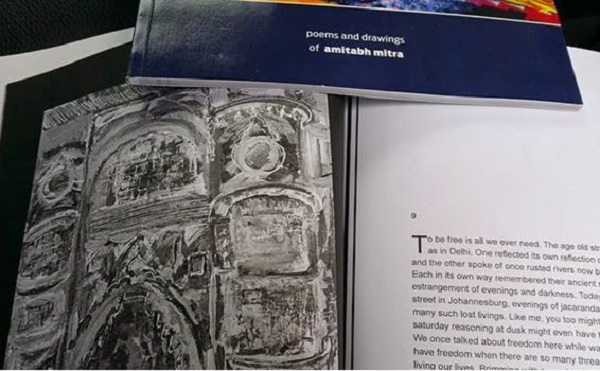 The charcoal drawings of the Gwalior fort add a hauntingly beautiful aura to the words on each page. You are at the same time in many place, drifting through different times, different ages. Every time you turn a page you are drawn into something which is familiar and yet strange. It makes you yearn for that which is now lost in the shadows, a moment from the past. A lucid dream where you hear the echo of a forbidden love, the weathered stones whisper to you an unfinished story.
"What would you say … (poem4)
The arched stairs in the Haveli (charcoal on paper) take you into the intriguing labyrinth of its historical past and heritage where love, poetry, music still breath in each crevice, each corner. The poet sets the imagination of the reader on fire.

For me, who has passed the fort many times during my travels, who has been to the lanes and bylanes of Old Delhi, the places instantly begin to pulsate with life. The landscape of Gwalior by the fort at one end and dotted with palaces, chattris and havelis from where the Marathas ruled and the narrow lanes of Old Delhi, the seat of Mughal empire, filled with aromas, colours, music and poetry, each place steeped in tradition and history of its own.

There is a sense of disdain for age old barriers that flickers on some pages. Falling in love under a rebellious sky is a poem in itself. The evening prayers from Jama Masjid reverberating in the air filled with smell of spices, itr and cacophony of life as the lover secretly maneuvered the crowded lanes of old Delhi. The excitement of a forbidden love and the participation of a cashew vendor in making things work for the young lovers is a visual treat.

"I always waited, feeling the aroma of your itr and you came nearer… munching cashews we just looked at each other and only sometimes you would touch my ears as chacha jaan arranged to become busy …..way back home.." (19)

Throughout the book one tends to linger and savor the moment, taking in the longing, the pain of separation, longing and fluttering of hearts.

Nothing can describe loneliness better than the Ravines of Chambal. The feeling of 'missingness', the ache of a lost love runs through all the pages.

"you smell of summers, subtle and strange at many hours on many such days….) (51)

"loving can be so distant too… (45)

Most interesting aspect of Amitabh's writing here is his ability to bring together the past and present dissolving the boundaries and the distance as the poems vacillate between India, Bhutan, Niger, Zimbabwe and South Africa. Each town, city, road finally joining with his hometown, Gwalior without being jarring or out of place is the book identifying with a strangerloving. The multicolored hues of cultural heritage, beliefs, seasons, the ecstasy of love and the anguish of loneliness, we see in his poems are intensely personal yet universal.

For me, the stillness in the monochrome of the charcoal drawings does not conflict with the vibrancy of the words next to them. It all came together beautifully.

The book brings to my mind medical professionals who are experimenting with healing with creative forms like music and art. One can see this streak of lateral thinking in Amitabh's work.

You can find glimpses of a humane approach to life as a doctor in the poems from Arunachal, Mdantsane and Niger where he sees his patients not just as clinical objects of study but in their entirety as human beings with all the frailty they have, apart from physical discomfort. A much needed approach to holistic healing is evident here.

The poet is a seeker in the poems from Bhutan, looking for something elusive. A different shade of him that still has hues from his past and yet is different.

This is a book one would like to keep and browse through on and off.

On another note, the lack of good editing sometimes obstructs the flow of thought but it certainly doesn't diminish the intensity of his work.

To sum it up "It's you and the fort rushing back, its last echoes remain in just another sun."