'The meaning of song goes deep. Who is there that, in logical words, can express the effect the music has on us. A kind of inarticulate, unfathomable speech, which leads us to the edge of the infinite, and lets us for moments gaze in to that' …– Thomas Carlyle
I had the good fortune of playing the resonant, vital, vibrant and vivid voices of Dilip Kumar Roy and M.S.Subbalakshmi rendering the song of Vande Mataram.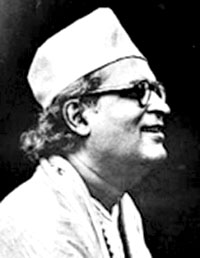 I first heard the resplendent voice of Dilip Kumar Roy singing Vande Mataram at Rajghat in Delhi in 1953. Dilip Kumar Roy (1897-1980) musician, singer, writer, was born on 22 January 1897 in Krishnanagar in Nadia district, West Bengal. He was the son of Dwijendralal Roy. He lost his mother in childhood and was brought up by his father. At the age of 16, however, he also lost his father. In 1918 he passed BA with honors in Mathematics from Presidency College and went to Cambridge University in England, earning a Tripos in Mathematics.
Dilip Kumar Roy had his first lessons in music from his father. He later learnt music at the feet of Surendra Nath Majumder, Radhika Prasad Goswami and Achchhanna Bai. During his stay in London he passed the first part of a course in western music. He went to Berlin to learn German and Italian music, returning to India in 1922. He then practiced Classical Music under the guidance of Ustad Abdul Karim Khan, Ustad Fayaz Khan, Pundit Bhatkhande etc.
Dilip Kumar Roy, achieved fame throughout India and abroad as a beautiful and soul - stirring singer. He came from one of the most aristocratic and artistic families of Bengal, and played an important role in creating an artistic renaissance in India. Dilip Kumar Roy was a distinguished composer and singer, whose varied musical experiences and sensibilities transcended the boundaries of his native land. He was equally adept in composition, notation and singing. During 1922 and 1927 he traveled extensively all over India coming in close contact with its entire musical world. During this period the freedom movement under the inspiring leadership of Mahatma Gandhi was in full swing. Dilip Kumar Roy's soulful rendering of Vande Mataram song of Bankim Chandra Chatterjee captivated the souls and hearts of our countrymen in all parts of India. Mahatma Gandhi paid this tribute to Dilip Kumar Roy: 'I may make bold to claim that very few persons in India - or rather in the world - have a voice like that of Dilip Kumar Roy, so rich and sweet and intense.'
In 1927 Dilip Roy traveled to Europe to deliver lectures on Indian classical music. He had discussions on musical theories with the two chief music experts of his time Rabindranath and Roma Rolland. Subhash Chandra Bose and Jawharlal Nehru were his close personal friends. He had also the good fortune of coming in to close contact with great men like Mahatma Gandhi and Bertrand Russell. Dilip Kumar Roy's rendering of songs composed by Dwijendralal Roy, Atulprasad Sen, Kazi Nazrul Islam, Himangshu Kumar Dutta and Nishikanta was largely responsible for making them popular. He was also close to Kazi Nazrul Islam. Kazi Nazrul Islam (1899 - 1976) was a Bengali poet, writer, musician, journalist and philosopher who is best known for pioneering works in Bengali expressing fierce rebellion against society, tradition, politics, injustice, intolerance and oppression. Popularly known as the Bidrohi Kobi - Rebel Poet - he is widely popular and revered in Bangladesh and India and is honored as the 'National Poet' of Bangladesh. Dilip Kumar Roy played a leading role in publicizing and popularizing the ghazals of Kazi Nazrul Islam.

Dilip Kumar Roy was one of the leading exponents of critical appreciation of all modern songs in Bengali. Backed by his wealth of musical knowledge and creative imagination, throughout his life, he attempted to add a new dimension to the evolving musical trends and our growing cultural heritage. In 1928, at the age of 31, he renounced his family life (sannyas) and entered Aurobindo Ashram in Pondichery where he stayed up to 1950. As a member of the music mission sponsored by the Indian Government, he delivered talks on music in many European countries, the USA, Japan and Egypt in 1953.
Dilip Kumar Roy wrote a number of valuable books on music. At the request of the Government he wrote in 1938 two books Gitasagar and Sangitiki for the syllabus of Music Department of Calcutta University. Other books he composed on music were Surbihar, Hasir Ganer Swaralipi, Gitamanjari, Dwijendragiti etc. Besides he wrote a number of books on various subjects. A total of 80 books are credited to his name.
The notable of them are his Novels like Maner Parash (1926), Dudhara (1927), Dola in two volumes (1935), Plays like Apad O Jalatanka (1926), Sada Kalo (1944), Shri Chaitanya (1948), Bhikharini Rajkanya (1952); Essays on Sri Aurvindo O Dharma Bijnan, Chhandasiki, Kavirsi O Gunishilpi (discussion on Aurovindo, Rabindranath, Atulprasad and Sharat Chandra, 1978); Travelogues- Bhramyamaner Dinpanjika (1926), Abar Bhramyaman (1944), Bhusvarga Chanchal (1940), Edeshe Odeshe (1940), Deshe Deshe Chali Ude (1955) and works of Satire like Aghatan Ajo Ghate, Chhaya Pather Pathik, Ashruhasi Indradhanu. He also wrote a volume of poetry titled Eyes of Light (1945).
In my view Dilip Kumar Roy's most interesting book about men and matters is 'Among the Great' which was published in 1940. This book brings together his accounts of his conversations and correspondence with Romaine Rolland, Mahatma Gandhi, Bertrand Russell, Rabindranath Tagore, and Sri Aurobindo. Dilip Kumar Roy declared: 'My chief aim is to elicit the views of these eminent personalities on various aspects of life, from the role of art and science to social equality and moving on to spirituality. All these great men are men of profound insight who have wrestled with the central problems of life and reached decisive certainties'.
Dilip Kumar Roy was awarded 'Sangit Ratnakar' for his valuable contribution to music. He was also honoured with the membership of the Indian Music and Drama Academy (1965) and the honorary degree DLit of the Universities of Calcutta and Rabindarbharati.. He died on 6 January 1980 in Mumbai.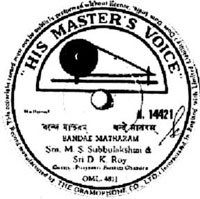 What can I say about the glorious music of Dilip Kumar Roy and his ecstatic rendering of Vande Mataram! No one can deny that great music is the art of the prophets, the only art that can calm the agitations of the soul; it is one of the most magnificent and delightful presents God has given us. His music, once admitted to our souls, becomes a sort of spirit, and never dies. It wanders quiveringly through the halls and galleries of our memory, and it is often heard again and again, distinct and living, as when it first displaced the wavelets of the air.
Dilip Kumar Roy's music moves us, and we know not why. We feel the tears, but cannot trace their source. In this context I am inspired to recall the words of Addison: 'Music wakes the soul, and lifts it high, and wings it with sublime desires, and fits it to bespeak the Deity'. When the whole country is reverberating with resonance of Vande Mataram, the best salutation I can offer to Dilip Kumar Roy can only be in the words of his Acharya and Guru Shri Aurobindo:
'I have cherished you like a friend and a son and have poured on you my force to develop your powers to make an equal development in the Yoga. Your destiny is to be a Yogi but an ascetic dryness or isolated loneliness is not your spiritual destiny since it is not consonant with your swabhava which is made for joy, largeness, expansion and a comprehensive movement of the life force - Poetry and music come from the inner being. That is why you got the poetic power as soon as you began Yoga, Go on in the path of Yoga without doubt - Surely you cannot fail!