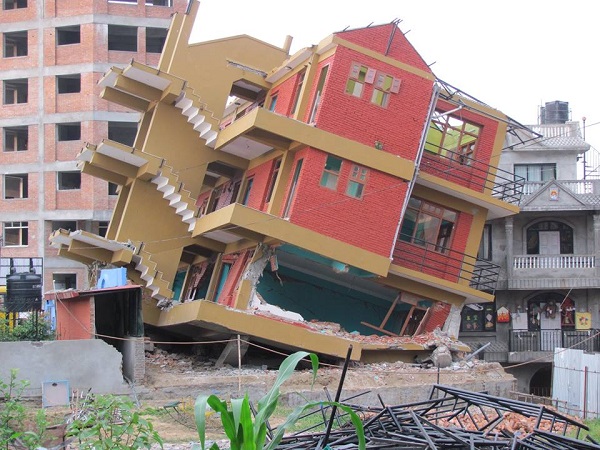 Twenty-fifth April, 2015 will go down the memories of millions of people residing in the northern Indian plains, Nepal, and West Bengal. Bangladesh and China experienced major tremors just before the noon. An earthquake originated at Lamjung district west of Kathmandu. The earthquake had a magnitude of 7.8 and its intensity was IX on Modified Mercalli scale. Such earthquakes are termed as violent.

And violent indeed it was. Around 8000 people lost their lives, mostly in Nepal and thousands were rendered homeless. The tremors in Nepal caused a massive avalanche on the Mount Everest, killing about 19 climbers and Sherpas. A final count will only be able to tell the exact number of the dead.

Earthquakes in the Himalayas began the day they were formed. That is about 65 million years ago, when the Indian Plate 'docked' with the Eurasian Plate, the building up of the stresses started. The earthquakes are a system of release of those subterranean stresses.

For the safety of the people it is better to know the Science of Earthquakes. This was the largest ever earthquake in Nepal-Bihar since 1934, which measured 8.2 on Richter Scale and around 10000 people perished. An earthquake of slightly less intensity 7.6, rocked Kashmir in 2005 in which 80000 people perished in Pakistan and India.

The communities living in the Himalayas are always under the shadow of an earthquake. Of course the fear of earthquake is not there, mainly because such earthquakes do not happen every day. There is a gap of 50 to 100 years for the earthquake to recur in a particular area. For example Nepal was rocked after 80 years. This gap is too long for people to remember and they forget the trauma they or their dear ones suffered long back. Consequently, throwing caution to the wind people start building dwellings, without bothering to follow the norms required for an earthquake prone area.

The psyche is same, even in case of Landslide. In 2013 we saw the death dance in Kedarnath and a large part of Uttarakhand. In just mere two years everything is forgotten and the Government and the vested interest are busy in a construction spree there. May be better sense prevails this time!

It must be remembered that no one dies of an earthquake. People die of building collapse. In case of Nepal earthquake this year, it was more catastrophic because it was a shallow earthquake. It's epicenter was at 15 km depth, while the earthquakes with epicenters up to 70 km are considered shallow. Earthquake waves at such a shallow depth appeared like a serpent chasing a prey under the cover of sand. Large areas were affected.

At Lucknow, people had experienced tremors during Uttarkashi and Chamoli earthquakes in the later part of 20th century, but not of this magnitude and duration. Even after the tremors subsided people had a feeling of tremors and a general fear of repeat tremors was on everyone's face. Tremors, as expected did continue for some more days and then subsided. Likewise, the fear in the minds of people too has subsided.

Earthquakes always come unannounced. They are impossible to predict yet. But the science of earthquakes has advanced to the extent that it is possible to determine the area/s under stress. In case of the recent Nepal earthquake, the seismologists say that the rupture due to stress started some 70 km north west of Kathmandu and within a minute it propagated some 130 km east and south by some 60 km. This caused the breaking of a fault segment approximately 15000 square kilometer. At places the fault block slipped as much as three meters. This was really a dangerous situation and results would have been much more vicious had it occurred in the crowded and congested places of Uttarakhand. Roger Bilham, a renowned American seismologist says that this earthquake released about a century's built up strain.