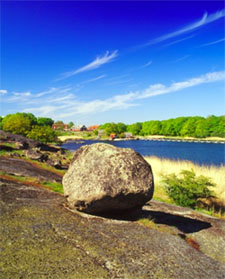 Someone beautifully remarks:
'A rock does not have the dramatic environmental value of a tree.
But while a tree can grow again,
a rock is lost forever!'
Land is one of the most dynamic resources available in nature. Good soil is a boon to good crops. Man realized the significance of soil for the production of food primarily and thus led to the exploitation of this precious resource in the form of excessive deforestation, building of dams, overgrazing, excessive crop cultivation, etc. This has turned vast areas of fertile land into deserts and barren lands!
As we have entered the 21st century, there is a global concern over the rapidly declining fertility of the land in many areas.
Soil erosion and land pollution is a man-made disaster. According to agriculturists, on a global level, 15% of the land has degraded due to the actions of man. Pesticides, fertilizers, industrial and radioactive wastes, plastics, and other solid wastes are responsible for the pollution of our land and soil. The menace of plastics and polyethylene bags is creating a lot of environmental problem, as they are non-biodegradable, adding to the garbage scenario! The solid waste and plastics accumulate in the garbage heaps or float on the water bodies.

Even after realizing the importance of soil we are destroying more than 3000 tons of soil every second! Soil erosion makes the soil unfit for cultivation and also increases the occurrence of floods. It would affect the food production over a period of time. Right now, soil erosion has affected 1/4th of the inhibited area in the world. Due to over population and industrialization new forms of soil erosion has been brought about. This has more serious impact on man's life on earth and hence it becomes all the important to conserve land resources for the future.

Delhi was considered to be one of the most polluted cities in the world! According to a Delhi-based NGO, Connaught Place alone generates about 50,000 plastic bags every day. Delhi's garbage consists of 30% plastic bags ' the highest in the country! Its residents, in many areas, refused to pay a meager amount of money for a sweeper on the pretext that it was none of their business. Such is the response and attitude of the people. They expect facilities without paying for them! Most of the areas are in a dismal condition. Heaps of garbage, wastes, stinking drains and filth are found everywhere ' be it an uptown area or any downtownmohalla.

Land is a limited natural resource and thus we cannot afford to subject it to degradation. It appears that our Planet Earth is heading for an ecological disaster. Urban as well as rural eco-planning is in doldrums. Both the biological as well as the physical components of the environment is essential for the survival of all beings on earth. A healthy interaction is needed between theses two components. We need to conserve soil and mainly preventing and controlling soil erosion can do this.
Steps ought to be taken against the pathetic conditions of sanitation prevailing in most of our areas.
Waste for one can be raw material for another. Hence, encourage trash-into-cash projects. Trash-into-cash projects should be encouraged as they convert about 350 tons of garbage a day into manure. This helps to compost the rubbish. It is essential to sanitize and recycle.
Strict ban on the use of polyethylene should be enforced or atleast maximization of utilization of minimum plastic bags can be practiced.
Proper land development and management is vital for the progress of mankind. Jammu Municipality has introduced the 'Helpline' to provide required service. Door-to-door garbage collection scheme should be launched by every municipality in every area
We have to keep our city clean and never litter. Slogans need to be put into actions.
What Milton has said in Paradise Lost applies to us in the present age:
'Accuse not nature
she hath done her part;
do thou but thine.'