Songs of Man and Millennium- Volume-1 (An Anthology of English Poems)
Poet - Sankari Prasad Sarkar, Publisher: Authorspress India
Pub. 2014, Rs. 195/-
Contemplations and Ruminations of a Septuagenarian Poet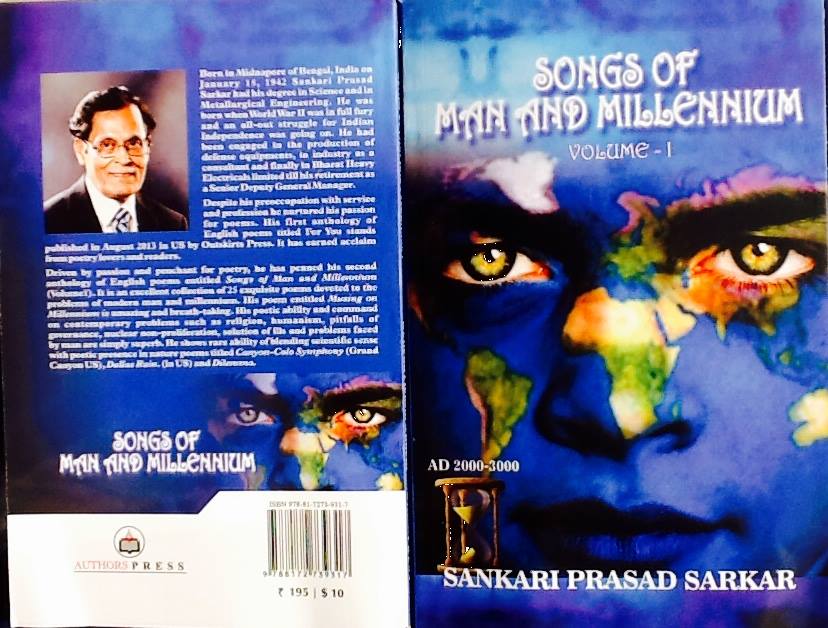 Songs of Man and Millennium is the second anthology of poems in English by Sankari Prasad Sarkar, a septuagenarian poet whose first anthology of poems "For You" had 'earned acclaim from poetry lovers and readers' across the world. It is a beautiful bouquet of melodious lyrics that he has composed for soothing humanity in the universal ambience. All the poems are excellent, exquisite and outstandingly amazing. They are the sweet lyrics of heart; well rhymed with the unification of his thoughts and feelings. They also embody his churned-out ruminations and contemplative musings on various contemporary issues including the metaphysical aspects of human life. His vast sprawling meadow of lived moments and experiences thereby have hued his poetry with the rainbow of emotions, warmth of thoughts- paradigmatic and applied- with perfect unification of his scientific temperament and spiritual yearning, preceded and followed by romantic overtures in between. Vivid musings on aspects of life and different surroundings supply him with raw stuff. Through his poetic sensibility and creativity he renders it as a shining gem of wonderful poetry. Duly dedicated to man and millennium, the anthology under review showcases exotic poems dealing with themes of love, nature, religion, spirituality, social realism and various ills and malaises of contemporary times.
The cover of the book figures 'an impressive millennium face against a global backdrop projected for the millennium AD 2000-3000'.

The first poem 'A Silent Prayer' is an innermost invocation to God. Human values, his religious temperament, glory of divine existence are predominantly reflected in the prayer 'soulfully silent yet equally eloquent'. He prays to Him with a beautiful hymn that his soul hums-
O God, be kind,
make man of your kind,
break the barriers of artificial identity
of the country, nation, race, belief or entity
and merge man in the human mainstream
wedded to welfare and wisdom-
He explores to demystify the intricate mystery surrounding evolution of life and man. God's grandeur and grace is also reflected in the lines from the poem " Life as I see it" which talks about the importance of spiritual and inner progression of man rather than celebration of materialistic success or achievements. He seeks from God-
O, my Life God, I need your command
To rise up every time I fall
And stand up true and tall.
His deep love for nature and keen affinity with its bounty forms an important aspect of his poetry. With unflinching faith in the creative power of nature, he talks about his own inner transformation in which nature plays like a catalyst. He feels more rejuvenated and refreshed when he regains his conscious self after spending some times in the lap of nature. He is simply superb in using nature to intensify human moods. He feels inside 'a darling dove'-
after dating with nature----
wind, rain, sky and rumbling thunder. (Come Again)
'Brooding mood' in the poet improves after 'cool breeze' caresses his soul. Imagery used in the poems is outstandingly stirring and evocative. His sense of keen observation of objects of nature is superb quality of his poetry. "Canyon-Colo Symphony", "Dallas Rain", 'Dilemma'' are other poems that present the scenic beauty and majestic grandeur of nature.

One of the most distinct features of his poetry is the blending of his scientific outlook and profound ideas of philosophy and religion. The poems of the anthology exhibit reflective and meditative mood of the poet. His sublime thoughts, evolved in tranquilized state of mind, veer around God and man in his poems of intimate introspection. He expresses his ideas about the ways and means of realizing the ultimate truth. Knowledge can get us to the 'subject' only. It is through purity of heart and mind that we have can access to celestial realm of 'vibrant spirit and intelligence of God', 'coursing through cause and effect'. He believes in 'light of enlightenment',' light from eternal power source' dispels the darkness of remorse. Hence he sings the glory of God through his poetry. He remarks in his confessional and suggestive poem "Intimate Introspection" -
Just as a lamp lights up one after another,
so can a lamp of life illuminate one after another.
Hence, he invokes-
O lamp, lit up inside to dispel darkness
and realise and merge with eternal brightness.
Basically he is a humanistic poet who wants prefect restoration of human, social and moral values in society. In the company of science, with aesthetic quality of life, one can have peace of mind and purity of soul. Evolution of this lofty thought is well reflected in his poems. Imbued with immense sense of humanity he sympathizes with the people who live a 'desolate, disconsolate and depressed life'. He exhorts them 'to plunge into action to make a beginning' with the following lines-
Have guts to pump up adrenaline
and show you afire with desire
to let people admire. (Have Heart You Can)
Despite' hills of difference' and 'rivers of deference' pragmatic humanism must have to have a greater, smooth and peaceful stride in human life. This is what is wonderfully expressed in his poem 'Better Sense'.

He is a poet of love, man and nature. "Lover Again", "Lovella She" and "Whither Rose" carry the romantic association of the poet's mood and mind with his muse 'deeply entrenched in his body and psyche'. In "Lovella She", he reveals the soothing power of love-
When silence descends at night,
My mind unwinds and begins to fight.
She rushes with her soothing touches
to lock and unlock with warm caresses.
Furthermore, transcendental aspect of love is also well manifested in his poem " Lover Again" when he remarks-
Tonight is too right
to walk away from twilight
to a moonlit saga of love and dance
with hands held and heart in trance.
However, he feels sad and disheartened at the artificiality of love in today's world. Love has lost its beauty, inherent dedication and loyalty as love is 'in ceremonious fight'. He bemoans the loss of love from life-
The glow, aura and mood swing
have lost the zing.
Heart has forgotten how to sing.
Distress signals go on ringing.
The poet's universal concern with love for humanity is quite appreciable and commendable. He proclaims- 'I want to open my life and rise above/ to awaken masses with the message of love ', 'with 'refreshing beauty and natural delight'. He feels proud 'to be a part of man'.

Life is a journey 'with all its joy and tears', moving towards the ultimate goal with love, hope, dreams, and vision that needs to be translated into a reality for betterment of the world. He is right when he underlines the fact that 'Life is not altogether milestones, events or years'. In the poem "Life All the Way", he presents a very beautiful description of love-
Love is a many-splendored grandeur
to those who do not needlessly wander
and love to integrate dream
with vibrant life as it may.
His suggestiveness in the following didactic lines is remarkable in the present context-
Stand steadfast in life with a philosophy
To retain it as a triumphant trophy,
He has broad universal outlook. He believes in the philosophy of 'Vasudhaiv Kutumbkam' and in the conception of 'global village'. Global problems, ills and malaise ail him to such an extent that he resolves to stand for global peace and love. "Musing on Millennium" is the best and longest poem of this collection. With his cardinal global views well encapsulated herein, the poem deals with human progress made by man in previous millennia in terms of materialism, science and technology. However, he is distressed to see the sad plight of the people-
The world, though progressing, is still fraught
With disparity, disease, hunger and anger
And with impatience and distrust brewing all over.
Somewhere sunshine, somewhere shadows
Somewhere plenty and poverty so close.
He is also distressed to see the global phenomena of mass destruction like nuclear, biological and chemical weapons that seems to endanger mankind. He wants the barriers dividing countries and people to be broken, war-games to be avoided. He advocates for providing universal education for the global harmony with unity of mind and heart. He expresses his astonishment--
Know not why on earth man keeps on fighting
When they have to live together with togetherness abiding.
and urges the people
to work for united human family worldwide
with unlimited love on our side.
When everything is said and done, he comes up with his "Millennium Message" for the world and makes a candid and innocent confession, followed by a universal appeal-
If in the pursuit of poetry
anyone I have hurt
As perceived real, part or apart,
I appeal not to raise a war-cry
and bid ill feeling a goodbye.
In the ultimate analysis of Sankari Prasad Sarkar's Songs of Man and Millennium, it must be pointed out that the present collection of his poems suggests a humane solution for all the millennium ills and problems. He has used comprehensive, meaningful and expressive language with outstanding and evocative and emotive poetic diction enhancing the seriousness and intensity of universal appeal with long-lasting effect. All the poems in the book replete with philosophical, humanistic, romantic strains , sing the glory of love and humanity, Man, and God, nature and the world. In addition to philosophical and philanthropic elements, his poetry is also marked with satire and sarcasm on the degenerating state of contemporary democracy. Imagery, metaphors and similes, drawn from the world of nature make his poetry more effective. Rhymes and rhythm seem to be enhancing the beauty and musicality of his poems. In the present time when free verse is often used for poetic expression, Sarkar seems to have revived the poetic tradition with rhyming lyricism. His mastery over the language heightens linguistic excellence. His command over imagery, his diction and his melodious weaving display his special poetic power and charm. His vision, outlook, perception all render his poetry with universal acceptability and by virtue of these poetic qualities, his poems deserve special praises and to be enjoyed all around the world.

In short, Songs of Man and Millennium, animated with intensely lyrical fervor, is an intense contemplation and rumination of a septuagenarian poet, "a path breaking poet of the present millennium writing poems of the present genre". It is a very enjoyable must -read book for all the lovers of poetry across the world.