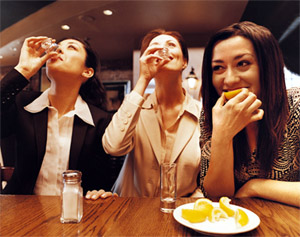 The air is smoky, the music is loud, but it�s still possible for people to hear each other. Its like many pubs after seven in the Leicester Square area in London, but typically perhaps for some bars in the Soho area this one has mostly men bunched together around tables swigging beer with only the odd female couple in the corner.

Freedom Bar, located near the junction to Old Compton Street is a regular haunt for Nasir, 34 and Philip, 42 who have been together for many years. Nasir is Bangladeshi and he met Philip who is English soon after he came over to study law in England in 1996. Despite having different nationalities they have somehow managed to continue their relationship owing partly to the international career that Nasir has launched into. Today they have two friends who have joined them over drinks, an Irishman called Andy, 38 with very long hair and Raj, 46 one of Nasir's Indian friends from his University days.

Raj who is here on a short holiday is possibly the only heterosexual and this is his first visit to a gay bar. He wants to know if there are any lesbian bars in the area that he could visit but his hosts cannot help him there.

'There used to be a lesbian bar, something called 'Opera' that had opened not so far from where we are presently sitting,' says Andy, 'but it soon closed down.'

Philip seems to recollect the bar but says it soon closed down because the couple that started it fought with each other. 'I don't know why it is,' he says, 'but this is the third time I know that a lesbian bar has opened, and there have been differences and they closed down.'

Nasir suggests that it could be because male homosexual couples are happier than their female counterparts. 'I mean, we are �gay� aren't we?' he puns. 'The women are just not so happy together.'

Philip, who has written a book on Afghanistan frowns disapprovingly at the political incorrectness of Nasir's contention. 'I can't say I agree with you there,' he hesitates, 'although its true that there are no lesbian bars around this area. There are very very few lesbian bars in the city as a whole.'

'Could be because there are fewer bars being managed by women anyhow,' says Andy.

'That�s as far as the hetroes are concerned,' says Philip, 'but I don�t see how it applies to lesbians.'

It seems to be a mystery. The Soho area has a number of gay bars but no lesbian bars. It shouldn't really matter that much because surely lesbian couples can hang about in gay bars if they want to be intimate with each other without the heterosexuals peering over their shoulders to see what was happening. At the same time, it is a strange phenomenon, not totally accounted for by Andy's observation that it is mostly men who run pubs anyway. If no further credence is to be given to Nasir's politically incorrect argument will the lesbian women please step forward and explain the reasons?