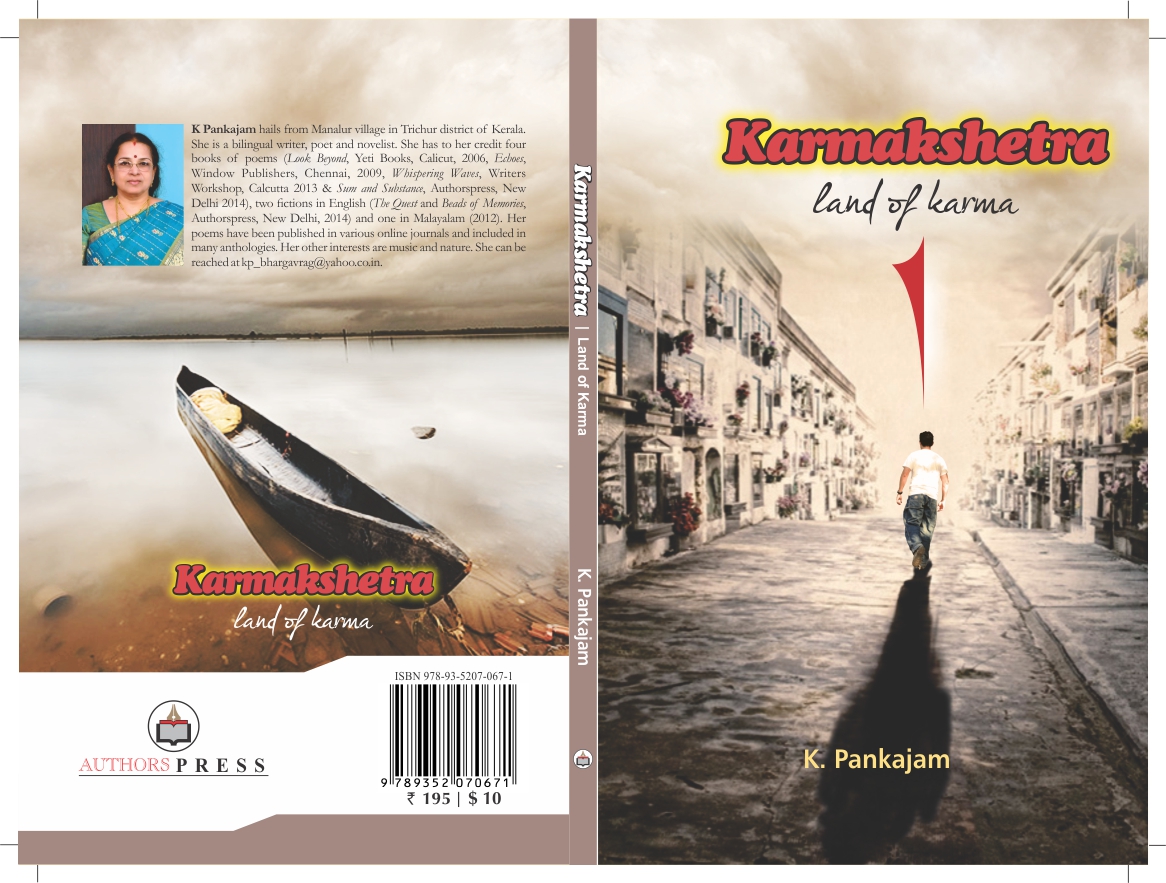 For experiencing the true flavor of Keralite customs, practices and traditions, grab a copy of 'Karmakshetra land of karma' by the hugely talented author K. Pankajam.

This novel takes you through the life and times of Padmnabhan IAS a,k.a. Pappu on a flashback mode. After working across the globe as an IAS officer, Padmanabhan returns to his village as he feels that "This is my karmakshetra. My residual life should be spent here, at my own Kaithakurussi, the place where I was born…"

On the face of it, 'Karmakshetra land of karma' is the simple story of a boy from a lower middle class family that has a principled man Raghava Menon as its head and his wife who supports him in all his endeavours even if sometimes she does not agree with him – her disagreement over his acts of largesse, of his putting others before self etc. being more out of her concern for her own family and the future of their only child Pappu. In the end, it would appear that her concerns were not really misplaced and her foreboding of losing out heavily due to his generosity was proved right! At another level, the book also delves deeply into the human psyche and insecurities exceedingly well.

Author Pankajam has excellently etched out each character in the story - Maluvedathi, Paramu, Mathu, Nandini and Malini who impact Pappu's life in different ways and also Kuppan, Koran, Kotha, Chirutha etc. who take the story forward and as Pappu believes, "were the oil lamps lit in the corridor of his growing years…" The engaging narrative includes various sub plots and stories that seamlessly blend with Pappu's story. So true-to-life is Pankajam's story-telling skills that we are left wondering if the novel is based on real life incidents! One feels as if each character bears resemblance to someone or the other in our own life!

An interesting aspect of 'Karmakshetra- land of karma' is that the culture of Kerala comes alive before the readers. This is borne out by the detailed Glossary at the end of the book. And this is the master stroke Pankajam has added in the book that makes it worth buying and reading! The Pankajam touch is all there in the poems that she has included in the concluding pages that indeed take the book to a higher realm.

Anything I write further about this slim 107-page novel would be revealing too much! So I'll just conclude with the famous catch phrase of the 1971 award winning Alka-Seltzer ad:

"Try it, you will like it!"
Book Information:

Karmakshetra land of karma by K. Pankajam
107 pages Price: Rs. 195/- USD 10/-
ISBN 978-93-5207-067-1
Publisher: Author Press.