'Reboot Reinvent Rewire, Managing Retirement in the Twenty First Century'
- Ashutosh Garg; Collin Rs. 250 pp.144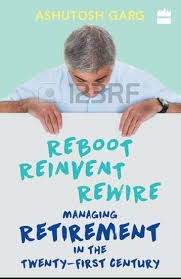 One inevitable thing in everyone's life is ageing. It is irreversible and in a sense threatening. Retirement is also inevitable after a stage in life from some or many of the activities with which we have been associated with. In this century, retirement comes with some problems for many and many problems with some.

In the nineteenth century beginning men who retired prefer to lead the evening of their lives happily with children and grand children. But, in the present times, where both husband and wife are professionals and children living abroad, retirement definitely changes their life pattern.

In present day conditions, even the retired persons (both men and women) need a sort of avocation to lead the rest of their lives with a healthy body and mind. Author Ashutosh Garg, one the present generation of persons in his late fifties analyzes the several options for the retired people to make their time and interests worthwhile.

This topic is, indeed, discussed by many nowadays as the longevity of man has improved through medical inventions. But, apart from the physical health, the mental health which also needs to be addressed for a happy living. The author discusses the importance of friends, sex, loneliness, documentation and financial aspects candidly.

The book is interesting throughout though one cannot deny the fact that the author keeps mentioning about the importance of having a hobby or passion apart from one's work and also the camaraderie to be maintained with the young and old apart from their peers. However, at the same time, these diversions are possible only for a section of people who belong to the upper and elite society and not those who are below middle class who lead a life from hand to mouth.

The significance of settling the financial aspects during their time are very important for the elderly people and this is very intelligently and practically highlighted in the book.

'Reboot, Reinvent, Rewire' is surely an engaging book for the educated and those who are really interested in leading a happy retired life. One should bound to feel that 'Retirement' is only from the profession which one has been doing but not exactly from a happy and beautiful life ahead of him/her.