An Engaging Travelogue, 'Chai, Chai' by Bishwanath Ghosh, Tranquebar Press,pp.212, Rs.295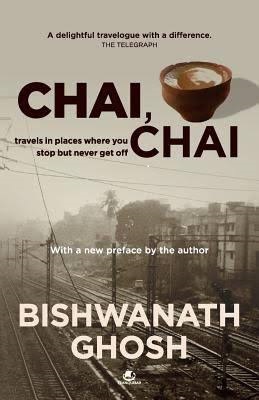 When many of the travelogue writers prefer to select exotic places of tourists' interest, Bishwanath Ghosh had selected places where one stop but never bother to get off. Amusing? Yes. It is. In India, we have several important railway junctions which are major connecting points of the cities perpendicularly, diagonally or in some geometric form.

Those who have travelled even not extensively in India except a few important cities like Mumbai, Delhi, Kolkata and Chennai would not have missed these railway junctions namely Mughal Sarai, Jhansi, Itarsi, Guntakal, Arakonam, Jolarpettai and Shoranur.

These railway stations in one way or other would have come in our path during our travel to north, south, east or west. The trains invariably stop here for quite some time to relax but none of us have ever ventured to go into these small towns and see how exactly the life is.

Bishwanath Ghosh is a writer, who looks at things almost with a common man's eyes but at times garnish it with a touch of humour. One may not laugh boisterously after reading his essays but they definitely make one grin or chuckle on many occasions. 'Chai, Chai' is one such book which keeps the readers' interest with a lot of human touch and practical problems.

Ghosh narrates his experiences of engaging an auto or taxi, finding a decent lodge for stay to talk to people of the town and their evolution. The stagnant yet notoriety of Mughal Sarai, a graphic description of the atrocious state of Banares temple, interesting trip to the sex temple of Khajuraho from Jhansi which is otherwise colourless, the centre point of India Itarsi through which 108 trains pass through every day cover the northern part of India. Guntakal which seems to have frozen in time, an immature Arokanam, a developing Jolarpettai and Shoranur, a town which still keeps some natural charm form the Southern region.

It is interesting to read how our small town and their people behave and their life styles which have changed partially; the division of people by language could be felt while reading the book. Bishwanath Ghosh, belong to the new generation, prefers to scout for a bar to relax and meet and mingle with people of the town. Some may frown on this aspect, but it goes well in my opinion, because bars are places where many open up without inhibitions.

The book is highly readable because of its simple narrative style and language and ah, yes, one can read it during a long train journey in between listening to the varying decibel and pitches of the tea vendors' sing song screams of 'Chai, Chai'.