Dr. Mallika Tripathi's I am a Woman published by Patridge India ( ISBN 978-1-4828-3527-4) is a wonderful poetic bonanza from a woman's perspective. The poetess in this beautiful book of poem tries to ensure the respectable status of women in the society not as a conventional feminist of first or second wave, but as a typical member of the Indian household though she never falters even in one poem of the book to assert her faith in the ability of a woman to be the origin of excellence and in becoming a revolutionary force.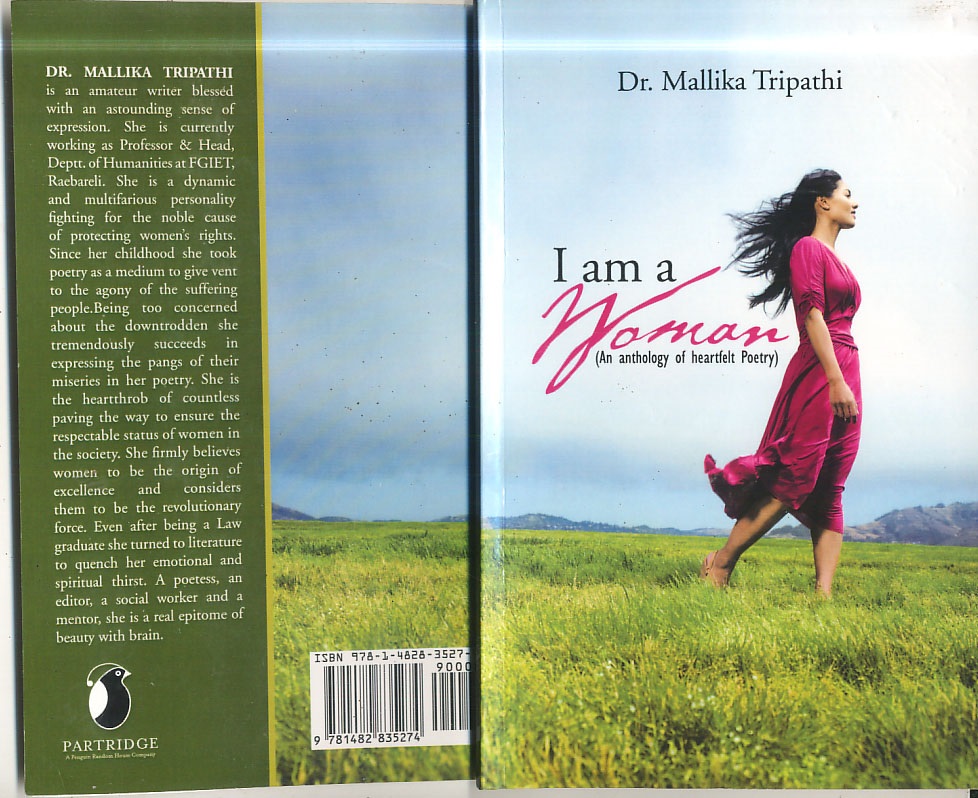 The book combines individual feelings and social response both as a woman and as a poetess. There is a certain spirit of inquiry regarding the female trauma and rights. There is the poetess focusing on female mind delving deep into her own experiences, some real and some half –imaginary but all so vivid. Being a thorough academician, Dr. Tripathi has got abundant scope to interact intellectually in the real situations of life with people at home and outside where she is sometimes an editor, sometimes a social worker and all the time a woman with a sensitive poetic mind to grasp the truth of life.

In synopsis, this all sounds fascinating – assuming, of course, that the reader has an interest in what she says. She makes it clear that she does not believe in the conventional treading of the beaten path : ' 'I love you, / I love you too / The commonest exchange of words / Between the lovers/ Nothing but deep or sentimental,/It is customary, taken for granted, / Words losing its value."

In going to write a critical note on the book, summaries, like movie pitches, can be misleading. On the page, the book is an agonising read, and I struggled to finish it. Some of this may have to do with her amazing turns of thoughts . The contrived urgency of feeling is there is in some poems 'I am not Your Mistress' or 'Trust' where the poetess is quite angry and in a tone of exasperation speaks her heart . In 'Trust' the opening lines scream with vituperatives " Oh the changing faces! /Ditch me not' . In ' I am not Your Mistress the bold words of challenge come in a clamour' 'Don't treat me s your mistress / I am not" which mounts to a climactic height of moral utterance " I believed in God/ I believed in virtues/ Destined to cherish all the hues"In the main, though, my dismay had to do not with dull morality, but with her wonderful simplicity that avoids totally the reflexive verbosity. Sprawling and digressive, she is never in the book, precisely giving us a road map to make a voyage out for exploring the female mind on various issues of everyday life. She writes about her dreams in the poem (p.4) " Today I saw a dream , /The dream of success/ Steady and constant . Reaching the heights'. The bouquet of flowers make her glee and she thanks to God. This reflection coupled with divine sparks in them makes the reading of the poems engaging. A woman thinks in this book, 'Existence is a blessing/ A union, a power , a gift to be cherished'(p.5). A father is everything for a pampered daughter and the poetess never forgets her sweet emotions " He left for the corridor / I became nostalgic' and the end of the poem 'Father' has a wonderful consummation : "I owe him for everything , my existence , / He is my father'. A wonderful tribute by a daughter always. this one indeed is.

Some times there is an excruciating pain reflected in the lines of some poems and 'Fear' is one such poem in which the poetess makes sensation vivid and graphical " The voice echoes in the silence/ With no answer heard/ Alas ! it is late / The child is dead/ Leaving an unanswered question behind'. In this poem sadness is mingled with anger reflected in the question raised by the poetess : " Is it that offensive to be born as a girl?" In Indian society this is a huge question related to mothering .Interestingly enough there is a poem with titular significance for the book itself ' I am a woman' where the poetess used her own image and very boldly describes herself with a verisimilitude and here she says : 'I am a woman/ An emblem of dignity/ Breathing , inspiring, appealing / Loving , caring and healing" . The cataloguing device enriches the identification . Sometimes she sounds lyrical " I am a woman/ Smiling in pain sowing the grain/ Harvesting the noblest thoughts in the brain'(p.16). Just wonderful rhyming adage sort of line making us aware of the gynocentric ego of an artistic mind. A woman who can sacrifice herself can enlighten and brighten everyday life as a daughter, sister , wife and a mother.

I am a Woman affected little stanzas in the poem – sometimes, they're little more than a single floating line –however, this pseudo-fragility, the feeling that everything she writes is modestly provisional, even apt to be broken, is sabotaged repeatedly by her deep and abiding self-involvement, a presumption that has convinced the reader about the need always to see her poems , even to hear the worries she feels about her life's little things. It is as if she believes she as the poet can loudly tell many known things of life in a quite unconventional way. Patridge , a Penguin Random House Company publishes always the best books in the best way possible. The book cover is wonderfully matched to the thematic content and the images used in the book are quite lovely.In this 40 page book there are 28 poems nearly all of which seems to be a poetic celebration : 'To bless the people with the Divine' (p 3).