Forbidden Pleasures and Pains; 'Lady Lolita's Lover' by R Raj Rao, Harper Collins, Rs. 399, pp. 290
R Raj Rao is a intrepid writer; in the sense he writes explicitly about sex and sexual deviations with least inhibitions. Further, he writes voyeuristically in detail about the forbidden sex in India. Apart from all these, his writings will have an unbridled undercurrent of violence and morbidity.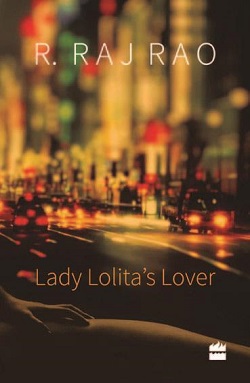 His latest offering 'Lady Lolita's Lover' revels in these. It is the roller coaster life ride of three characters Lolita, Sandesh and Jeevan Reddy though the protagonist is, of course, the minor turning to major Sandesh alias Sandy. The story is indirectly a story of rags to riches also not because of hard work, intelligence or achievement; but through of the power of natural sex and deviant sex.

Lolita is, in fact, Lalitha Mukherjee, a Bengali litterateur and intellectual youngster who gets into wedlock with Aroop Sengupta, a sailor who earns loads of dough and lives in luxury. It suits 'Lalitha' who changed her name to 'Lolita' for modernity and enjoys her posh living at the forty-ninth floor of luxury apartment Jannat in Dadar, Mumbai with her new born child all alone.

The lonely young lady gets bored of her monotonous life sans active sex because her husband spends most of the time in the sea. Her search for a sexual partner falls on a fifteen year old Sandesh who is in abject poverty and works as a delivery boy in a video parlour. She inducts him into sex and enjoys his company physically as well as psychologically. But, things do not go that smooth. The servant maid in the house informs the husband about the clandestine affair to the sea bound husband Aroop who with his money and man power changes the scene for Lolita. Sandesh is subjected to violent physical assault and battery. There enters Jeevan Reddy an ageing criminal lawyer who brings a sea change in the life of Sandesh and takes him under his wings and also inducts him into same sex relationship. He charges Lolita for paedophilia and slings mud on the Senguptas and get them sentenced by court of law.

Sandesh's lifestyle changes completely under the care of Jeevan Reddy. The 'straight' Sandesh turns 'gay' to show his gratitude to JR who is a gay. Sandy as he is known now still averse to 'gay life' goes in search of Lolita and waits to take revenge on Aroop. There is a murder and how the relationships break and unite form the rest of the powerful novel on debauchery, illicit relationships, emotional upheavals and absolute love and contempt on life and acts.

Raj Rao's writing carries contempt and hubris on the moral value system existing in India and more especially in the life of a highly cosmopolitan city like Mumbai where money only carries value. It has to be accepted that the novel moves at a breakneck speed of a thriller though the story also takes the reader around Mumbai and Goa and their suburbs.

More than the physical relationship, the importance of commitment in a relationship is very effectively highlighted by the author. But, it is still not known why Raj Rao always chooses his protagonist to be underprivileged riffraff.

One can call it titillation or dismiss as vulgar or term as reality, the sex scenes have torrid graphic descriptions and for a pedant reader it can be positively repulsive. Well, if sexual act is considered crude, writing about it becomes automatically obscene.

The end, however, is a bit lofty and contrived, like all ends well but after a lot of turbulence and mental and physical agony. The novel also depicts that any relationship that crosses the shores of societal values have to pass through tough times only.

If you don't mind reading a different genre of novel of twenty first century completely focused on forbidden sexual orientations and liaisons, you are bound to like 'Lady Lolita's Lover' and Raj Rao.