The name Gobardhanpur may draw blank stares from a majority of Oriyans but it rings a bell at Dilli Haat, the ethnic mart at Pragati Maidan in New Delhi. The tiny village of Dhenkanal district has made a name for itself in national and international level by fashioning exquisite ethnic jewellery.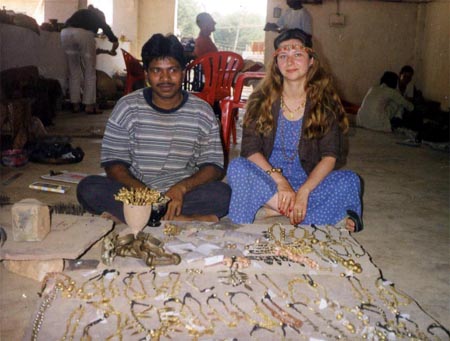 The products of the village are regularly exported abroad besides being displayed at exhibition in Dilli Haat. Gobardhanpur craftsmen have clients in Switzerland, North Korea, Italy, France, England, South Africa and Japan. Significantly, they have created a market for their unmatched products without government support.

According to the villagers, there were only three craftsmen in 1992. But now they are more than 100. Crafting ethnic jewellery is now a full time occupation for almost 25 families in this village, whose products have earned praise from UPA Chairperson Ms. Sonia Gandhi, her daughter Priyanka Gandhi and Jaya Jaitly to mention some of the dignitaries who sampled them during their visit to the Dilli Haat. Their merchandise has also been displayed at Bangalore Chitrakala Parishad at Safina Plaza.

The craftsmen of this village remain indebted to Anyesha Tribal Works and Crafts, a Bhubaneswar based organization which brought their creations into limelight for the first time. The organization send these craftsmen to Kolkata, Madhya Pradesh and Gujurat to hone their skills and talent through training. They are also getting training in handicrafts from Government of India. �Besides this, National Institute of Fashion Technology, New Delhi, National Industries of Designing and Developing, Ahamadabad and MAMA, a Kolkata based organizations have done a lot for us�, reveals Arun Moharana.

They mainly put in 12 to 14 hours a day to meet bulk and delicate orders such as ear rings, necklace and chains. But working space and raw material shortage are two major constraints being faced by these talented craftsmen. �We don�t have enough place to meet the demands of big orders. Besides the delivery of raw materials from Delhi and Kolkata often gets delayed,� said a senior craftsman adding that sometimes outside agencies needlessly interfere in marketing.

However with such problems, they have really achieved a lot for them and for the state as well. Government should come forward to extend support to these craftsmen to make them more efficient and marketable.