Shikandi and Other Tales they don't tell you by Devdutt Pattanaik, Zubaan, Penguin Books., Rs.299, pp. 180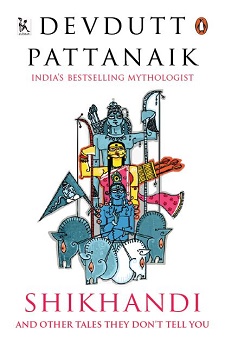 Those who are familiar with the Indian mythology will be aware of the fact that there is no dearth for queer stories in it. However, our scholars and speakers on them prefer to make very oblique references to it and never go in detail about the queerness or the weird nature of the characters or events. So as the author Devdutt Pattanaik rightly pointed out in the title, the book carries the story of 'Shikandi and other tales they done tell you.'

After reading this book which presents 30 short stories (they are really short, please note, not more than one and half page!) which are positively odd, curious, unexpected, surprising, funny, bizarre and unbelievable also. The author after every story brings out certain valid arguments and points to make one realize the complexity of these funny tales with references to substantiate them.

Though 'sex' and 'sexuality' are the major facets of these tales either from the puranas or folklore, these stories have been kept in a strange form of secrecy and almost linked to God and Goddesses so that no questions or eyebrows could be raised.

Therefore, we have Shiva who became a female to deliver a devotee's child and at the same time a mighty male whose semen has gone into the creation of many other queer and strange characters. Vishnu or Krishna plays the roles of man and woman with ease on many instances. Mythological characters like Arjuna, Vali, Sugreeva, Bhima, also have their share. Devi or Shakthi manifests in many ways. Organ transplantation seems to be the central idea of the title story 'Shikandi'.

In fact, one needs a lot of guts to tell these stories to a common man without sounding blasphemous and indeed, how our prudish society will digest these unusual and strange parables with open mind.

But, a quote which comes as a preamble to these stories by the other is very impressive. It goes like this.
'All things queer
are not sexual
All things sexual
are not reproductive
All things reproductive
are not romantic
All things romantic
are not queerless'
These lines are absolutely appropriate to explain the tales. Another impressive aspect of the book is the uniquely artistic illustrations by the writer.

A long list of references given by the author adds authenticity to his work.