Dream, Deceit and Drama; 'The Best Seller She Wrote' by Ravi Subramanian, West land ltd. Rs. 295, pp.391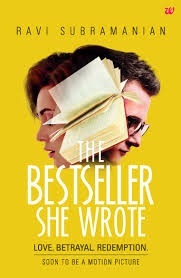 The cover page screams 'Love, Betrayal, Redemption' in Ravi Subramanian's latest thriller 'The Best Seller She Wrote'.

The protagonist here is the bestselling author Aditya Kapoor, a forty year old banker with a happy family of wife Maya and Aryan. How the story will move if the family continues to be happy? So Aditya is attracted by the arrogant charm of Shreya Kaushik of IIM, Bengaluru who basically nurtures a disdain for Indian authors. After reading Aditya she too wants to become an author of a Best Seller.

What she writes under the guidance of paperback king Aditya Kapoor changes the lives of many in the most unexpected manner. First and foremost is that of Aditya who is entrapped into adulterous liaison with the young Shreya to achieve her goals. As expected when the truth comes out, Aditya's wife Maya explodes and Aditya's efforts to cement the crack lead to many other revelations with unexpected twists and turns.

Ravi Subramanian's novels invariably carry a fair part of intelligent quotient than just murder, mystery and thrill. These were very effective in his earlier two novels 'Bankster'and 'Bankerupt'. In those novels, many of the turns were unexpected whereas in 'The Best Seller' one could expect the unexpected to some extent.

I may sound a bit preposterous if I say that this novel has a fair component of melodrama since the story is basically on a happy family and other woman. As in his earlier book, here also Subramanian effectively employs the modern gadget i-phone as the most vital object in resolving the mystery.

The chapters run fast except towards the end; lot of lectures and deliberations slightly make the narrative sag.

There is another caption on the cover 'Soon to be a Motion Picture'.

Let us wait and watch how the other medium draws the attention of the audience and Ravi Subramanian's avid readers.