Making India Awesome; Chetan Bhagat, New Essays & Columns, Rupa, Rs. 176,pp.177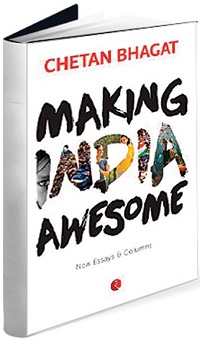 Today Chetan Bhagat's name sells; whatever he writes it becomes awesome; they transform into awesome movies in Hindi; the new gen youth find his views and imagination awesome; the publishers find the sales of his books awesome. So no wonder, Chetan Bhagat wanted to cash on the popularity to make his readers feel awesome. Therefore, he started writing on politics, lifestyles, poverty, education, food and what not.

'Making India Awesome', in fact, is no awesome book. It is a very ordinary book,but for the fact that the author's views on Politics and Economy, Society, Equality and the Youth are tagged to the adjective 'Awesome'.

The most appreciable aspect of Chetan Bhagat's writing on these topics is their brevity. He, luckily, does not go into dry depiction, unbelievable statistics, monotonous prose, or tiring tirades. That way the articles are crisp and compact and will make one read it fast and comprehend what exactly he wants to communicate. But, at the same time, it can be criticized for its shallowness by the intellectuals. Let it be. The reader, with a fair amount of political and societal awareness prevailing in India, could subscribe to Mr. Bhagat's views on many of the issues discussed; because they are basically genuine and at times the solutions sound quite naïve.

The book is neither meant for heavy reading nor for the high sounding economists or political commentator. It is more for a common man in India who can identify himself with the issues and problems he could see from the newspapers and news channels.

The books is an easy read and easily forgettable; definitely suited to our Awesome Youth.