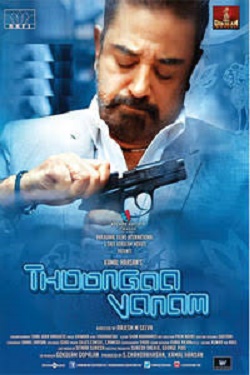 When a Kamalhassan's movie gets released one needs to keep his fingers crossed; because he is a maverick artist whose proclivities can make the movie enjoyable, refreshing, engaging, boring, irritating and totally exasperating. Sometimes, the movie will stand stiff between the two diagonally opposite corners. 'Thoongavanam', a rather faithful remake of the French film 'Sleepless Night' is boring, engaging, boring and exasperating.

The film does not require great artistic prowess; all we had are some efficient stunt men, a lot of noise, a few disconnected characters moving at random for a bag of 10 kg of cocaine. It is about dishonest policemen, honest police man and ahem, a honest police woman also.

Diwakar, a divorcee, (God knows how this helps the story!) with a precocious teenage son, a honest undercover narcotic investigator makes a haul of cocaine but the loser, a night club owner kidnaps his son and holds him as ransom for the return of the cocaine. The pandemonium that follows in the night club depicts the story with lots of broken limbs, lives and gun battle. Kamalhassan has beaten to pulp as his penchant for raw violence is well known and he always inflicts himself with some gruesome wound and moves around with his exaggerated expression of pain and blood. This film has a very heavy dose of it.

The movie completely relies on the screenplay which oscillates often between yawn and pace. There are a host of actors walk here and there; the popular and known faces are Prakash Raj and Trisha. Others must be one film or two film celebrities and new faces.

Kamal looks grimy and gaunt. Luckily, the movie does not have any songs. When the final credits keep moving there is a song and dance which is avoidable.

May be a hardcore Kamalhaasan fan may term this film as classic or great. For others it is nothing but a big bore!