We boarded Chambal Express from Allahabad Jn. and got down at Daltonganj. After quite refreshing snacks with Jalebi and Kachuri at a Dhaba, we hire a Sumo. It would take us to Betla (25 km), and after our check-in and lunch, it would be our safari vehicle for today.

We check-in at Hotel Van Vihar of Jharkhand Tourist Development Corporation, and order lunch.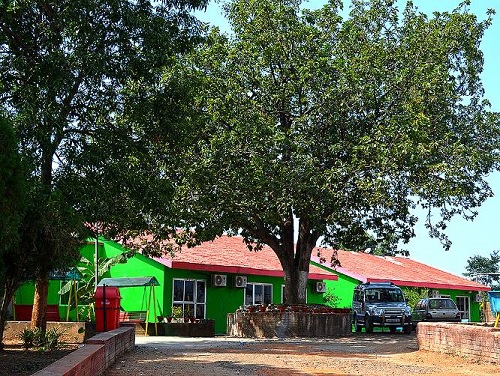 Hotel Van Vihar
Then we reach the Betla Forest gate – just walking distance from Van Vihar.

Betla National Park – Gate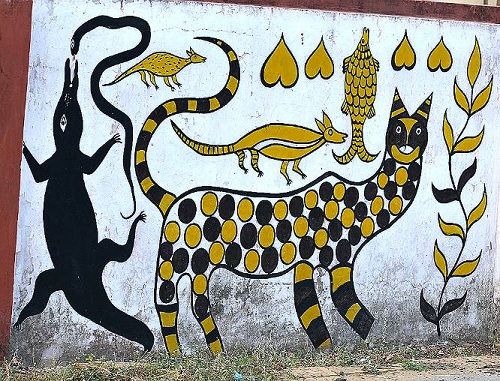 Tribal Art on the wall opposite to the Gate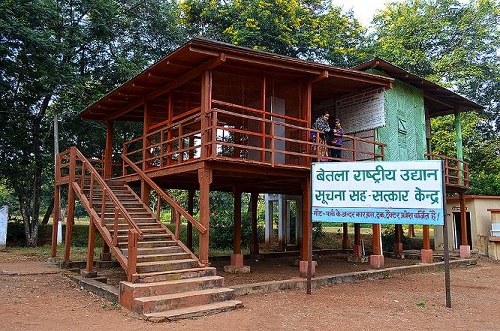 Forest Office, and Elephant ride station
Our Safari starts at 2.15 pm. Taking a local guide is compulsory.

No sooner our jeep enters the forest leaving the Forest Office beyond view, than our guide start requesting an answer of Rs. 300/- extra for a peep into prohibited Core area. When I asked how is that possible, he confidently quips that everything is possible with money.

No doubt the forests and the wild charm are fast fading. Later I would find to my horror this guide throwing a clod to a Bison! And this man has been constantly boasting that he hobnobs with forest officials and arranges package tours.

At this time of the year, the chance of wildlife sighting is remote – I knew that; however, sighting or no sighting, the thrill of Safari through the Forest green has its own charm. And the charm itself is charming when one has a daughter with hundreds of queries. Her excitement is sweetly infectious – one re-gains the innocent eyes.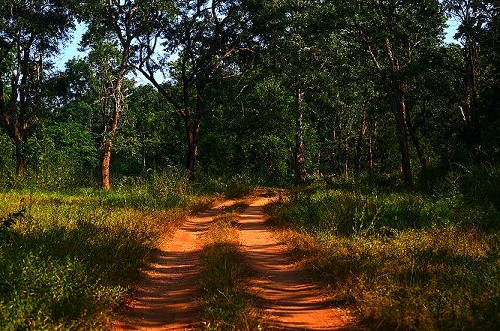 Forest Track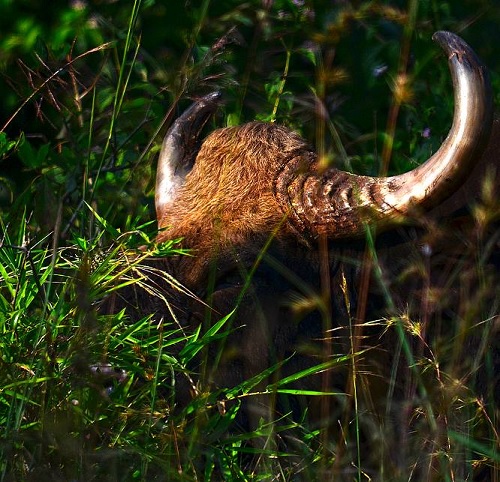 Bison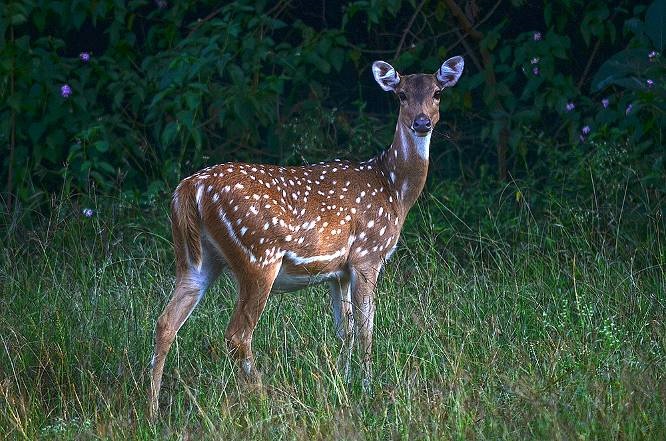 Chital
We sight bison, deer and a fox. Not bad.

Elephant safari is a much coveted experience at Betla Park. However, the demand far exceeds the supply. There are only two elephants, and they go together for two trips of one hour duration.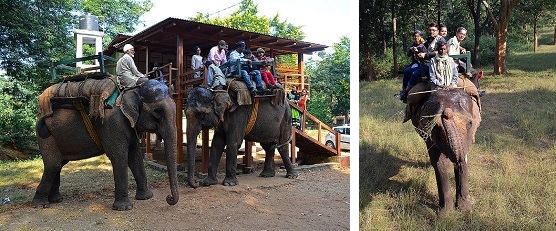 Elephant Safari
The duration is again quite flexible. To cope with demands, the Forest Department permits more safaris, however, what tourists do not realize, or do not like to realize is that they are literally taken for a ride.

Our Mahout confesses that in such cases they shorten the trip to just 15 minutes. It becomes a sort of joy-ride rather than safari.
We are lucky to get a chance. While returning from the afternoon jeep safari, we request the Forest Staff at the counter to note down my name. He obliges with a caution that if we do not report by 7 a.m next morning, the lucky luck might pass on to the next in line.

There is however, another condition of graver nature.

If any V.I.P chances to visit, it would be all up with ordinary mortals.

Well, such is our democracy, what to do? Even after 68 years of independence, we have our dishi Lords!

Accordingly, I report at 6.15 am next morning to ensure that the Staff has not forgotten my pious name, only to find that the first safari is only at preparatory stage. The first safari finally starts at 6.22 am giving me much nervous disorder to think that our 7 am safari would be cut short by that 22 minutes. My wife and daughter join me at 6.40 am and our wait begins.

The first safari returns with another 20 minutes delay. The Forest Staff balms my heartbreak with a polite smile information that as there is no crowd today, we can have one hour as usual.

The forest office stairs is the elephant ride station. We four take our seats on the Howdah, two on either side back to back.

The elephant crosses the gate by the side passage and takes its way first along the jeep track and then crossing over to the dense forest. We have to keep our head from branch hit, and occasionally thorny shrubs smooch our hanging feet.

This time we sight only bison and deer. While returning the two elephants are made to face each other on our request so that we exchange our cameras to take shots.

The enjoyable ride over, we have Nasta with Pori-Sabji and smoking tea outside the gate. Then we return to our hotel to get ready for our journey to Netarhat.

1. Important Information – Fooding & Lodging

For booking at JTDC Van Vihar, visit Jharkhand Government Website.

If online booking is not available, then one has to book manually by going to JTDC Office. The office address in West Bengal is – Usha Kiran Bhawan, 8th Floor, Flat No. - VIII B, 12-A Kamec Street, Kolkata
(Ph: 033-22820601; Mo: 09831444174)

Visit Helpline for other offices.

Van Vihar is a nice stay. The rooms are spacious. The staffs are helpful and available. Regarding food, one may be satisfied with quality but certainly not with quantity.

Tax is collected extra at the time of check-out.

Another option is to stay at Forest Rest House.

For booking details, visit Department of Forest Website and see Contact.

The Forest Department boasts a so-called "Tree-House" at Betla, and another at Maramar. If "Tree House" tickles the childhood memory of Phantom comics, it would be a disaster. Here is the picture for you to judge whether the stay really merits the name.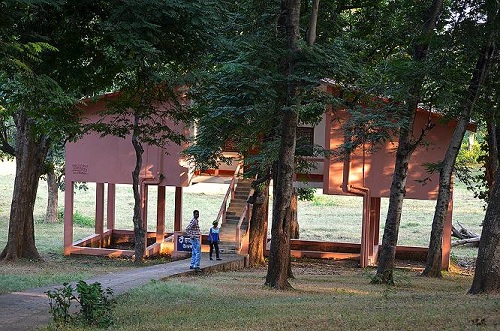 So-called "Tree House" of Forest Department
The stay is however, remarkable considering its vantage point and unique experience. The Forest area is just below the window, and wild deer flocks near. There is a notice board prohibiting going beyond the Tree-House.

2. Taxi/Car Booking

One can book Taxi/Car beforehand at JTDC Office while booking Van Vihar.

Other option is to book Taxi/Car from Ranchi or Daltonganj or Betla through agencies.

I would advice not to book Taxi/Car from Daltonganj. This advice is rendered from firsthand experience. If you are approaching Betla from Daltonganaj, take a Taxi/car for Betla only – current rent is about Rs. 600/- (negotiable). It is better to book Taxi/Car from Betla. And do not forget to take receipt of your contract.

Check the rate at Jharkhand Government Website.

3. Safari Timing & Expenses

Check the Forest website for updates because the Safari timings depending on the month of your visit.

In October, the morning Safari is from 6 am to 10 am, and the afternoon Safari is from 2 pm to 5 pm. You have the choice of 1 hour or 2 hour Safari. Guide fee is Rs. 100/- and Rs. 200/- respectively. Per head ticket cost is Rs. 50/-, and entry fee for jeep is Rs. 100/-. Camera fee is Rs. 100/- and for movie camera another Rs. 100/-. (Somehow, the Forest Departments of India not updated on technology. God bless such innocence! So, mobile and tab is free if carried without disclosure. Nobody bothers about those things, or the fact that everybody is photographer nowadays.)

4. Few words of caution

The foremost word of caution is: don't trust anybody who is in some business relation with you. To clarify: Beware of Cheatingbaj! This caution is of course a generalized one, applicable to almost any part of India. However, in this part of Jharkhand, this applies in some particular ways.

That is not to say 'theft' or 'robbery' – which is rare; but theft and robbery come in subtler ways. That is not again to say something like "all people are bad." In fact, most people are good mannered and well behaved. However, the caution applies the moment you enter in some sort of monetary relationship.

Unless you book Taxi/Car with some agency and with proper receipt, it is advisable to be very careful and cautious how you spell your terms and conditions with the driver.

The driver will inevitably seek an advance of Rs. 2000/- for loading diesel/petrol. Don't fall in that trap. Your advance should never exceed the actual rental for that particular day. Don't pay advance more than Rs. 1000/- or 1500/-.

It is quite possible that mid-way the driver would start saying something that was not part of your original terms and condition. For example, he might say that you had agreed to pay his food and lodging charge; or that you had agreed to pay him the contracted amount with fuel cost extra.

For booking outside agency, it is better to keep record of the terms and conditions.