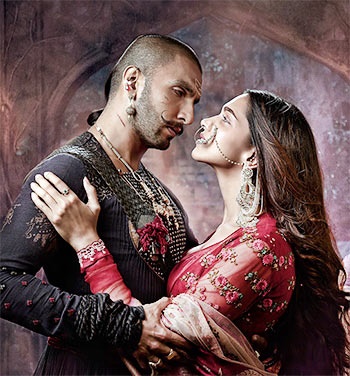 What is special about the much spoken about 'Bajirao Mastani'?

It is an exceptionally crafted, aesthetically mounted and perfectly casted film of recent times. Sanjay Leela Bhansali seems to have taken special care to make every frame of this epoch movie to impress and engage the minds of elite audience through a love story of a Maratha Hindu Brahmin King and a Muslim Princess.

Is there anything great about a king falling in love with a girl from a different religion? Yes. We already had many stories of this genre the most popular being Jodha Akbar. But, what keeps Bajirao Mastani apart from other love tales is its grandeur and perfection; the grandiosity of the sets and the perfection of the characterization.

The emotional and empathetic king, his devoted but stubborn and self respecting wife, a princess who is ready to bow to any extent for her love for the king and a ruthless authoritative mother who thwarts all efforts to keep Mastani away from the king were brought on screen by Mr. Bhansali with passionate touch from the start to the finish. No scene can be called as superfluous or redundant in the 158 minute long film.

Another striking aspect of Bajirao Mastani is the razor sharp dialogues. Special credit should go for dialogue writer Praksah Kapadia. Songs, their placement and the music by Bhansali are another plus point of this movie in the present day cacophony of film music.

Stunning visuals, beautiful actors, soulful music, excellent choreography of songs and fights, powerful characterization, breathtaking visuals, artistically mounted sets and visuals all take the movie to an epic level.

Ranveer Singh, Deepika Padukone and Priyanka Chopra in the lead roles look perfect and enchanting. The artists and the characters will last in our memory for a long time.

The movie is undoubtedly an epic on celluloid. If you miss this film, you miss really something.