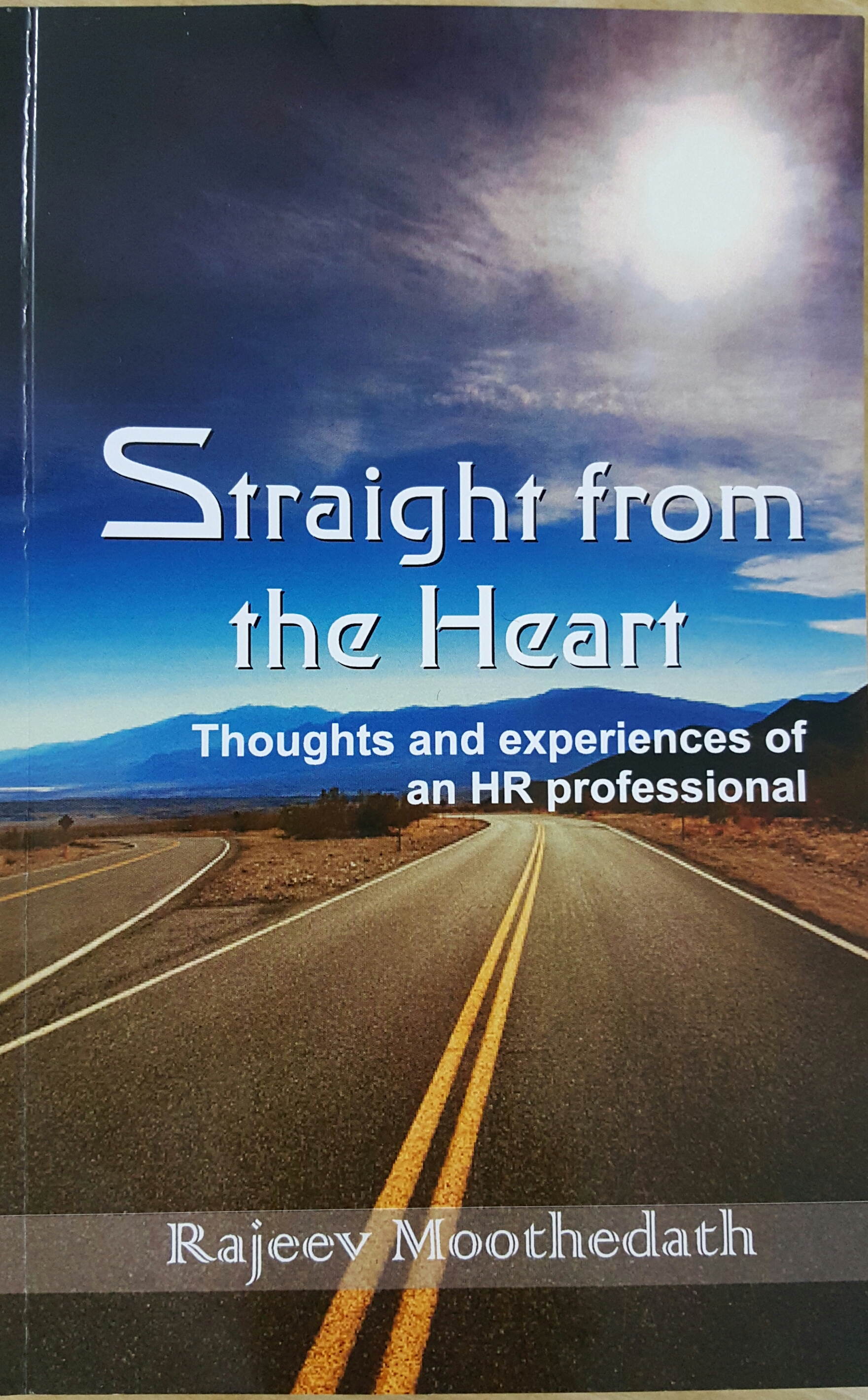 'Straight from the Heart' sounds much like the title of a Rajeev Moothedath poem! But wait! This is not a collection of Rajeev's well-written poems (as the line in small letters following the main title indicates, but that doesn't take away Rajeev's considerable talent as a poet!) but a collection of his articles on HRM – primarily Learning & Development and Leadership, his core competencies.

While in the Management parlance HR means Human Resource, for me personally it has always meant Human Relations. What stands out in Rajeev's book 'Straight from the Heart - Thoughts and experiences of an HR professional', is that Human Relations and the value addition they do for building robust organizations, have been given equal importance and have been seamlessly incorporated while discussing the nuances of the various Human Resource issues in organizations.

I am no management professional nor do I have any claims of being a trainer or a HR person. Yet, I have taken up the challenge of reviewing Rajeev Moothedath's treatise-like compilation of his articles on the various aspects of HR because he is my ever-forgiving friend and also, I felt that a title like this deserves a review straight from the heart! So Rajeev my friend, here I go!

'Straight from the Heart' by Rajeev Moothedath is a slim 126 page book from which if we take away the first 16 pages devoted towards the prelims of the book like Foreword, Preface, Index etc., the rest of the 110 pages are packed with immensely informative and erudite articles on various aspects of HR, Leadership, Development, Workplace Dynamics and so on. Most of the articles are based on the extensive notes made by Rajeev during the KSSs (Knowledge Sharing Sessions) that he attended. These articles reveal another KSS and that is the Knowledge Sharing Skills of Rajeev besides his excellent documentation and reporting skills. I am sure it is not an easy task to not only participate in such sessions as a speaker or audience, but also maintain detailed notes to be able to convert them into well presented meaningful articles.

The book has been divided into four sections:

I: Directions & Signposts
II: Leadership Thoughts
III: Experiments in L & D
IV: Introspection & Way Forward.

As the titles of the above sections suggest, Rajeev has logically sequenced and built up the topics by sharing the proceedings of the various KSSs he attended, instances from his own extensive experience as a HR professional, case studies and even a book review (Championing the Bosses – Pages 44-47), all in a manner that makes the book an easy and engaging read. It charts the readers along a gradual yet structured course, starting with simple questions like "Who are you? Where do you want to go?" (Pages 17-20) and thence developing on various corporate themes. Thus, each article serves as a preface for the next.

In fact, the very first article in this collection sets the tone of the book and starts with these very pertinent questions "Who are you? Where do you want to go?" – questions that we need to ask ourselves often while working in an organization to give a direction to our efforts and career path, as also in our day-to-day life. Here is an article that tells you how to become "great" from being just "good"! These powerful lines sum up not only the essence of this article, but also serve as key principles for a meaningful corporate life:
"Corporate values are signposts for where you are going. When in doubt, when taking decisions you just have to look at them and ask yourself "Am I being true to this corporate value?" and Go ahead if the answer is "yes" and drop it if it is "no". Senior leaders need to speak in one voice and at every opportunity, about the correct ways of practicing the corporate values of the company. Examples both 'good' and 'bad' related to the practice of these values need to be shared and discussed frequently throughout the company." (Page 20)

Simple language with an engaging and easy flow and a generous sprinkling of real examples from the corporate sector (Rajeev's own experience as a top management HR professional comes handy for these), all contribute towards making the entire book 'Straight from the Heart' easily relatable.

Whether discussing "Business Agility" (Pages 21-23) or holding forth on how 'The West got it Wrong" (Pages 32-34) or demystifying an aspect of "Communication" (Pages 54-56) or talking about the "Right Man for the Right Job"(Pages 57-60) or questioning "Is Winning Everything?" (Pages 67-69) or extolling the virtues of the "Power of Appreciation" (Pages 93-95) or lamenting on the "Lost Employees, Lost Customers and Lost Productivity" (Pages 101-103) or telling "Stories from the Work Place"(Pages116-119) or exhorting the merits of "Application of LOA (Law of Attraction) in the Work Place" (Pages 122-125), a standout and outstanding feature of all the articles in Rajeev's 'Straight from the Heart' is, aside from the fact that the book serves as a great knowledge resource and guidance document for any corporate professional, one can also resonate with it at the personal level, as there are many practical life lessons to be learnt from each of the articles in the book.

I would like to quote from the article "Entrepreneurial Leadership" (Pages 39-43) that in a way, provides a sneak peek of the book itself, being excerpts from a session on the subject by Dr. U. Srinivasa Raghavan, Director Centre for Retail Management, and Strategic Advisor & Professor of Strategic Management, Loyola Institute of Business Administration (LIBA) Chennai and former Secretary-Posts to the Government of India. The article also showcases Rajeev's admirable documentation and presentation skills:

ABCD of Entrepreneurial Leadership:

A - Aim High: If you aim for 100 marks there is a possibility of getting 90 marks. He cited the example of seventy year old Akkamma, a poor illiterate woman of Karnataka who has made planting trees her life's mission. She has already planted 10000 trees & continues the good work. If a poor villager can aim so high, why can't we?

B - Believe: Have complete faith in the mission yourself- This will stand you in good stead till the end. It doesn't matter if only some people believe and some don't. Just have total belief yourself.

C – Creativity / Cope ability: Be able to change with ever changing situations creatively. The accent in the future will not be on our capability but our cope ability.

D – Determination: Whatever the mind can conceive, it can achieve. We only need to be determined to see things till the end.

Ten Commandments of Entrepreneurship:
Be a visionary like JRD Tata
Be innovative like Steve Jobs
Take advantage of opportunities like Dhirubai Ambani
Dream & be creative like Ratan Tata
Be a change agent & manage change like Kiran Mazumdar Shaw
Be a problem solver like K.V.Kamath
Take measured risks like Raghavendra Rao
Be a leader and Lead from the front like Narayanamurthy
Be a decision maker like T.V.S.Iyengar
Be achievement oriented & self actualize like Shiv Nadar
An endearing feature for me personally (and I guess it will be for many others like me) of Rajeev's book is the simple language that comes straight from the heart – no highfalutin technical terminologies, no pontification on management concepts and no sermonizing. In fact, even complicated and serious management concepts and issues have been dealt with by the writer in simple terms, drawing from the rich repertoire of his vast corporate experience – be it a discussion on a serious subject like "The New HR Agenda – Respond, Realign and Reposition" (Pages 26-31), or the issues involved in "Taking Learning to the Shop Floor" (Pages 86-87), or "Becoming Purpose Detectives" (Pages 70-72), or 'Mind Programming" (Pages 112-115).

An HR professional with over three decades of experience in public and private sector organizations, Rajeev Moothedath a.k.a. M.N. Rajeev recently retired as the Asst. General Manager (HR-Contract Management), Hyundai Motor India Ltd. He also served as the HOD of Learning & Development for five years at Hyundai. Rajeev has addressed several professional meetings and HR sessions. His articles have appeared in 'Deccan Herald' a leading Bengaluru daily and on web portals like RateMyLiterature.com. He also writes a popular blog on HR topics.

As I have mentioned earlier, 'Straight from the Heart' by Rajeev Moothedath is a slim volume of great knowledge resource and a guidance document for not only practicing HR professionals, but also for all strata of corporate leadership, students and even common folks, as it is packed with highly informative articles and sheer horse sense.

My recommendation: whoever you are, go grab a copy of this book and keep reading it every now and then!
Straight from the Heart – Thoughts and experiences of an HR professional by Rajeev Moothedath
ISBN978-81-8253-599-2PriceRs. 200/- USD 15/-
Publisher: Cyberwit.net