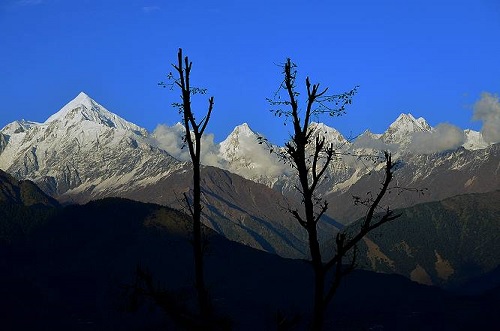 Come summer, and the mountains call …

Now that my daughter is growing up, I do not like to travel alone. Her inquisitive mind and the freshness of her eyes add to the impetus of exploring the mountains in a more pristine way.

2012 … and the Puja Vacation … we decide to go to Kumaon, this year, and plan our trip accordingly. From Home to Kathgodam to Kausani to Munsiyari to Chaukari to Almora and back home … and this time we are three – my wife Jana, my 6 year old daughter Anisha … and this tour manager.

In this part, I will narrate my Munsiyari experience only … it is an experience that has to be felt more than could be said … so, at the onset it is better to warn readers that most would be left unsaid for them to actually visit the place and have a firsthand experience of Nature's splendour and God's delight …

My additional interest in Munsiyari has been owing to its association with Mahabharata legend … and though the narrative is absurd, it has a charm of its own, and even the cynical mind would smile and say, "Well, it fits …"

Before I tour Munsiyari again through this writing, here is some useful Information about Munsiyari first … a sort of prosaic primary acquaintance before entering the land of poetry and the realm of Willing Suspension of Disbelief.

Munsyari is a small town fast evolving from its once obscure village identity in the Pithoragarh District of Uttarakhand, India. The town has an average elevation of about 2,200 m (7,200 ft). While the beauty of the Panchachulli Peaks is the main attraction here, the place is also the starting point of various trekking routes into the interior Himalayas. Other than that, it has interesting cultural currents.

The name Munsiyari means a 'place with snow'. Situated on the banks of Goriganga River, Munsyari also falls on the ancient salt route from Tibet. It is at the entrance of the Johar Valley, which extends along the path of the Goriganga River to its source at the Milam Glacier. It is inhabited mainly by the Shauka tribe.

The Panchchuli peaks are a group of five snow-capped Himalayan peaks. The legend goes that Draupadi used to cook on the peaks during the Pandavas' final journey. As I said, the legend is absurd; however, when one sees the peaks in their splendour, one realizes why the peaks have to be associated with the Pandavas and Draupadi.

Coming back to prosaic geography, the peaks form the watershed between the Gori and the Darmaganga valleys. Panchchuli is also located on the Gori Ganga-Lassar Yankti divide. The group lies 138 km (86 mi) from Pithoragarh.

The five peaks on the Panchchuli massif are numbered from northwest to southeast. The highest peak is Panchchuli II, and the heights of the peaks are -

1 Panchchuli-1 (6,355 m)
2 Panchchuli-2 (6,904 m)
3 Panchchuli-3 (6,312 m)
4 Panchchuli-4 (6,334 m)
5 Panchchuli-5 (6,437 m)

With this basic Information, now I abandon dry facts, and enter Munsiyari …

We reach Munsiyari on 20th October, 2012 at noon… and the spectacular Panchachulli greets us with flashing smiles …

Even as we have been nearing Munsiyari, the towering peaks were playing peek-a-boo with us. Kumaon with her virgin and lush greenery is an ever delight to the eye and mind. And when the sky is clear, the wind is dear, and the open snow-capped smiling peaks are so near … who wants anything else?

Check-in at a pre-booked hotel and lunch are just pass-times … and all our exhaustion (of a 8 hour car journey from Kausani) having already vanished, we three set out in the open air, and return to hotel again only after sunset.

Sometimes, a group of naughty clouds throng around a peak only to magnify its beauty … and only to make my camera shutter more restless …

Sometimes, the clouds assume spectacular shapes as if loaded with Nature's imagination. And then as the sun slides to the West, the clouds like obedient children gradually sink on Mother Mountain's breast … gifting us with the fabulous view of golden Panchachulli …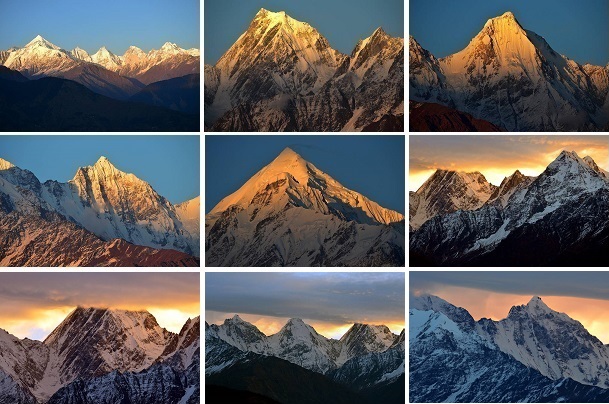 What play of colours … it is Holi and Diwali all at once … in rhythm with the sun's slide
Next morning, we do a local sight-seeing.

We go to Nanda Devi Temple which is one of the oldest Temples of the region – only 3 km from town. The temple is dedicated to Goddess Sati in the form of Nanda Devi.

The setting is astounding … and it is really difficult to leave the place …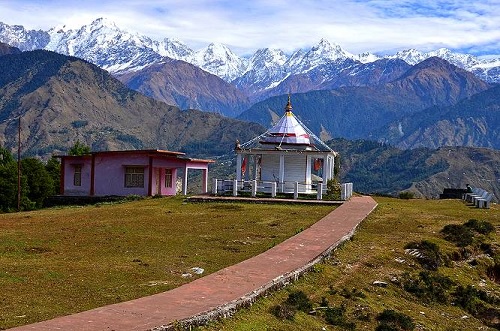 Nandadevi Temple
We visit Tribal Heritage Museum, fondly called Masterji Museum in honour of Dr. Sher Singh Pangthi a retired school teacher who is also an ardent a trekker, traveler, author and an authority on the Bhotiyas of the area. Dr. S.S. Pangthi's admirable endeavour has put together interesting antiques in this private museum at his residence in Nanasen village. The original documents which enabled trade between the Johar Valley and Tibet and the personal effects of the traders are a valued collection here.

There are life-like images in the museum throwing light on different aspects of local life and culture. Every aspect of daily life like old photos, maps, coins, documents, local utensils, wooden bottles, wind-up gramophones, native dresses and attires, hand-crafted shoes, hand-made saddlebags … are preserved here.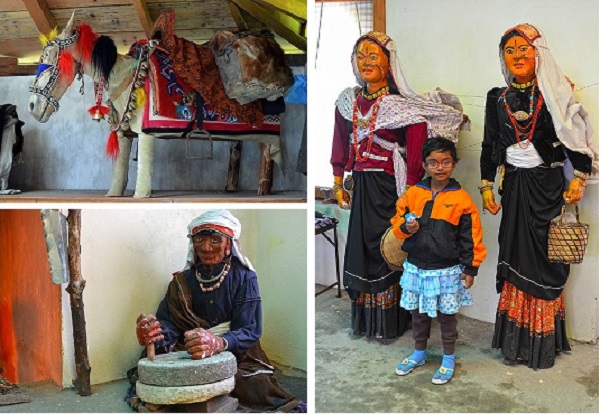 Images at the Museum
All through our stay in Munsiyari, the Panchachulli is our constant companion … with changing mood … sometimes the angry father – the epitome of Raudra Rasa in daylight … sometimes the coy mistress playing Shringara with the overbearing clouds … sometimes the calm mother …

Like all good things … like all poetry … the experience has to end and we have to return. The memory is however, there to cherish … and the images imprinted in the mind will occasionally wake from dreamy slumber …

And the mountain will call again …

Important 'Prosaic' Information that makes Poetry possible -

A) Other places to visit

Now, a quick introduction to some other places of interest of which we visited some and left some for another future visit:

1) Maheshwari Kund (Mehsar Kund): The Kund is associated with the story of a Yaksha (demi-god) who fell in love with the daughter of a Village head. The villagers could not accept the love affair, and dried the lake. The Yaksha cursed the village after this incident. Munsiyari suffered with drought for a long time until the villagers apologized and pacified him. This act of pacification then transformed into a ritual. The place offers a panoramic view of Panchachuli peak and Nature.

2) Betulidhar: A large garden full of Rhododendrons, and an ideal skiing slope in winters.

3) Thamari Kund: A natural lake surrounded by alpine trees and paper trees. If lucky, one can spot Musk Deer.

4) Darkot: Darkot is 6 km from Munsiyari on Madkot road. One can buy Pashima shawls and Sheepwool blankets from this picturesque hamlet. The old artistic houses add to the pleasure of sight.

5) Khaliya Top: A 10 km trek from Munsiyari at a height of 11500 ft offers panoramic views of the greater Himalayan ranges. One can see Panchchuli, Hardeol, Rajrambha, Nandadevi and Nandakot peaks.

6) Madkot: 22 km from Munsiyari, this small hemlet is well known for hot water springs that are believed to cure rheumatism, arthritic pains, skin eruptions etc.

B) Some necessary distance chart -

Delhi to Munsiyari - 535kms
Almora to Munsiyari - 200 kms
Kausani to Munsiyari -164 kms
Haldwani to Munsiyari - 282 kms
Nainital to Munsiyari - 263 kms
Bageshwarto Munsiyari -127 kms
Ranikhet to Munsiyari - 224 kms
Haridwar to Munsiyari -484 kms
Pithoragarh to Munsiyari -135 kms
Binsart o Munsiyari -174 kms
Karnaprayag to Munsiyari - 307 kms
Kathgodam to Munsiyari - 275 kms
Chaukori to Munsiyari -100 kms

C) Accommodation

For booking at Kumayun Mandal Vikash Nigam hotels, visit - You can also book private hotels online or offline. There are indeed beautiful private hotels with exquisite location … the Panchachulli can be viewed throughout the day from bedroom window. However, I would not name any such hotel lest I sound like an agent. I am sure googling will help to find suitable accommodation.

D) Food

No problem … veg or non-veg … solid or liquid … everything available for a price

E) How to go

The distance chart I have provided will give some idea. By train, the entry point to Kumaon is Kathgodam. One can go through Haridwar too. Then one has to enter Kumaon via Karnaprayag.