Why To Visit:
If you are damn tired, lack time and therefore can't really afford for at least two days long trip, then a short half-a-day trip is the one you that are actually looking for. And yes, if you are staying in Bangalore then Shivagange mountain is one of the best place for this, because this is more than just magnificent. Went there on 24th January, 2016.

Caution:
Located in rural Bangalore (near Dobbaspet) this mountain peak is the best to climb in winter for you may sweat a lot while climbing. Remember, it is more than thirteen hundred meters high, quite steep and in many places there is no proper stair to climb. Just a bunch of big rocks scattered here and there, connected by smaller rocks. Safety hand rails are there but in such narrow areas you might slip if not cautious enough. And, obviously avoid rainy day.

A Brief Description:
This peak is shaped as a Shivalingam, and there is a spring nearby, fondly termed as 'Ganga', therefore the name 'Shivagange' arrived. The sacred mountain has many temples inside it, for example Olakal Teertha, Gangadhareshwara Temple, Patalagange, Nandi statue, Sharadambe Temple, Kanva Teertha etc.

How to go:
This is around fifty kilometers far from the Bangalore city and you need to take the Tumkur Highway. You can go by bus or take your private vehicle. If you go by bus, then from Dobbaspet take an auto to reach the spot. Lots of autos (share basis) are available there. For private vehicle, there is a parking site which requires nominal charge. My advice, you should leave home early morning to avoid sweating while climbing, because we reached there late and it was really tiring to climb as the temperature soared.

Historical Significance:
Kings of Hoysala dynasty used to rule this region from tenth to fourteenth Centuries. One such king was Raja Vishnuvardhana whose wife was Rani Shanthala. She used to lead a very unhappy life because of her inability to give birth to a son. Gradually this unhappiness transformed into huge depression, subsequently prompting her to suicide by jumping from the Shivagange peak. That spot is now called 'Shanthala Drop'. In sixteenth Century, Shivappa Nayaka made a fort in this mountain which is no more intact now, in fact, mostly ruins.

Trekking:
It takes around two hours (if not more) to climb the peak. Either wear appropriate shoes or go bare feet. In fact, bare feet give you more grip, so there is less chance to skip. Probably that is why I saw many people there were climbing without shoes. One good thing is, in this entire trekking route, there are plenty of shops selling water, juice, snacks, soft drinks, tea, lemon water etc. So whenever you need to relax, just sit down in the bench and energize yourself with food or drinks.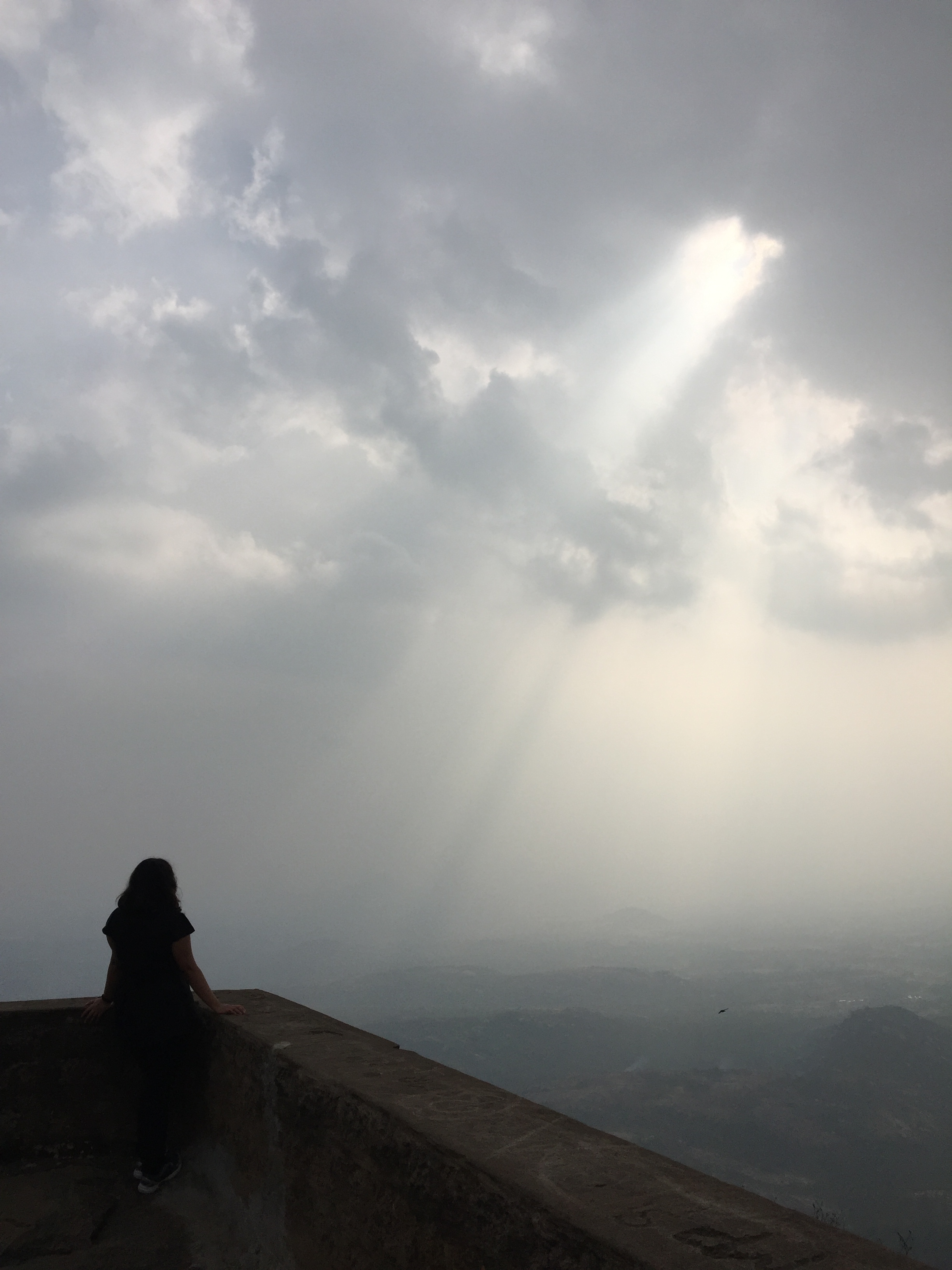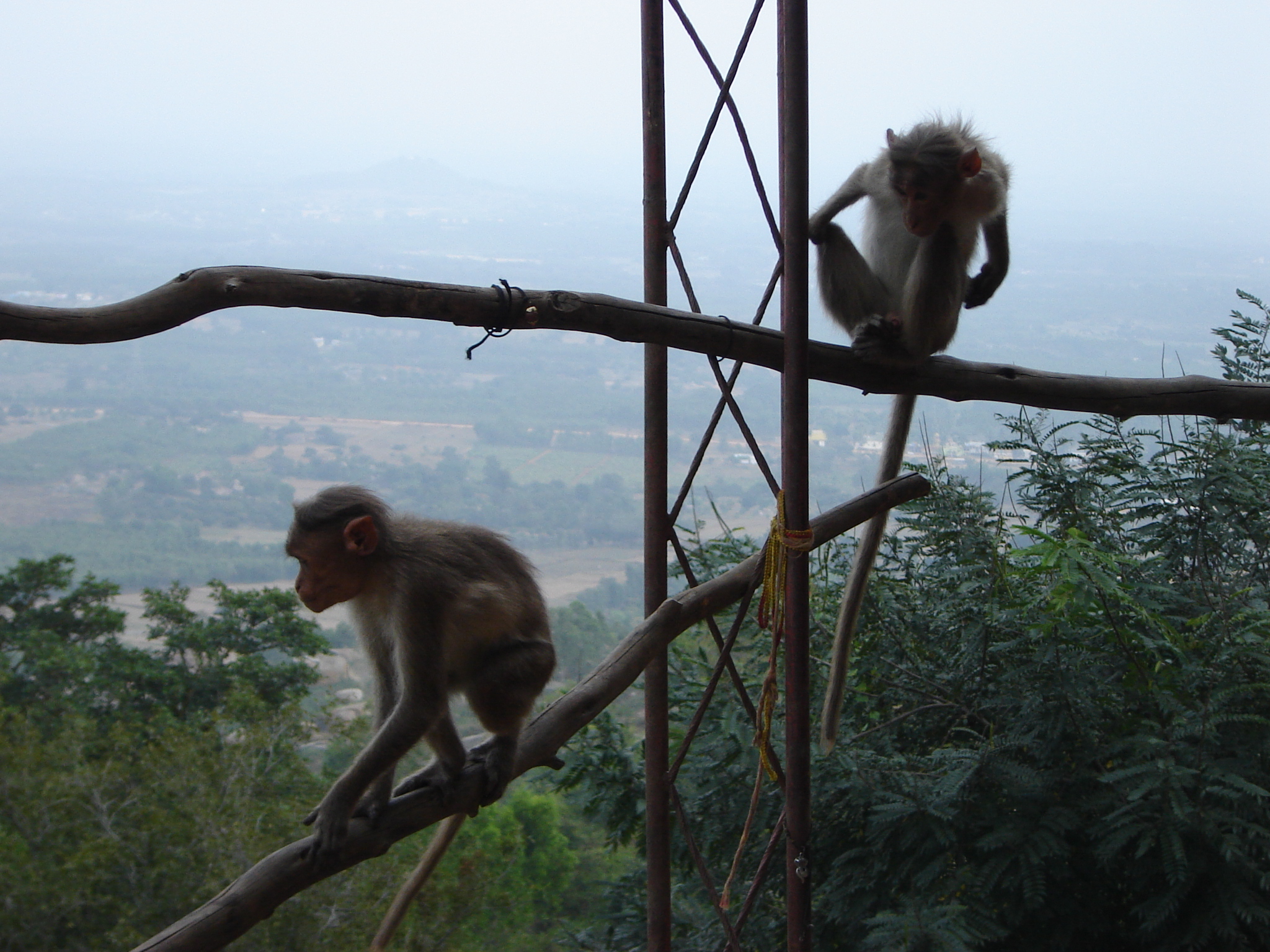 Last Words:
The trekking route is full of monkeys. They are not dangerous until you carry bags or anything in your hand, especially food or drinking water. They try to snatch away all kinds of bags, be it ladies hand bag or backpacks, irrespective of small, medium or big size. You may request any shopkeeper out there to keep your bag for sometime until you are back from the peak. I asked one of the shopkeeper, she did not want to keep. Then asked the next shopkeeper after climbing another few yards and he readily agreed. Saw few other bags deposited there as well. I was pleasantly surprised to see that he did not even charge any extra bucks for this. Humanity exists, once again am assured.