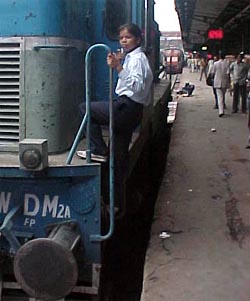 From a poor, tribal family in village Dela Doli Kokar near Ranchi in Jharkhand to becoming a woman engine driver - Laxmi Lakra, 27, has come a long way. And for this petite, spirited young woman, even the journey was exciting. Laxmi is the second woman to make the post in India; Surekha Yadav from Mumbai was the first, joining Central Railways in 1992. Laxmi, though, is the first woman engine driver with Northern Railways.
"I've always competed with men," says this petite but steely woman. "I love challenges and the moment somebody says this is 'not for the girls', I make sure I go ahead and do it!" Laxmi, who was selected for this coveted post after clearing the Railway Recruitment Board (RRB) test last year, credits her parents - both construction laborers in Jharkhand - with her success.
"My parents are illiterate, but they never discriminated between the boys and girls of the family. My two brothers and my sister had the freedom to choose their careers." Laxmi says that her father did not mind if the children did not eat for a day, but was most upset if they skipped school! "God's gift" is how she describes her parents' awareness of the importance of education.
Currently, one of Laxmi's brothers is in the US on a scholarship, while her sister is a first-class graduate. All the children took tuition classes in their spare time to earn extra bucks and finance their own education. Laxmi would even help run the house - filling in grocery, getting house repairs done, buying school uniforms for her younger sister - while her parents slogged extra hours to keep the wolf from the door.
However, despite these rigors of her early life, Laxmi had an innate sense of fun and adventure. And in between those bouts of mundane household chores and studying, she would borrow scooters and motorbikes from her co-students at the polytechnic institute she studied in. On these, she would go for spins around her village with her sister. "The other village girls would be aghast at my 'audacity'. But my logic was simple - as long as I was having fun without harming anybody, doing well in my studies and helping my parents, why should I not lead a lifestyle of my own choice?"
Laxmi's somewhat unconventional journey began at a government school in Jharkhand, where she was always considered a 'bright child'. One of the very few girl students in her school, she was always considered 'one of the boys'. After her senior secondary school, Laxmi secured a diploma in electronics (again considered a 'boy's subject') from the Women's Polytechnic in Ranchi.
And just when she was deciding on her future course of action came the railway exam, which she cleared in her first attempt. In fact, Laxmi was the only woman in her batch of 372 trainees. She was then packed off for a nine-month training course, which included training on electric engines in Ghaziabad, diesel engines in Tughlakabad and goods engines in Chandausi, Moradabad.
Laxmi's current job - which gives her a "king's salary" of Rs 11,000 (1US$=Rs 45) per month - is "highly satisfying", she says. She does an eight to 10-hour shift each day, shuttling goods and passenger trains engines in and around Delhi. "Of course, it is not easy," she admits, laughing. "The noise, the pollution, the constant shuttling do get to me occasionally. But then this is the life I've chosen. And I'm proud of it."
Indian Railways is an equal opportunities employer, Laxmi asserts. She also says that her male colleagues have been "most cooperative". She hasn't faced discrimination or distress based on her gender.
Laxmi's ultimate dream, however, is to pilot the Shatabdi Rajdhani. "It's a super-fast train, and it will be an honor to run that," she says.
And what about settling down, now that she's pushing 30? "Well, my parents are keen that I marry soon, but I have to choose someone who can understand my choices in life and respect me for what I am. Having led such an independent life so far, I can't spend the rest of my life with someone regressive," she concludes.
In the meantime, an engine trundles in, whistling at New Delhi's Shakurbasti Railway Station. And it's duty time for Laxmi. She dons her cap, tidies up her smart blue uniform and is off in a trice...