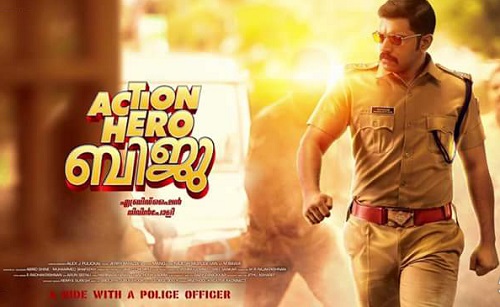 Generally, filmi police officers are drawn in larger than life images. To a great extent they are stiff khakhi clad supermen who are honest, sincere, brave, uncompromising, violent, benevolent, loving, romantic almost a demigod who nurture and demonstrate all virtues at the drop of a hat.

But, though titled 'Action Hero', Biju Paulose is more close to real life police officer who becomes an 'action hero' at the end alone to justify the title.

It is difficult to delineate the story of this movie; because there is no story as such. As the title card suggests 'it is a ride with a police officer'. It looks as if you have entered a police station and watch the proceedings with a mild amusement without participating in them. On certain occasions either you smile, snigger or wonder what all nonsenses the police officers have to put up with.

There is enough mild action like a powerful push, or slap or shouting (the subtitles come in capital letters when Biju shouts!). A young police officer's days before he actually gets married are narrated with spice. The scenes in which Biju romances with his fiancée over the phone while he keeps hitting the guys makes one grin.

The first half of the movie moves very brisk. The second half slightly slackens probably because we keep watching almost similar happenings leading to the super hero action!

The strength of the movie, however, is its racy screenplay and Nivin Pauly. Nivin simply makes you watch him with awe as he shows no traces of artificiality anywhere in his performance. He is charming in a common man way and sexy when he smiles mischievously or otherwise. But, let him take care of his slightly bulging midriff; now he is delectably plump but earlier in 'Premam' he was perfect.

There were plenty of characters walk inside and outside the police station and entertain you like a mad guy who indulges in nakedism and then entertains everyone with a queer song!

Abrid Shine and Nivin Pauly have shown a new form of film making; partly documentary, partly entertaining and partly educative. Objectively speaking the movie is thoroughly watchable.

The theatre was bursting into peels of laughter frequently which, in fact, is a success. Well, Biju deserves that!