My building, society, as it is called in Mumbai, has this problem of unauthorized people coming and parking their cars. It includes even outsiders. I mean people other than the ones working for railways. This is in spite of the presence of security guard provided by Railways for round the clock manning the entrance post. In case, you have come across these security guards at the entrance of most of the societies, you would know how indifferent they are towards the world around them. They are the lot who has already attained 'nirvana.'

They don't any more look at the world, least of it the way you look at it. They often do not take notice of any being human or otherwise who cares to cross towards the society entrance or are going away through security gate. These security guards, most of the time are either busy in preparing/chewing tobacco (majority comes from U.P./Bihar) or busy in gossip on phone/in person or worst still just seem to be in deep meditation/trance with eyes wide open.

I made a gentle complaint to their boss about outsiders parking their vehicles in our block. I feel I suitably sounded concerned and wanted him to be equally concerned, if not more, so added that inter-alia it poses security threat. The boss must have communicated his/my concern to the guard instantly, as few minutes later I saw the guard noting the registration number from the plates of the parked cars. Earlier, I had written a note to their boss giving few car numbers (which was handed over to me by my driver) purported to be belonging to outsiders. After a week or so I received a neat note nullifying all my fears. Against each number they had carefully mentioned the name of a railway officer (so what if living in some other remote block) to whom the vehicle was shown to be belonging/hired by.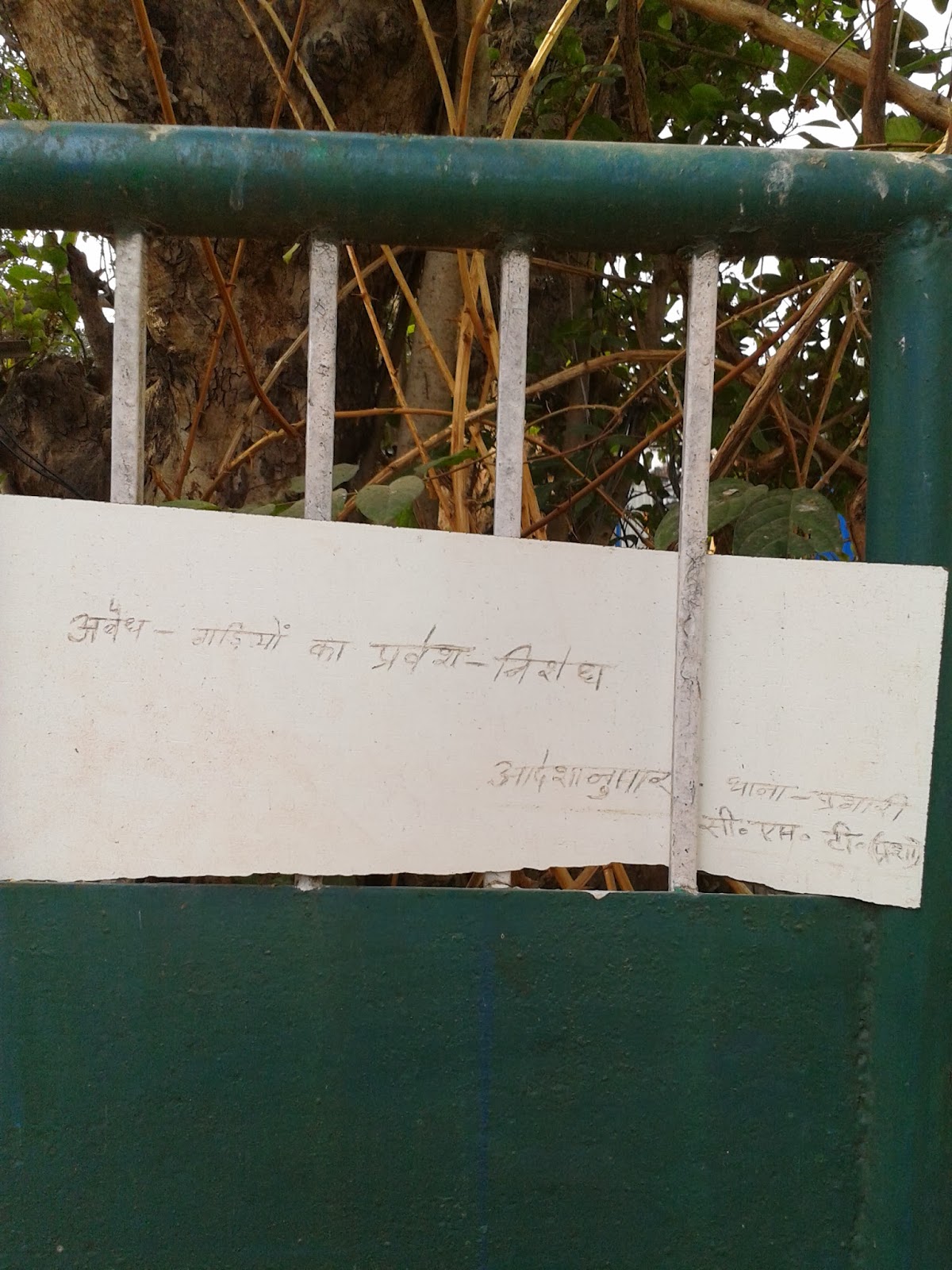 Next day what amused me most was this pencil scribbling in the smallest possible letters at the main gate. It is written on a hurriedly and carelessly torn off card board. I could read it only when I reached so very close to the sign. I bet if a driver from his vehicle can even spot the card board, leave alone able to read what is written on it. This is the end of the performance of security system so also duty of security guard. Bureaucracy Zindabad ! Long live the spirit of Performance without delivering.