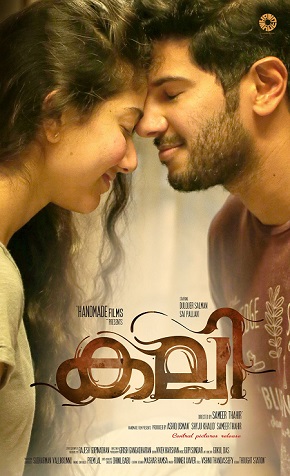 Anger or rage is always considered to be a negative quality; because a person who slips into rage at the drop of a hat is likely to end up in trouble. However, our Indian heroes are invariably 'angry young men' only but their anger or rage will be directed towards only the villains and not on others. To others he will be least provocative and love personified.

'Kali' (Rage), the recent Malayalam movie starring Dulquer Salmaan as the protagonist deals with the subject with a deviation from the typical Indian hero. One can say that Siddhaarth (Dulquer Salmaan) is shown as a short tempered youth. From his childhood to manhood he never misses an opportunity to indulge in retaliation or fisticuffs.

With all that, Sid managed to court Anjali (Sai Pallavi) and marries her much to the chagrin of her father. But, even Anjali finds it difficult to control Sid's temper and on a fateful day, after a bitter fight, they set on a road travel to Anjali's native in the night. That night turned out to be a disastrous one due to Sid's rage and the further complications follow because of it.

Director Samir Tahir's concept could not be fathomed easily through this movie. Does he try to say that short temper is bad but at time anger only can save you? Or one should be more passive to the happenings and irritants around them? I find most of the events which make Sid furious are acts which will make even a normal person's temper triggered. Will anyone tolerate a nosy colleague who violently slaps you on the back for the slightest provocation or even without one just as a friendly gesture? In fact, that is the triggering point in a party which leads to the climax. Similarly, someone chews the chips making noise, or an irritating caller tune, or a brat keeping the maximum volume of the television in your house, an absolutely useless insurance agent who keeps laughing for nothing are sure annoyances.

Well, the acceptance of such a sermon lies with the audience. Anyway 'Kali's Siddharth is no Buddha'. That is the point.

Dulquer Salmaan acts with natural flamboyance eschewing artifice completely. His voice and dialogue delivery with quick changing facial expressions bring him brownie points. Sai Pallavi looks least glamorous and anaemic but acquits herself well in her not so well defined role.

'Kali' ultimately does not preach you anything against rage but it show that it can land you in trouble but at the same time you need to exercise your rage to come out of the mess created.