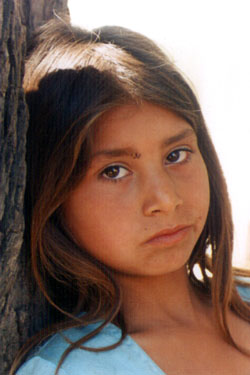 In a throwback to medieval times, 'swara' - blood price - is still practiced in Pakistan. Women and girls, even babes in their cradles, are given away in marriage as compensation for crimes committed by their men folk; crimes as petty as theft.
In the powerful Pakhtun community, swara is a means of preventing bloodshed in cases of 'honour crimes'. Samar Minallah - anthropologist and Executive Director of the NGO Ethnomedia and Development, which works against the swara system - says that the Pakhtuns are guided by the 'Pukhtunwali', the native unwritten law "that has been etched in the hearts and minds of its people".
"The Pakhtuns settle scores by taking badal (or revenge) to maintain their honor. Daughters and sisters are given away to resolve conflicts and prevent further bloodshed," she explains. For the jirga (an informal tribal village elders' council), swara is an accepted dispute resolution mechanism. But this custom is not peculiar to the Pakhtuns alone. In Balochistan, Central Punjab and Sindh, near-identical customs in the form of 'khoon baha', 'mayar', 'vani' and 'sang chatti' remain in practice.
In May 2006, in Murad Satthar village of Shikarpur, Sindh, a jirga ordered a father, Mohammad Ramzan, to hand over two daughters - aged nine and one - as compensation for money owed to a local feudal lord for three buffaloes. The father consented in writing. Luckily for the girls, the Sindh High court intervened and barred the transaction.
And what happens if the family does not have girls to be used as swara? Afsar Ali bought 13-year-old Bibi Jan in a marketplace in Peshawar, capital of the Frontier Province, for Rs 53,000 (US$1=Pak Rs 57.46). He used her as swara because he did not have a close female relative to hand over. Bibi Jan was lucky, some say, for the recipient family rejected her, claiming that she was mentally challenged.
Minallah has been studying the swara system since 2002 and has single-handedly intervened in many cases. Her first overture against it was in 2003 in the form of a film, 'A Bridge Over Troubled Waters', where swara women talked openly about the "unjust and barbaric" custom. Even the parents "wished their young daughter would die of some childhood disease before being given away to the enemy".
For the film, she also spoke to tribal chiefs, who explained the belief behind the system. "It is an attempt to resolve disputes permanently, so that killings won't go on for generations. Traditional wisdom dictates that when girls are brought in from the family of the enemy, the children born to her will belong to both families, thus putting an end to grudges," explained Haji Juma Gul of Khyber Agency.
The reality, though, is quite different. "I'll taunt and humiliate her for she's the price paid for my son's death," says a villager elder. He accepts her as part of the jirga's decision and even feeds and clothes her, but "that's about it. She's not part of the family and cannot partake in any rituals or festivities."
Maulana Nur Mohammad of Fazil Uloom-i-Islamia in Mardan in the NWFP says that swara is un-Islamic. "When a girl is forced into such a relationship, it's not nikah (marriage) but nikah bil jabar (forced marriage), which is not permitted in Islam." Justice Dr Fida Mohammad Khan of the Federal Shariat Court, a parallel court system that takes up cases in the light of Islamic jurisprudence, says, "Islam prescribes that a punishment should be punitive, retributive, reformative and act as a deterrent. Swara doesn't have any of these features. The criminal goes free, and an innocent girl pays the price."
Minallah is currently working on estimating the statistical prevalence of swara in two districts of the NWFP. A comment made by a Supreme Court of Pakistan jury in December 2005 that there is practically no data available on swara was the starting point for her study. Being the main petitioner in that case, she felt it was her responsibility to research the custom.
When Minallah began her research, she was told that the practice does not exist anymore. "People generally avoid talking about these issues in public because it is seen as an act of defiance of one's culture." However, there are reports of swara or vani in the media every so often. Zohra Yusuf, a member of the Human Rights Commission of Pakistan (HRCP), says, "There are more reports now because of increased awareness. Also, victims of vani are coming forward now to challenge the system."
And that is exactly what Amna Niazi, 22, a masters student, her two sisters and two cousins did. In November 2005, they were toasted for their refusal to honor the marriage vows that took place in 1996, when they variously aged between six and 13. Niazi's uncle had shot a man, and the jirga had ordered that the five girls be handed over as swara. When they refused to comply, the jirga ordered that they be abducted, raped or killed. The father has since paid the blood money and refused to hand over his daughters "like goats" to illiterate men.
Despite a ruling in 2004 by the Sindh High Court that imposed a province-wide ban on jirga trials, the trials carry on with impunity with even the chief ministers of provinces participating. According to a recent news report, from January to June 2006, 53 jirgas were organized in Sindh.
In March 2004, the Law and Justice Commission came out with a draft amendment to Article 366-C of the Pakistan Penal Code, seeking to penalize the act of offering and accepting by way of compensation any child, or a woman against her free will. Sadly, the amendment has not yet been passed. And this is despite the fact that Pakistan ratified the UN Convention on the Rights of the Child in 1990 and the Muslim Family Law itself states that, in a marriage, a girl must be at least 16 and must give her consent.
However, rights activists feel that the winds of change are now blowing. Minallah says that in 2006, for the first time, special committees were formed to give legal help to people affected by these customs. "Last month, with the help of these committees and the local administration, an imam who had conducted nikah (marriage) of a one-month old girl swara was arrested. In Mardan, a week back, local police arrested jirga members who had allowed the rival party to take an 11-year-old swara victim with them to a tribal area."
Meanwhile, Minallah labours on, despite threats and criticism. But there are times when she also realises that her quest was not in vain. "Once I intervened in a jirga in Mardan, where Marina, 8, was to be given away as swara. To my surprise, the jirga let me speak. After I spoke, they announced formally that Marina would not be made swara." And now she gets anonymous phone calls from other parts of the NWFP informing her that "in such and such a jirga, a swara has been handed over".