Scarlet Nights: Mayur Patel, HBB Publishing, Rs.250, pp.222
Heady Cocktail of Love, Sex and Violence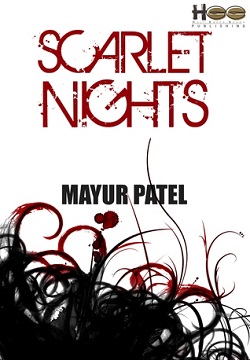 In the present day milieu, surreal stories and serials have been gaining popularity. So we happened to read and see many credible to incredible facts and fictions. Mayur Patel's 'Scarlet Nights' cannot be completely termed as an absolute fiction since we know some of the scientific facts on which his novel is based have been reported and discussed in the media.

Though opening with a crisp shocking scenario, 'Scarlet Nights' moves as a simple, straight forward romantic story of a petite, sober, and sweet girl Malvika Chauhan, a beautician by profession who is liked by one and all. She hails from a poor family with her mother and a sibling who stay at Ahmadabad. Malvika moves to Mumbai for her career and quite successful in it. She wins over the heart of a wealthy business man Shikhar who showers love and affection on her. So the story unfolds with the happy moments of Malvika either with Shikhar, her lover or her house mate Jass aka Jasvindar, a happy go lucky woman.

Suddenly, a femme fatale by name Margarita appears on the scene; sensuous but sadistic She crosses her path with the docile and friendly Malvika. Because of her entry, Malvika's promising future takes a nosedive. Malvika has to not only face Margarita, but also a few more characters. All complicate the smooth sailing life of Malvika in different ways.

Who are these people? How and why they appear to confront Malvika?

Though once start reading this racy novel, one can know who these people are before crossing fifty pages, I would prefer not to break the suspense. The author has taken special care to build up the expectancy but at the same time provided clues to the reader on the impending issues. The mysteries shrouding the life of Malvika take the reader through a roller coaster ride to the climax and denouncement.

Since the story is centred and delve more on the human psychology and behaviour, the weird scenarios are a bit difficult to digest. There is ample sex and violence in the novel to cater to the hoi polloi; in a way, certain instances are informative too. The last segment of the novel could be more appealing in a visual medium than written. The story highlights the complexity of human psychology and the importance of our actions and reactions to the testing situations in life.

Those who have read Mayur Patel's earlier novel 'Vivek and I' will be in for a surprise because that one was a deeply romantic and sensual novel though based on gay love.

'Scarlet Nights' is for those who love to read fiction on genuine love, explicit sex, dark violence and human psychology.