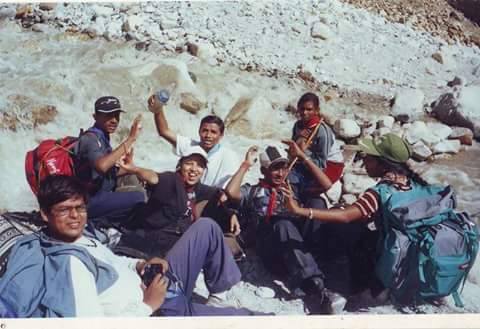 The exotic beauty and the serenity of the Himalayas are a dream place for everyone to visit. Gomukh place from where the snow melts to form "Ganga" (the most sacred river of the Hindus) is a sight to be seen and feeling to be experienced. Though it is the wish and the will of almost – everyone to have that experience; it was only in the last part of June (few years back) that this dream journey was fast turning into a reality when I, along with my five fellow friends got the opportunity under the aegis of Bharat scout and guide (Delhi) Trekking expedition to Gomukh.

After much hectic preparation for last many days and with the blessing and love of our well wishers we left for Raiwala via Delhi – where our base camp was situated at the State Training Center of the Northern Railway Bharat Scout and Guide. Raiwala is situated in between Haridwar and Rishikesh and a small place of Dehradun and takes 45 minutes from Haridwar. We reached the place from Delhi by Ujjain Express on 25th June. We reached one day early and the other participants started arriving the next day. As we were the first timers it was a thrilling experience to know each other from all over the country especially those experienced trekkers from whom we could know about their past experiences in this field. Our names were registered in the afternoon Next day i.e. on 27th June ,one day trekking to "Ganga Leheri", which is 8 K.M. from Arial, as a rehearsal trekking. It was a complete dress rehearsal to test our fitness to trek in the Himalayas. In the afternoon we returned to our base camp feeling happy for successfully completing our (rehearsal) trekking.

The following day, we proceeded towards Gongotri, after having an orientation introductory session. In the introductory session we were taught about various aspects of trekking such as; the capacity of the bag. We would carry, checking of those stones in the mountains and ways and means to cross them etc. We were provided with food. Packets and at night we personally checked each one's bag so that no essential items like p. cap, water bottle, sleeping bag, sleeping mat, Rack Sack, Lower Sack, Torch Light, nylon rope, knife, F.A. Box Glucose Powder etc. were left out. He had also given us a theoretical knowledge of all aspects of trekking. So that we would not face any trouble in the way besides, on that day we had insured our life. At last, on 28th June at around 6.30 A.M. we started our expedition toward Gongotri from Raiwala. The distance is about 260 K.M. Gongotri is the entry point of Gomukh and we reached there at around 6.30 P.M. Gongotri is situated in the east of Uttarakhand, with its scenic natural beauty. It is the last bus stoppage towards Gomukh.

The distance to Gomukh from Gongotri is 22 K.M. and is situated at an attitude of 3048 mts. above sea level. At night we halted at Krishna Ashram (of Gongotri). On 29th June at 7.30 A.M. after doing shramdan in and around the ashram and in the bank of the Ganges, we proceeded towards Gomukh. Our journey started from the temple of Gongotri. Though our group consisted of participants from various states and religions we all offered our prayers at the temple. It was feeling of oneness and unity the concept of one God and that we all are the children of same God. Gongotri temple dates back to the 18th century and was built by a Gorkha General and Sri Amar Singh Thappa. The name was derived from the fact that from Gomukh the river Ganges moves towards the north direction (Ganga + Uttar) hence the name "Gongotri". The temple is closed during dewali as it is covered with snow. It reopens for visitors on the day of Akshay Tritia (last week of April or the first week of May). We moved forward crossing many obstacles which were indeed a lovely experience.

All of us were excited with the expectation to know and see the beautiful and ancient heritage of the mightily Himalayas. Some even sang some enthusiastic songs to which we also rendered our participation. In the evening the strong wind of the Himalayas. Our caps were blow off we again picked it up with our sticks as per instruction. Experienced veterans think tha the Himalayas are soft mountains and can collapse at the slight pressure. After moving about 5 K.M. from Gongotri we had our water bottles empty. Luckily we saw a stream coming down and we filled our bottles with its water by putting (a mineral salt) Fitkiri in front of the bottle, and moved forwards. After travelling some distance we saw the "Bhojpatra Research Institute "where one professor of Uttar Kashi is doing research on Bhojpatra. Though we wanted to visit the institute but due to lack of time (as we are to complete 18 K.M. on that day) we could not visit. Praising at least the novel work of the researcher doing research on "Bhojpatra" – which have kept our treasure knowledge flowing down the aegis – we continued our travelled with varied experience.

In many places we crossed the small stretches by small wooden planks. More we moved upwards more we were tired but our immense sense of determination kept moving us further. The occasional cool made us feel cool and refreshing. It was like the welcome message to mingle into the heart of the Himalayas. Suddenly we saw a warning sign board indicating that the road ahead is very dangerous. We treaded cautiously. The road was so narrow that even one person finds it difficult to tread along. Very cautiously one by one we moved on it was very enchanting to see the flowers blooming at such a height. In many places it was written "we are sorry for the inconvenience caused" while travelling some distance through those dangerous roads suddenly one of our participant felt difficulty in breathing. We immediately rested him on a rock and brought water. On that movement we met a man coming from the opposite direction, he enquired about the boy and suddenly brought some wild plants and made him inhale. After inhaling the plant, the boy regained his normal breath. We were told that it is called "Ganga Tulsi". Finding our anxiousness to know more he told us that there are many such medicinal plants in that region. We all collected that plant with us in our journey.

Travelling for 8.5 K.M. and at an attitude of 3600 mts. we reached a place called sirbass – a small place where we had our food. There the tourists rest at night : but as our rest camp was at Bhojbasa which was another 9.5 K.M., from there, we, after having our food, proceed towards Bhojbasa. On the way, we were astonished to see a man of 90 years travelling through these terrains with immense faith he had with the name of Lord Shiva in his lips. After covering 18 KMs. from Gongotri and reaching an attitude of 3792 Mts. above sea level we reached Bhojbasa where we halted at Lalbaba Ashram After reaching the ashram some of us went to visit the Ganges Weather Monitoring Centre, which was situated just opposite of the ashram. Here a scientist showed as the various instruments of weather monitoring and forecasting of the Ganga region. At that day the temperature was 150C maximum and 70C minimum. At 9 P.M. we returned to our ashram.

On the early morning of 30th June proceeded towards Gomukh from Bhojbasa. The road to Gomukh from here is horrible. The oxygen level is also very low. Overcoming varied obstacles we reached Gomukh. It is at 3892 mts. above sea level. The difficulties are faced at this attitude was nothing but natural. But our team spirit was very high due to which we were not much affected, the way it affected some others. Gomukh is so named as its shape resembled the mouth of a cow. From here flows the holy Ganges with the snow melting to from the holy Gongotri. Gomukh is surrounded by snow covered hills known as Bhagiratha Hill 1, 2, 3, Nilkanta Hill and the Hill of Tapawan. Tapawan with its peaceful and calm atmosphere is an ideal place for Tapasya. The Tapasya of king Bhagiratha, who brought down Ganga to the earth is well known. Towards the right side of Gomukh is a snow covered Shivalinga which was partly covered due to the clouds. Shivalinga is 6543 Mts. from the sea level. Not working much time we returned back towards Bhojbasa and finally towards Gongotri.

Though initially there was clouds hovering in the skies but after moving down about 10 K.M. luckily the skies opened up. Relived at the skies opening up we steadily walked down to Gongotri and reached there at 8.30 P.M. From Gongotri again we returned to our base camp at Raiwala and on 2nd July our camp came to an end after an all faith prayer meeting and open session on venture club scheme, Venture Leader Chorus. Since our train was at night we had the opportunity to visit Haridwar. The scene at Haridwar was adonred with aesthetic. The same of the waves of the Ganges fitting the shores of Haridwar and the sounds of bells from the temples fills ones heart with devotion, every evening we watched the beautiful sight of the floating camps being moved towards the oblivion. It is a sight to be seen. It is said that right from the inception of the earth, Haridwar is the center of pilgrimage; it has also another name – Mayapuri. Thus with the varied experience of high attitude Gomukh and the plains of sacred Haridwar it was an experience to be experienced. On our way back to Guwahati the memories flashes back again and again with the question in my mind when will it be next or never.