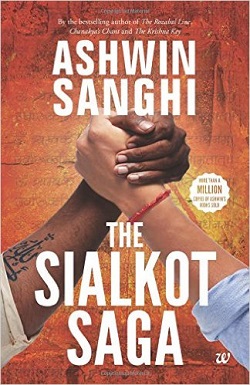 A Cliffhanger: Sialkot Saga,
Ashwin Sanghi, Westlands, pp.584., Rs. 350
Ashwin Sanghi is an ambitious writer. In his recent book 'Sialkot Saga' he tries to touch every subject on earth; history, culture, mythology, science, technology, medicine, astrology, politics, business, family, love all in one interspersed cleverly in the Indian setting and 580 pages.

The story of two business men Arvind and Arbaz starting their lives in two different important cities of India, Mumbai and Kolkata post independence and tracks their lives and war in business. In between, the novel tracks back to the eras of Ashoka, Samudragupta, Krishnadevaraya and so on some mysterious link with a secret.

It is but true that the book reminds a lot of Jeffrey Archer's inimitable 'Kane & Abel'. But, it differs with its concluding chapters connecting the lives of these two with some incredible, supposedly age old secret.

Arvind Bagadia is a Marwari boy born in an affluent family in Calcutta, well educated enters into his own business with a lot of ideas most of them on how to con people and other business tycoons with ingenuity. He meets his real rival in another youth Arbaz Sheik, a man of his age from Bombay who is an underworld don. They cross paths many times in their activities intentionally or accidentally. Daggers were out invariably every time. Both thrive in the world of ruthless Indian business till they have to meet at a point which turned out to be check and mate. The interesting aspect of this contemporary novel is the tracing of post independent history of India with real life Indian political, social and film stars and events and also figures them as cameos in moving the story. The suburbs and lives in the cities Mumbai and Kolkata were almost explored excellently though this novel during the last sixty nine years. References to some of the landmark events and happenings were included to push the story ahead in some places or just as a reference to mark the period in some places.

The historical parts were just sketchy and centres mostly on the folder with a jelly fish cover carrying some secret which travels from one century to another.

The last hundred pages of this magnificent treatise turn incredible while integrating the science, ancient age research, technology, alchemy and what not. Though saucy, the imagination almost moves on far-fetched premises and explications.

'Sialkot Saga' no doubt provides an interesting and informative reading; but at the same time it makes the reader slightly disillusioned because the end is too fancy to fathom and proves that this can only be a fiction.