Despite the summer vacations for children on, when both the parents are working and that too in different fields, it becomes difficult to plan vacation for the family due to their job and personal compulsions. Born and brought up in Delhi, I love my job in the Defence Accounts Department under the Central Government, with husband working in the private sector and two cute children, a son and a daughter, studying in junior classes. Delhi has a diverse climate round the year. People say it's a city of extreme climate with hot and dry summer, cold and chilly winter and often heavy monsoon season too.

Delhi summers are generally hot but, I would say, this summer has been exceptionally hot so far. With the children's schools closed for the summer vacation, last week we decided to go out spending some time at a hill resort to beat the Delhi heat as also to refresh and rejuvenate ourselves as a family from the usual monotonous office and schooling routines. With the ever growing civil population and commensurate infrastructure development, Shimla, till recently a preferred destination of tourists, is increasingly becoming hot and crowded thus rapidly losing its charm, we preferred to visit to Manali in Himachal Pradesh instead to get at least a temporary reprieve from Delhi heat.

The road distance between Delhi to Manali is approximately 590 Km. As we had planned vacation towards weekend, we started our journey from Delhi on Friday afternoon by road and stayed in Chandigarh overnight to avoid physical exertion of a continuous long journey. Following morning we started early and reached Manali in the afternoon passing through the towns of Bilaspur, Sundernagar, Mandi and Kullu covering a distance of another about 325 km. Though the road journey was cumbersome and tiring but the comfort of family together and scenic beauty of hilly terrain kept our body and mind engaged and fresh. Hence we immediately went out for sightseeing as we didn't want to waste time and miss any important place or monument due to our brief stay there.

Manali is located at about 2,000 metres above sea level and it is one of the most popular mountain destinations of tourist attraction in the state of Himachal Pradesh, India. Himachal Pradesh finds a mention as 'Dev Bhumi' in Hindu Puranas and sciptures. Over the years, Manali has grown into an important hill resort with many hotels, lodges, resorts offering a variety of worth visiting places and a range of adventure sports activities. Of course, we had our own comfort of staying in the official guest house.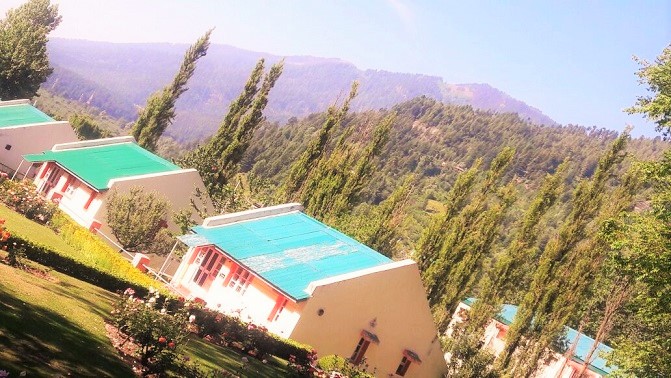 1. Panoromic view of Guest House where author stayed
The town is situated along the Beas River with breath-taking views of the surrounding snow-clad mountain peaks. The story goes that Manali is named after the ancient Hindu sage and law-maker Manu. The word Manali literally means 'the abode of Manu' with a popular legend that sage Manu had chosen to recreate human life at this place after the great flood had deluged the world in the ancient times. There is a temple dedicated to Manu at Manali. Due to its natural beauty and enchanting sceneries, Manali is also nicknamed as the Switzerland of India. The dense canopies of Deodar and pine trees provide greenery and ecological balance to the environment. Tonnes of Apple from Apple orchards of Manali are sent from here to different destinations of the country every year.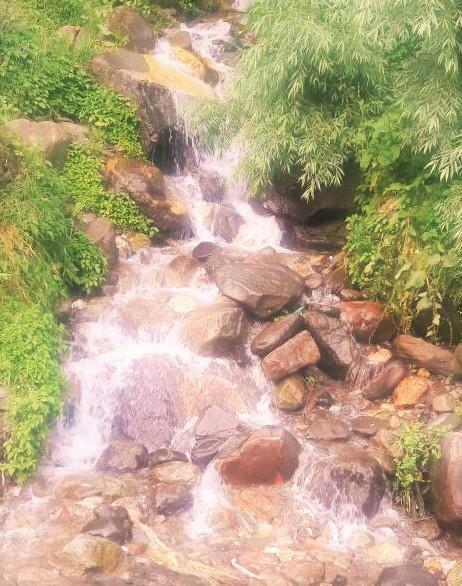 2. An Unnamed Fall at Manali
There are a number of religious places, monuments and natural objects worth visiting in and around Manali but due to availability of limited time we could visit only a few rather more important ones particularly points of our personal interest. A brief mention of these places with commensurate photographs is given in the following paragraphs. Almost a full day was required for the visit of the famous Rohtang Pass which, we think, was worth skipping a few places in and around Manali.

Manikaran Gurudwara

Manikaran is a pilgrimage centre for both Hindus and Sikhs. There is this famous Gurudwara and few temples dedicated to Hindu Gods like Ram, Vishnu and Shiva. The Hindus believe that Manu had chosen this place for recreation of the human life. According to the Sikhs belief, the founder of Sikhism Guru Nanak Dev Ji once visited this place with his disciple Bhai Mardana and noticed that his subjects were hungry. His disciple collected rice and atta (flour) to make Roti (bread) but there was no fire to cook. With the divine grace of Guru Nanak, a hot spring appeared on the spot which was used for cooking of the food.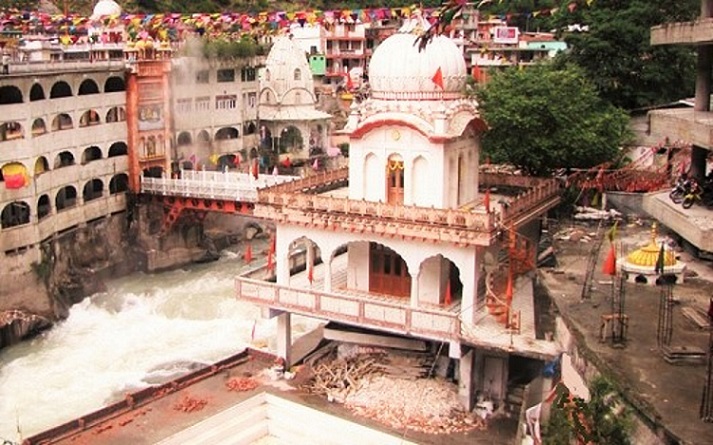 3. Manikaran Gurudwara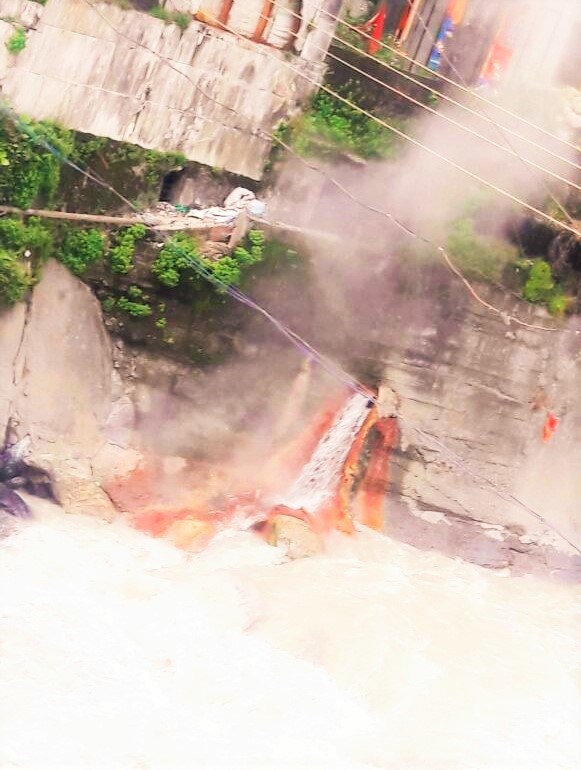 4. Hot Spring at the Manikaran Gurudwara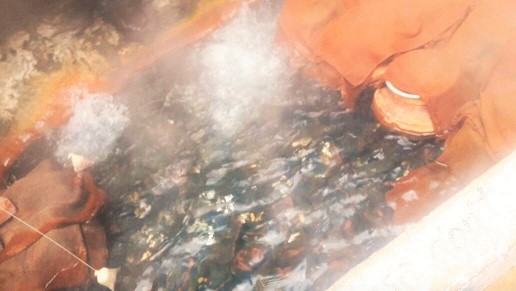 5. Devotees cook Langar in Matkies (Earthen Pots) in Hot Spring
The Gurudwara was later erected at the place in memory of Guru Nanak Dev Ji where a large number of Sikh and Hindu pilgrims visit annually. The hot spring still exists at the place and many devotees are using it to cook langar (term popularly used by Sikhs for the community kitchen and food) in matkies (earthen pots). In close proximity to the Gurudwara, there is a Shiva Temple and a hot water spring flows just below the idol of Lord Shiva.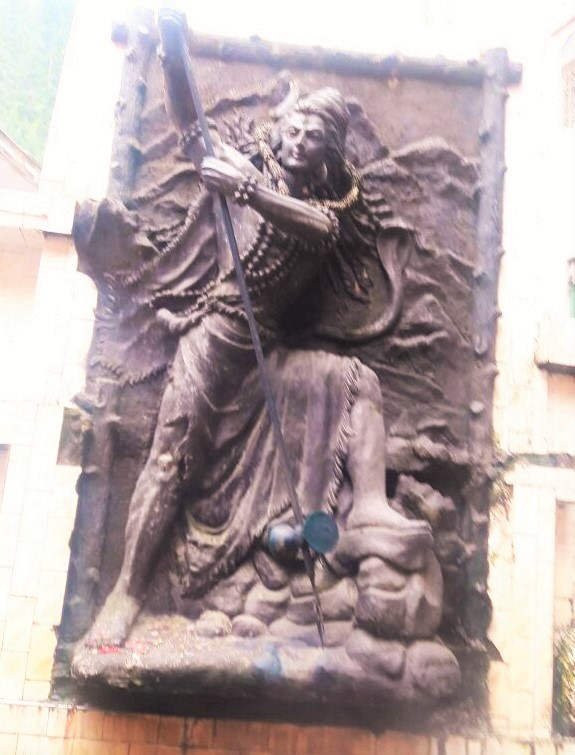 6. Shiva at Shiva Temple near Manikaran Gurudwara
Hidimba Temple

The Hidimbi Devi or Hidimba Devi Temple in Manali is a famous temple dedicated to Hidimba, a famous character of Mahabharata era. Actually, it is an ancient cave temple dedicated to Hidimba Devi who was the sister of Hidimb of Rakshhash clan, whose saga finds a mention in the Indian epic Mahabharata. The temple is located in the ambience of a beautiful cedar forest at the foothill of the Himalayas. Story goes that during the Pandava's exile, Bhima defeated and killed Hidimb and married Hidimba. Their son Ghatotkacha joined Pandava's camp during the war of the Mahabharata and played a heroic role at a crucial stage. Hidimba, instead of accompanying Bhima, stayed back for meditation, prayer and penance, thus ultimately attaining the status of a Devi (Godess).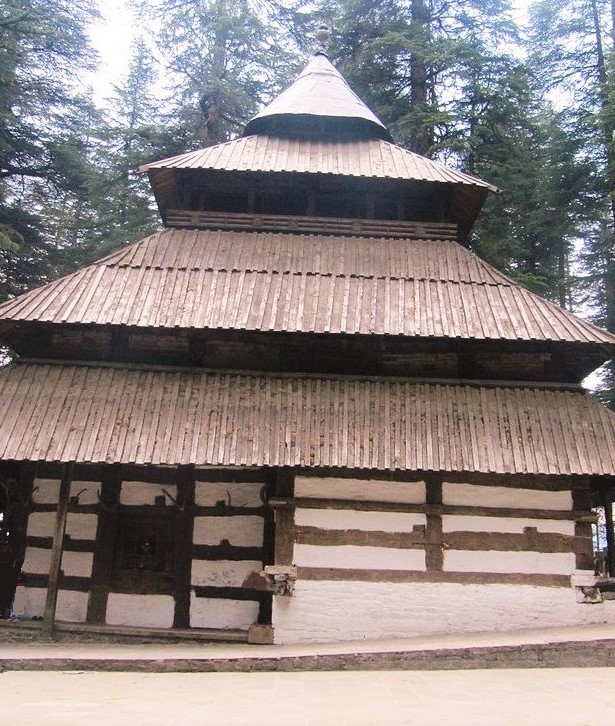 7. Hidimba Temple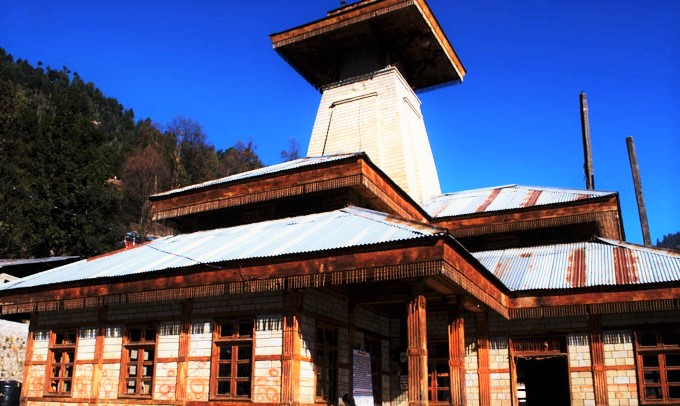 8. Manu Temple
Manu Temple

Manu Temple is one of the major tourist attraction places in Manali. It is situated in the old Manali area from where an amazing panoramic view of the surrounding hills and the entire valley can be enjoyed. The temple is dedicated to sage Manu, writer of Manusmriti, and incidentally it is the only known temple in his name. It is a beautiful temple constructed of wood and stone with marble flooring being visited by a large number of local devotees and tourists daily.

Vashist Temple and Hot Water Springs

Vashist is a small village about three km from Manali across the Beas River. It is famous for Vashist Temple and natural sulphur hot springs. Vashist Temple is dedicated to Maharishi Vashist, one of the seven ancient sages of Hindu mythology. Temple has been constructed in a traditional style using lots of intricate wood carvings. The hot springs are believed to have medicinal value with separate bathing arrangement for men and women attracting tourists and pilgrims.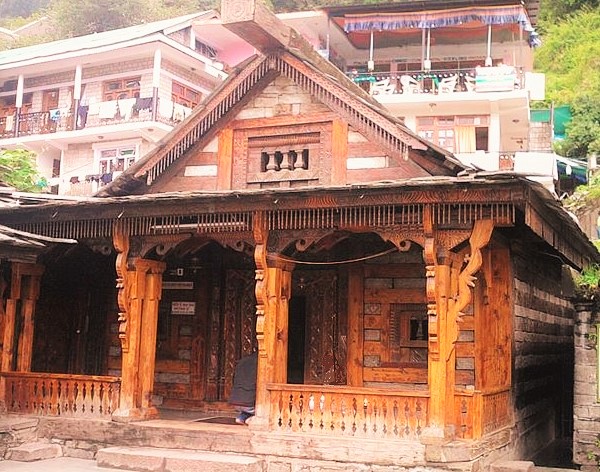 9. Vashist Temple
Gauri Shankar Temple

It is a twelfth century protected monument at Dashal village on the main Kullu Manali Highway. About 8 km from the Manali, the Gaurishankar Temple is dedicated to Lord Shiva and Goddess Parvati and is one of the beautiful tourist places in the area. This Shaivaite temple is characterized with a unique architectural design, its sheer beauty and lush green landscape overlooking the Beas River running by its side.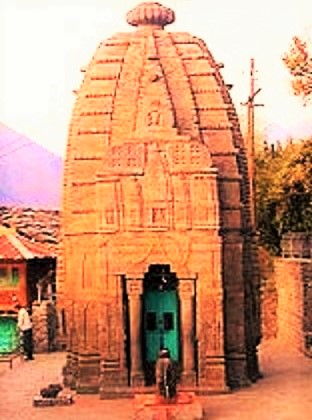 10. Gauri Shankar Temple

11. A Panoromic view of Solang Valley
Solang Valley

It is about 13 km northwest of Manali popularly known as the Snow Point with its 300m ski lift. It is a picturesque spot with the panoramic view of glaciers and the snow-capped mountains. It is also a site of other adventure sports like paragliding, snorkelling etc.

Beas River

Beas River is fondly revered by the locals as the Heart of Kullu valley and it offers many camping spots and water sports. However, the flow of the river is quite fast, though suitable for Rafting yet not fit for swimming. The banks of the river host several picnic spots.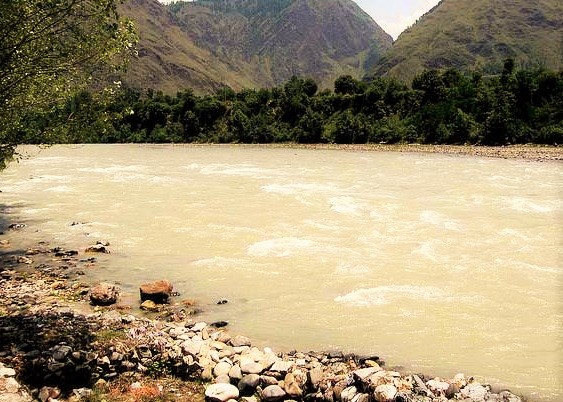 12. A Close View of Beas River
Monasteries

Manali is also known for its colourful Buddhist monasteries. These monasteries serve as the place of worship for the Buddhist people mostly of Tibetan origin and also exhibit the rich culture and history of the Tibetan people settled in Kullu and Manali. Two famous monasteries are the Gadhan Thekchoking Gompa and the Himalayan Nyingamapa Gompa.

13. A Gompa (Monastery) at Manali
The other places of tourist attraction in and around Manali are Beas Kund, Maa Sharvari Temple, Naggar Castle, Nehru Kund, Kalath Hot Water , Jogini Falls, Rahala waterfalls etc.

Rohtang Pass

Rohtang is a high mountain pass on the eastern Pir Panjal Range of Himalayas with an altitude of about 13,050 feet above the sea level. It is an adventure tourist place about 50 km from Manali. Reportedly, it is the highest point on the Manali-Keylong road with a spectacular snow-clad panoramic view of mountains rising far above clouds - a truly breath-taking sight. Beas Kund, the origin of the river Beas, is also in the vicinity.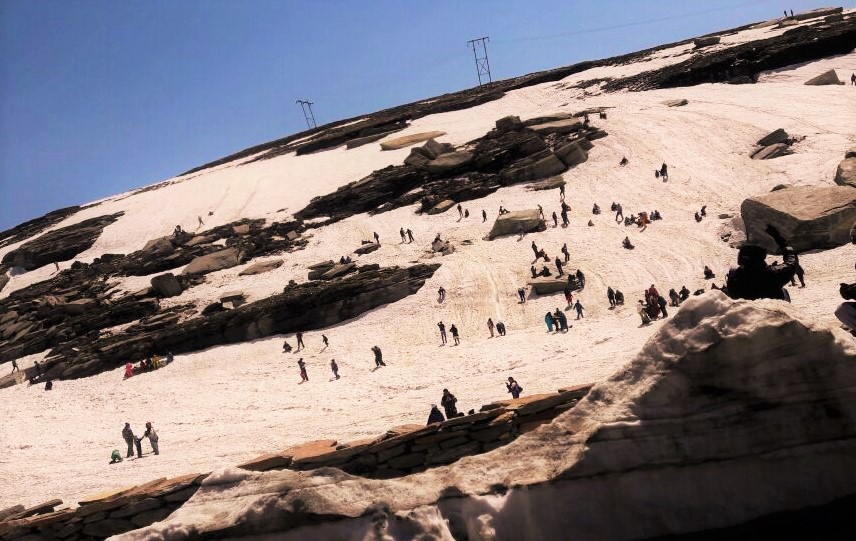 14. Tourists at Rohtang Pass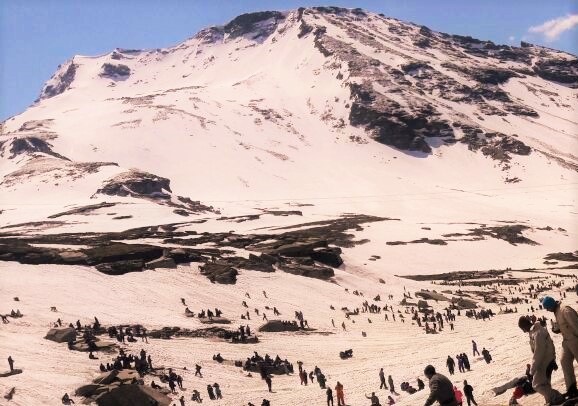 15. A Bird's Eye View of Rohtang Top
The pass is usually open from May to November. Though not very difficult to scale on foot by Himalayan standards, yet it has a reputation for being dangerous due to sudden unpredictable snowstorms and blizzards.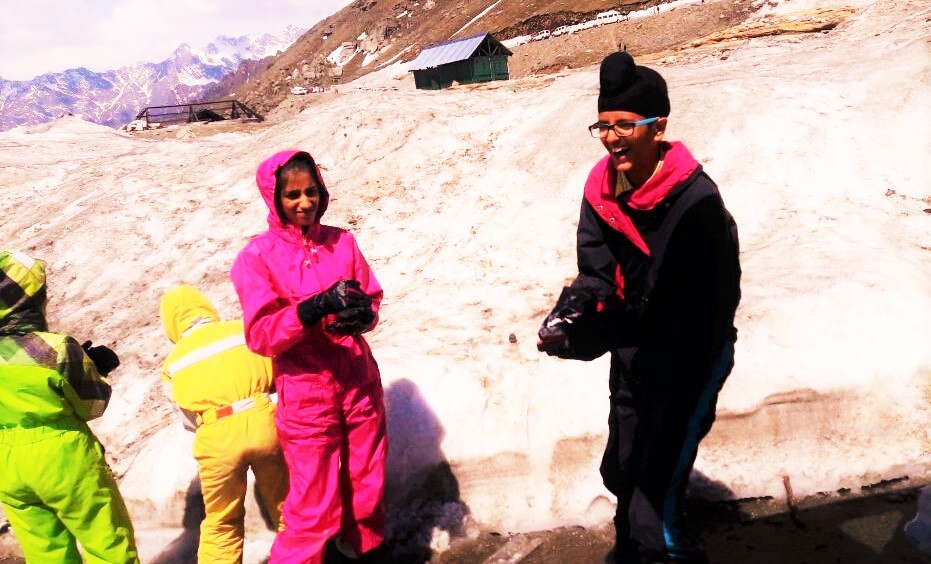 16. Author's Children Enjoying Fun at Rohtang Pass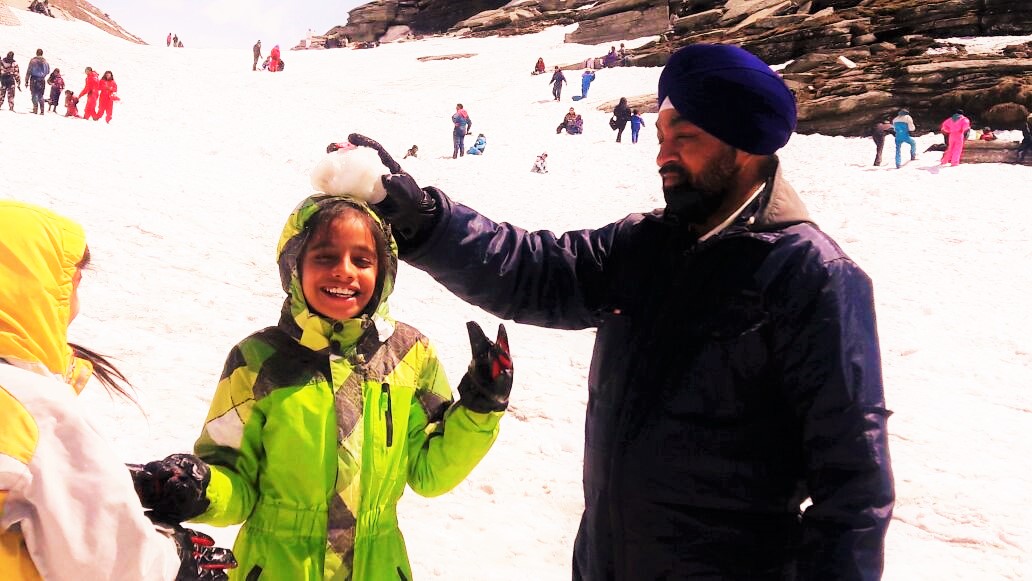 17. Author's Family at Rohtang Pass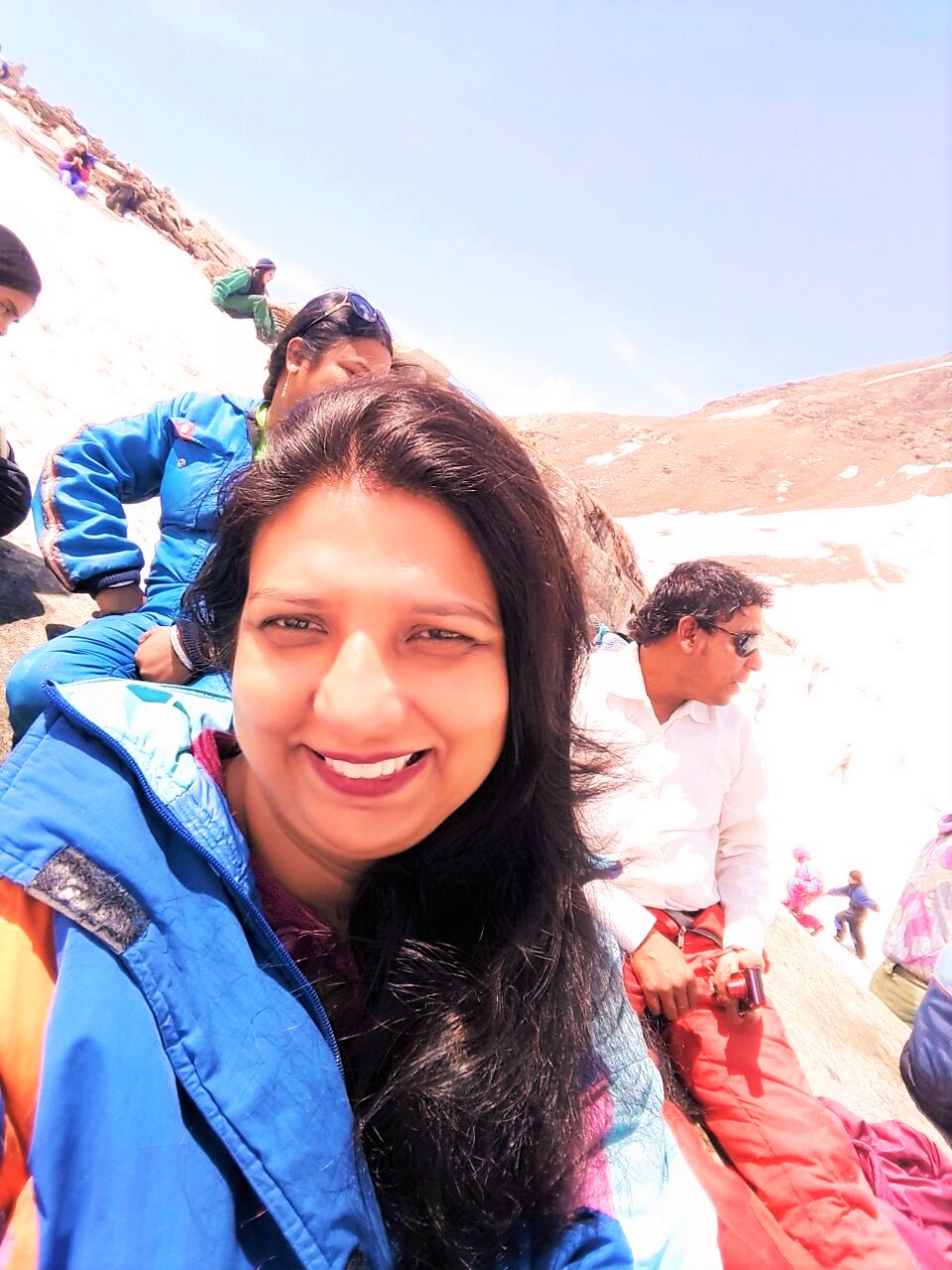 18. Author at Rohtang Pass
Tourists coming to Manali invariably crave to visit Rohtang Pass for it's adventure value and scenic beauty but due to a Supreme Court order, entry of the daily number of vehicles is regulated for this place for environmental reasons. Therefore, tourists keen to visit this place have to plan well in advance to avoid disappointment.
Photos (c) Jaswant Kaur