"To live is the rarest thing in the world. Most people just exist". - Oscar Wilde
Trupti Shah, a feminist and environmentalist lived her life to the fullest.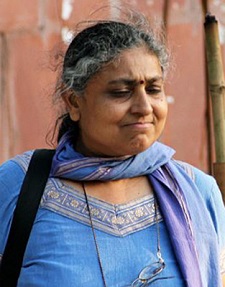 Dr. Trupti Shah a leading human rights and environmental activist, founder of Sahiyar, a women's rights organization in Vadodara, Gujarat dedicated to feminism and secular humanism passed away on 26th May, 2016 after valiant battle against lung cancer at the young age of 54. Her untimely death has caused an irreparable loss to wide range of social movements working towards social justice, distributive justice and gender justice. She was full of life, hope, spirit and a great champion in mass mobilization on gender concerns such as declining sex ratio, violence against women and girls, rights of women in informal sector, sexual harassment at workplace; environmental and livelihood concerns of poverty groups and farmers; democratic rights of dalits, tribals and religious minorities. Her Ph.D. in Economics from MS University in Vadodara was also on "Economic Status of Women in Urban Informal Sector – A study of Baroda City" from MSU in 2000. She made valuable contribution towards participatory action- research on themes such as dynamics of the women's movement in India, violence against women, women's work, women in the informal sector, household strategies of women in poverty groups, the impact of fundamentalism and communal violence on women, and the impact of globalization.

Establishment of Sahiyar, an autonomous women's rights Organization

In 1984, when a tribal woman in Sagbara, South Gujarat was brutally gang raped and paraded naked, Trupti Shah and a fellow feminist Heena Desai rushed to her village, met all concerned people and wrote testimony of the rape victim during their return journey. It was so moving that highly respected Gujarati digest "Akand Anand" published it. Trupti and Heena felt a need for Sahiyar, an autonomous women's organization to effectively support women survivors of violence. Anti rape campaign by Sahiyar shook the Government of Gujarat and Amnesty International also took up the issue of Sagbara rape case for global campaigning.

Trupti made great contribution towards campaign against Sex Selection initiated in 1986 by organizing pickets in front of nursing homes performing sex selection tests on pregnant women, changing the mindset of doctors thro' public dialogue, extensively writing against sex selective abortions of female fetuses, motivating young researchers to work on the subject and get primacy data to build campaign.

Trupti has made a permanent place in the hearts and minds of thousands of men and women, boys and girls across class, caste, religious, ethnic lines whose life she touched. In an anthology profiling feminists from Western India by Dr. Neera Desai (2006), Trupti stated, "For me feminist perspective is not an ideology but a way of life." Indeed Trupti, yours was truly a feminist way of life, both in private and public domain.