Fountain of Inspirations (A Collection of Poems)
Poet: Dr Sonia Gupta,
Rs.: 300/-, Year: 2016
Publisher: The Poetry Society of India, Gurgaon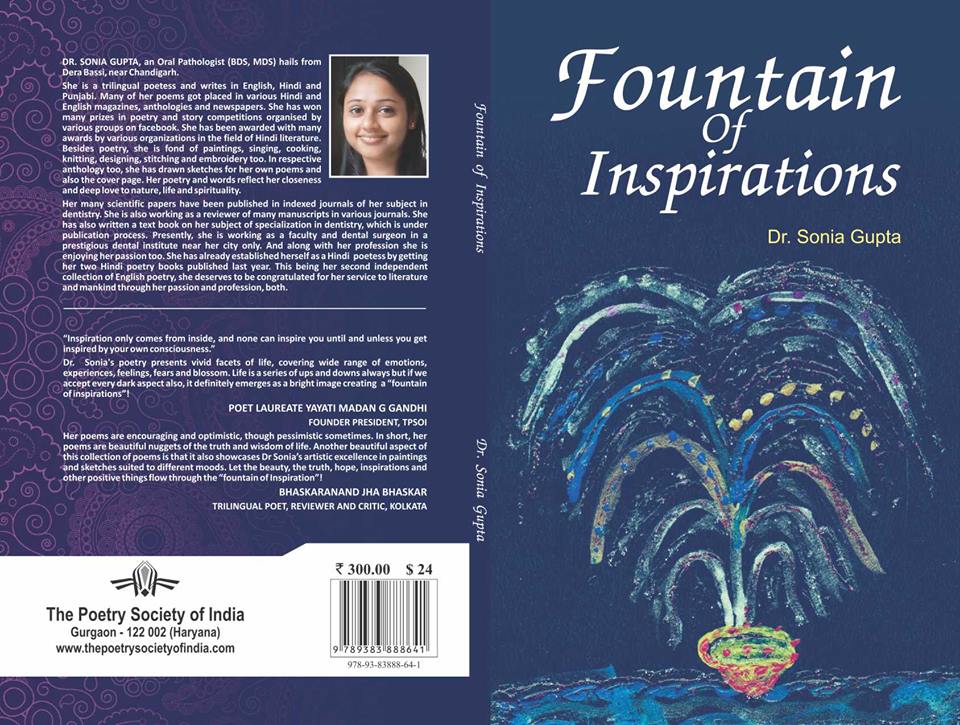 Life is not a bed of roses; it has been full of ups and downs and trials and tribulations since time immemorial. However, man has always been successful in tiding over all ebbs and tides , thanks to his inner succor, firm determination, inspirations from nature and motivations from the experienced teachers, guides and philosophers whose words of perennial significance always do wonders. The beauty and significance of fountain of inspirations contained since ages in some form or the other lies in their proper and unfailing compliance, with propensity, by one and all. As a matter of fact, inspirations and motivations help us deal with harsh realities of the world, and make us enjoy the beauty of life and the truth while fulfilling all the dreams and aspirations. Optimistic zeal and fervor keeps us afloat against all the temporal tides of time during the voyage of life.

In the present collection of poems Fountain of Inspirations, Dr Sonia Gupta presents vivid facets of life, covering wide range of emotions and feelings , inspirations and motivations, the juxtaposition between light and dark, success and failure, hope and despair, boon and bane, pain and pleasure, smile and tears, mind and heart, dreams and imagination, mood swings and firm determination. In her poetry she deftly deals with most of the universal themes in simple, plain and apt language, with concreteness of imagery and evocative diction suited to the expression. Fusion of thoughts and feelings is simply superb and awesome. Even the formal qualities of poems are in tune with the poetic mood. They are immensely, joyous, reflective, inspirational and motivational for the people astray in the mad alley of the today's materialistic world. With uniqueness of writing style, her utterance is mostly metaphorical.

Her "Beauty" makes us search for the real beauty of divine, overlooking the transient beauty of the body or nature, while in 'Why do you always curse yourself?" she inspires us to forget the ordeals of the past, shun the negative thoughts that distress us and enjoy the present moments of life with self-confidence as 'Nobody here in this world is always full of perfections'.

Her "Welcome" is a pearl of wisdom as it contains elemental lines of motivation such as
Those, who can sail the boat,
even among stormy waves,
shores welcome them!
Happiness and joy is all that matters in life. Beauty of life lies in our smiles. Her "Smile" brings joyous expression on the face of the sad and the dejected. She smilingly remarks-'This smile is such a boon to someone/that it can be a reason to live for anyone!' The poem"Hope' provides optimistic succor to the despair. In "Peace" she sings of the serenity, tranquility, calm and composure- being different aspects of peace oft-sought in the world. She believes in the uncertainty principle of life that dances to the tune of almighty time. Life is uncertain. Anything can happen at any time. Hence we must make the most and best use of the moments we have.

In her poem "Time", she rightly seconds- 'Uncertainty is there in its every second/nobody knows what will happen'. The world is abuzz with cacophonous sounds and human noises. Everything is in helter -skelter. There is no time to turn inward and find the answers to the eternal question of life. She makes us hear the symphony of her "Silence"-
It is not essential to speak always
Being silent also expresses many things
Silence itself speaks a lot through its own words
For most of the questions, silence itself is an answer!!!
On the other hand, the poem "Failure" unfailingly guides us to succeed in the turbulent times of life.

She also seems to be under the impression of Meera Bai's devotional love. She also speaks about fears, tears and failures in the battles of life. She perceives the world through her eyes, mind and expresses through heart despite all odds with aplomb.

Further, to beat down the twinge of falsehood and lies, she narrates 'Story of Truth" with her philosophical elegance. She regards "Pain" as a guiding and disciplining impulse. She avers- this pain has made/me determined,/more understanding!......This pain has purified/my heart and soul".

Her "Prayer' is an invocation to God to lead her on the right on the right path of the truth and virtues. Hence, she pleads to God to
Give me those eyes, which could find
you in everyone in this world!
Give me those ears, which could listen
you in every voice of this world!
To her "Tears" is 'treasures of life', 'pearl of an ornament'. Moving on, in her invocative poem "Illuminate the Spark" she exhorts us to rekindle the spark of divinity in us as
As the reality is felt inside
the most peaceful place
in this world is innermost silence!
if one wants to understand the real meaning and motto of life. In some of the poems, her love of nature finds fantastic articulation.

In "Mother Nature" presents a colorful account of vivid beauty of nature. At the same time, she also expresses her concern on the gradual defilement of nature due to rampant activities of deforestation. Through her poem she appeals to us-
Let us pledge today all of us together
We all shall take steps to protect our nature!
This nature, this surrounding, is a blessing to us
Let us not harm it in any ways!
Let us plant a sapling of greenery everywhere
Let us protect our environment and atmosphere!!!
Her poems are encouraging and optimistic, though pessimistic sometimes. Mood swings have resulted into manifestation of variegated feelings and emotions. She looks down upon the accusatory attitude of the people and hence she talks about raising the level of self determination. She invokes the divine power to illuminate her inner vision to see and follow the absolute light. She prays for peace in the world, in society and in mind. In short, her poems are beautiful nuggets of the truth and wisdom of life.

Another beautiful aspect of this collection of poems is that it also showcases Dr Sonia's artistic excellence in paintings and sketches suited to different moods and temperaments.

Hope Dr Sonia Gupta's poetry proves a panacea for the suffering humanity, for the dejected lot and for the failed breeds of the people.

Let the beauty, the truth, hope, inspirations and other positive things flow through the fountain of life!