Amma; Jayalaithaa's Journey from Movie Star to Political Queen, Vaasanthi, Juggernaut, pp. 175, Rs. 299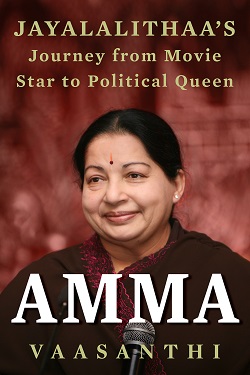 When Indian politics can be considered most weird, Tamil Nadu politics will go a step ahead and will be unique even in that eccentricity. After the emergence of the Dravidan Party, Dravida Munnetra Kazhagam (DMK), in 1965 with the open support from a seasoned old politician like Rajaji, the party had taken complete control of the state allowing no other national party to enter into the state. However, the Dravidan party split into several splinters with the prefix Dravida in several forms like AIADMK, MDMK, DMDK all and sundry.

Among them, AIADMK formed by the late MG Ramachandran, actor turned politician who left his erstwhile association with the parent party DMK because of his differences with the party leader M Karunanidhi and his devious ways of elbowing him out. All India Anna Dravida Munnetra Kazhagam flourished well under the leadership of MGR, the matinee idol of unique charm. The twist in the tale came when he inducted his filmi heroine J Jayalalithaa into the party activities much to the chagrin of a group of people in his party including some seniors.

Jayalalithaa started her career in films which was not, in fact, her dream. However, she was cast opposite to MGR in a movie Ayairathil Oruvan which turned out to be a massive hit. The pair continued and gave several hits. Nevertheless, Jayalalithaa had different ambitions. Starting her political career as the propaganada secretary of AIADMK, Jayalalithaa's closeness to MGR, her inherent talent to attract public both by personality and through her oratory made her popular.

The book written by popular Tamil writer Vaasanthi chronicles more on the political life of Jayalalithaa than her tinsel world life. Jayalalithaa had been a reluctant entrant to films but an ambitious one in politics. The book narrates the upheavals in her political life from 1982, her successes and failures, her whims and hubris, her total undependable nature and unpredictable behavior yet her sway over the Tamil Nadu population.

The book may be an interesting one for those who haven't known much about Jayalalithaa or her life. For someone who had followed her life and career graph right from her film debut, this book has very little information to offer except a few incidents and anectodes which are also not so interesting. The book is not judgmental because it is very difficult to be one on any popular public figure in India. Invariably, they are mired by innumerable crimes and controversies. Jayalalithaa is one who occupies the top position in that.

The book is an easy read with lucid writing. 'Amma' will tell you how our so-called democratic but a hero worshipping country with a lot of parochial feelings keeps changing their priorities as whimsical as the politicians.