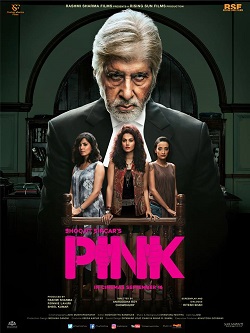 The name or the actors suggest nothing; but 'Pink' turns out to be an outstanding newgen film which speaks for the modern day women. The everyday rape cases or the murders reported in the dailies on one sided love where invariably the woman or the girl becomes the victim make this film more relevant to the present day conditions.

Three young working girls staying together in Delhi are charged with attempt to murder by a politically and financially backed youth. The opening scenes show three youngmen rushing to a hospital with one having a deep gash in his forehead near the eye and three girls fleecing in a taxi to their home in a state of panick. What follows is a drama of harassment, police case, arrest followed by a courtroom trial. The girls belong to the present gen as they drink, smoke, wear tattoos, display piercings, dressed in skimpy outfits carry an air of modern arrogance. But, it all crumbles down when they have to face police, arrest and jail.

This tale is definitely new to Indian milieu because we still consider and depict women as traditional at heart where chasitity is the major virtue. These three girls, Minal Arora, Falak Ali and Andrea branded as women of easy virtue and because of money not being transacted, one of them (Minal) attacked Rajveer murderously. Were the girls really innocent? Were the boys really vicious? Were there soliciting or rape? How much truth was there on the statements and accusations made on each other?

Till the intermission, 'Pink' goes as a thriller; later it turns out to be a full fledged court room drama. Amitabh Bachchan who volunteers himself as the defense lawyer Deepak Sehgal opens up a lot of set ideals, values posed on women and Indian feudalistic mentality and above all questions is it right or wrong to force a woman to have sex after she said 'NO'. So when after an interesting court arguments and cross examinations and the emotional break down of one of the girls on soliciting for money, the judge asks the defense lawyer to give his concluding argument. AB starts with a 'No' and builds up on it and how this 'No' coming from a woman carries more power whoever it is.

Anirudh Roy Chowdhury and Ritesh Shah have built up a thesis on the changing modern society and women and their status. Bachchan once again proves that he is a powerful actor who can shine in any role he dons. The three girls Taapsee Pannu, Kirti Kulhari, and Adnrea Tariang and the boy Angad Bedi as the main players perform with extraordinary confidence with veterans like Amitabh Bachchan, Dhirtiman Chatterjee and Piyush Mishra.

'Pink' is no entertainment. It is educative.