India on my Platter; Saransh Goila, Om Book International, pp.318, Rs.295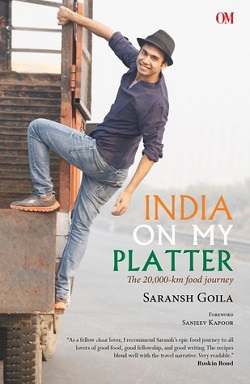 Cookery books are available in plenty in the market. So what makes this young guy Saransh Goila's book 'India on My Platter' special?

It is not just a compilation of recipes providing the name of the delicacy with ingredients and cooking method; it goes several steps beyond that. At 28, Saransh Goila is an Indian chef, TV show host, food consultant, columnist and author, an entrant into the Limca Book of Records, 2014 for the longest road journey by a chef.

Yes. His cook book covers the entire stretch of Indian continent, Saransh trying to reach out people of different regions and learning some special delicacies of that region and also teaching them something from his side. Apart from the cooking part, the most endearing thing is the Saransh's comaraderie with the people he met. He not only exchanged culinary tips but also won several hearts by his interaction with them.

His travel touches Kargil in the North and Pondicherry in the South, Guwahati in the East and Rann of Kutch in the West. Awesome Achievement!

I think that and more than your expectations would have been covered in this unique cookery cum travel book. The way Goila has penned his experiences like the adventures, hiccups, unexpected problems, bonhomie, and appreciation with many interesting photographs make the book more captivating.

It should be naturally interesting and adventurous to travel through the various states of India, a country which is divergent in many ways from culture, language, and dress to eating practices. Saransh almost captured the life and food of this entire land in 318 pages with a lot of touches of emotion and love.

The biggest favorable point of this unique book is that one can read it from any page because each one sounds like a short story on food, people and culture. Kudos to young Saransh Goila!