One Indian Girl; Chetan Bhagat; Rupa, pp.272, Rs. 176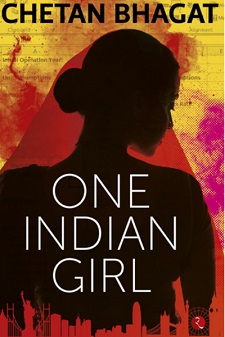 Chetan Bhagat once again proves strongly he is the new gen writer. The story of Radhika Mehta can be of any new gen brainy girl who is academically brilliant, professionally efficient, and intellectually modern but by heart 'Indian'. The globalization and the enormous opportunities for the young and energetic abroad have brought with it several cultural changes and value systems also. But, what is surprising is still we call our country 'developing' and 'poor' and what not. The affluence and the extravagance shown by the Indian is a weird mixture of the socalled traditional values and their avarice for pomp and pageantry with least shame.

Radhika Mehta, a Delhite Panjabi girl lands up on a coveted job at Goldman Sachs, the investment bankers of USA. She is posted in New York. Supposedly a plain jane in looks and attitude, she ultimately falls for a Bengali (please note; he is an Indian) guy Debashish Sen who works in an ad firm. They live together for sometime only to part because of Radhika's feminist views. Her emotional overtures to win back Debu fail and she considers that she has no option but to move away from the scenario. She moves over to Hong Kong where her middle aged but charming boss Neel Gupta (again an Indian and happily married man!) seduces her in one of their business trips. This affair also ends up bitterly because of Radhika's feminist views. So due to parental pressure, Radhika finally accepts for a pompous destination wedding at Goa with an arranged groom Brijesh Gulati. Unexpectedly, both her ex lovers turn up on the marriage week and asks for reconciliation. What Radhika decides? Being One Indian Girl what is Radhika's decision?

The story runs around New York, Hong Kong, London and India. The emotional as well as sexual scenes are quite explicit. So one can have a free tour to all these places, restaurants, transport, food and life style and also the typical psyche of an Indian female and male!

It is true that the celebrated 'indian culture' is at cross roads among the new gen. But, one cannot blame for it also. The place and work culture and the smell of big money take over the olden values and culture. Changes are inevitable; One Indian Girl almost says it. It is a bit tough proposition to be a super corporate woman and a home loving wife! Well, read the novel yourself and come to the conclusions!

In my opinion, for all that Radhika's thoughts and feelings, the conclusion is rather tame and expected.

The good aspect of this book is that in no part the story sags! Keeps you busy!